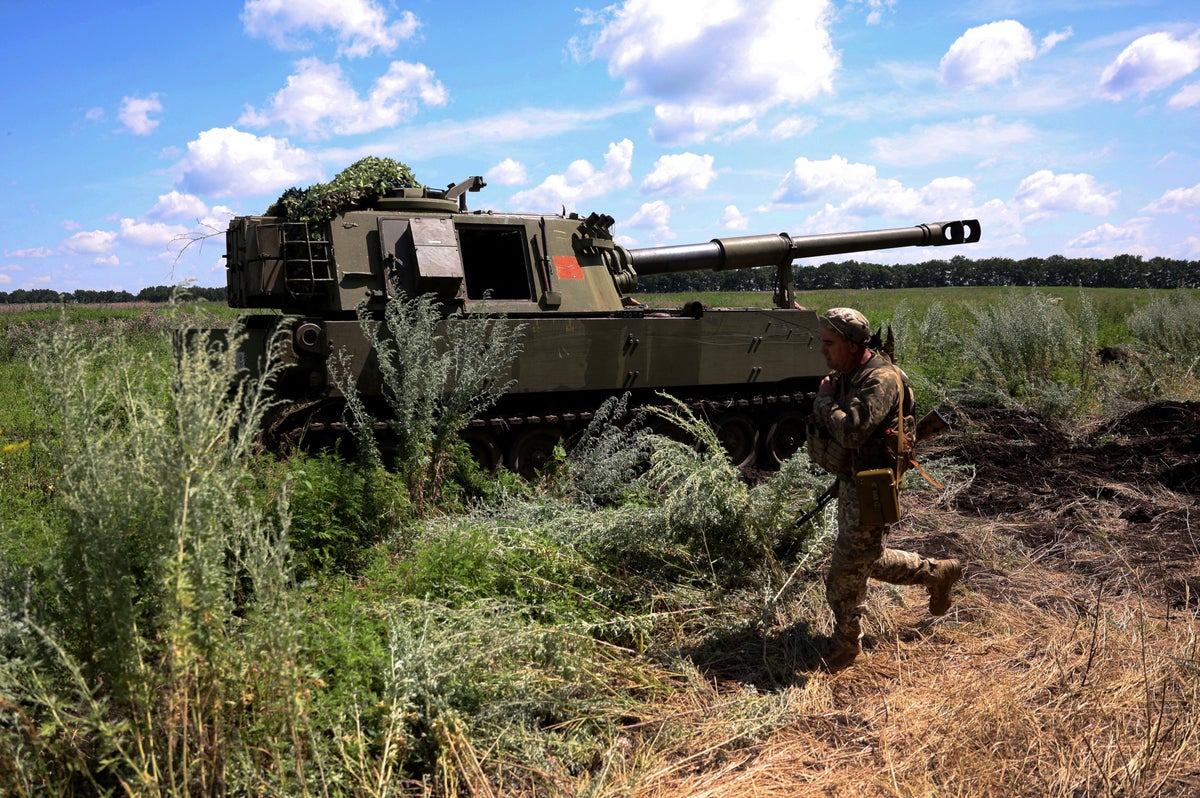 The Independent's Kate Devlin speaks from Nato summit's second day
President Joe Biden has signed an executive order allowing the Pentagon to tap an additional 3,000 military reservists to support the US mission in Europe and bolster Nato's deterrence amid Russia's invasion of Ukraine.
The additional troops will join the estimated 100,000 US service members already on the European continent.
The current US mission in Europe, dubbed Atlantic Resolve, began in 2014, as Russia annexed Crimea and put pressure on Ukraine's Donbas region, a prelude to its wider invasion in 2022.
Meanwhile, the Pentagon has said its intelligence shows Russia's Wagner Group mercenaries are no longer participating in military operations in Ukraine in any "significant" way.
The statement comes as Putin claims he offered Wagner fighters the opportunity to remain serving together in Russia after their revolt more than two weeks ago.
Mr Putin, interviewed by the Russian daily Kommersant, said this was one of several offers he made at a meeting with around three dozen fighters and their founder Yevgeny Prigozhin late last month, five days after Wagner staged its short-lived revolt against Russia's military hierarchy.
1689313201
Russian deputy foreign minister discussed grain deal with Turkish UK officials
Russian deputy foreign minister Sergei Vershinin discussed a Black Sea grain deal with his Turkish counterpart Burak Akcapar in a phone call on Wednesday, the Russian foreign ministry said on Thursday.
According to the ministry, the conversation was initiated by Turkey and "special attention was paid to the implementation of the 'Black Sea initiative' on the export of Ukrainian food".
Also on Wednesday, Vershinin held a phone call with top UN trade official Rebeca Grynspan.
"The sides exchanged views on the implementation of the Istanbul Package Agreements of 22 July 2022 in the context of global food security challenges."
Namita Singh14 July 2023 06:40
1689312012
Thousands of Ukraine civilians are being held in Russian prisons. Russia plans to build many more
The Ukrainian civilians woke long before dawn in the bitter cold, lined up for the single toilet and were loaded at gunpoint into the livestock trailer. They spent the next 12 hours or more digging trenches on the front lines for Russian soldiers.
Many were forced to wear overlarge Russian military uniforms that could make them a target, and a former city administrator trudged around in boots five sizes too big. By the end of the day, their hands curled into icy claws.
Nearby, in the occupied region of Zaporizhzhia, other Ukrainian civilians dug mass graves into the frozen ground for fellow prisoners who had not survived. One man who refused to dig was shot on the spot — yet another body for the grave.
Thousands of Ukrainian civilians are being detained across Russia and the Ukrainian territories it occupies, in centers ranging from brand-new wings in Russian prisons to clammy basements. Most have no status under Russian law.
And Russia is planning to hold possibly thousands more. A Russian government document obtained by The Associated Press dating to January outlined plans to create 25 new prison colonies and six other detention centers in occupied Ukraine by 2026.
In addition, Russian president Vladimir Putin signed a decree in May allowing Russia to send people from territories with martial law, which includes all of occupied Ukraine, to those without, such as Russia.
This makes it easier to deport Ukrainians who resist Russian occupation deep into Russia indefinitely, which has happened in multiple cases documented by the AP.
Namita Singh14 July 2023 06:20
1689310812
Putin tells newspaper he offered Wagner fighters chance to keep serving
Russian president Vladimir Putin offered mercenary fighters with the Wagner group the opportunity to remain serving together in Russia after their revolt, he said in an interview published late on Thursday.
Mr Putin, interviewed by the Russian daily Kommersant, said this was one of several offers he made at a meeting with around three dozen fighters and their founder Yevgeny Prigozhin late last month, five days after Wagner staged the abortive revolt against Russia's military hierarchy.
Under the offer, the fighters would stay under their current commander, who the newspaper identified only by his call sign of "Grey Hair."
Mr Putin also said it was up to Russia's government and parliament to work out a legal framework for private military formations.
Kommersant said Mr Putin spoke of meeting 35 Wagner fighters and Mr Prigozhin in the Kremlin and offering them options for the future, including remaining under their commander of 16 months.
"All of them could have gathered in one place and continued their service," Kommersant quoted the president as saying. "And nothing would have changed. They would have been led by the same person who had been their real commander all that time."
As Mr Putin is the army's commander-in-chief, he seemed to be implying that they would remain within the Russian military, although he did not say that explicitly.
"Many of then nodded when I said this," Kommersant quoted Mr Putin as saying.
Namita Singh14 July 2023 06:00
1689309612
Ukraine receives cluster munitions, pledges limited use
Ukraine has received cluster bombs from the United States, munitions banned in more than 100 countries, but has pledged to only use them to dislodge concentrations of enemy soldiers.
Valeryi Shershen, a spokesperson for the Tavria, or southern, military district on Thursday confirmed an announcement by his commander that the weapons had arrived a week after the United States said it would send them as part of an $800m security package.
The Pentagon also announced their arrival.
Moscow has denounced their shipment. Defence minister Sergei Shoigu warned on Thursday that Russia could resort to deploying similar weaponry if faced with their use.
Cluster munitions typically release large numbers of smaller bomblets that can kill indiscriminately over a wide area. Those that fail to explode pose a danger for decades.
Each side has accused the other of using cluster bombs in the conflict launched by Russia's invasion in February 2022.
Human Rights Watch says both Moscow and Kyiv have used cluster munitions. Russia, Ukraine and the US have not signed up to the Convention on Cluster Munitions, which bans production, stockpiling, use and transfer of the weapons.
Namita Singh14 July 2023 05:40
1689308412
Evan Gershkovich fell in love with Russia. He now faces 20 years in prison for espionage
Diplomatic efforts to free the detained Wall Street Journal reporter are intensifying, Bevan Hurley reports.
Namita Singh14 July 2023 05:20
1689307212
UK accuses Russia of 'cynical brinkmanship' over Ukraine grain deal threat
The UK has accused Russia of "cynical brinkmanship" over threats to collapse a deal that allows Ukraine grain to be exported to countries at risk of famine.
The Black Sea Grain Initiative is a deal negotiated with Kyiv and Moscow by Turkey and the United Nations in July 2022 to ease a global food crisis, allowing agricultural produce from the wartorn nation's southern ports to be shipped out without fear of attack.
It came with a separate agreement with Russia to facilitate shipments of its food and fertiliser, which have been exempted from Western sanctions regimes applied since the invasion started more than 500 days ago.
Namita Singh14 July 2023 05:00
1689306012
What to know about the harrowing Ukraine war doc '20 Days in Mariupol'
Theatregoers in select cities will soon be able to watch "20 Days in Mariupol," the visceral documentary on Russia's early assault on the Ukrainian city.
The 94-minute film is a joint production by hte Associated Press and PBS "Frontline" and has been met with critical acclaim and an audience award at the Sundance Film Festival. AP journalist Mstyslav Chernov directed the movie from 30 hours of footage he and other AP journalists shot in Mariupol in the opening days of the war.
Chernov and AP colleagues Evgeniy Maloletka, a photographer, and producer Vasilisa Stepanenko were the last international journalists in the city before escaping.
Namita Singh14 July 2023 04:40
1689304812
Zelensky tweet on Nato so infuriated US officials they reconsidered policy, report says
Ukrainian president Volodymyr Zelensky's obvious impatience over Nato's slow-moving decision-making process has reportedly irritated US officials enough that they reconsidered Ukraine's invitation to join the alliance.
But Nato countries have been reluctant – not wanting to rock the boat too much with Russia during the middle of the war.
Then, after Nato countries failed to deliver a specific timeline to Mr Zelensky on Nato membership before the summit this week, Mr Zelensky's frustration resulted in a more aggressive approach in the form of a tweet.
What followed next? Ariana Baio reports:
Namita Singh14 July 2023 04:20
1689303612
Biden signs executive order adding 3,000 reservists to US presence in Europe amid Russian invasion of Ukraine
The additional troops will join the estimated 100,000 US service members already on the European continent.
"These authorities will enable the department to better support and sustain its enhanced presence and level of operations," Lt Gen Douglas Sims told Military.com of the move.
Namita Singh14 July 2023 04:00
1689300000
Ukraine's greatest weapon isn't on the battlefield
In welcoming fresh pledges of more weapons, ammunition and the long-term security commitments made by members of the G7, Ukraine's President Volodymyr Zelensky appeared – at least publicly – a happier figure on the second day of Nato's summit in Lithuania than he did on the first.
On Tuesday, he had angrily denounced the "absurd" delays to his nation being given a timetable for the Nato membership it craves and then was left frustrated when the communique from the alliance said that Kyiv could join "when allies agree and conditions are met" – without laying out what those conditions were.
A flash of anger over delays to Nato membership gave way to a more conciliatory tone from Volodymyr Zelensky at the summit in Lithuania, writes Chris Stevenson. But don't expect him to back down on pushing Western allies for more help – his nation's survival depends on it:
Ukraine's greatest weapon isn't on the battlefield
A flash of anger over delays to Nato membership gave way to a more conciliatory tone from Volodymyr Zelensky at the summit in Lithuania, writes Chris Stevenson. But don't expect him to back down on pushing Western allies for more help – his nation's survival depends on it
Eleanor Noyce14 July 2023 03:00
play youtube
,
xnxx
,
xvideos
,
porn
,
porn
,
xnxx
,
Phim sex
,
mp3 download
,
sex 4K
,
Straka Pga
,
gay teen porn
,
Hentai haven
,
free Hentai
,