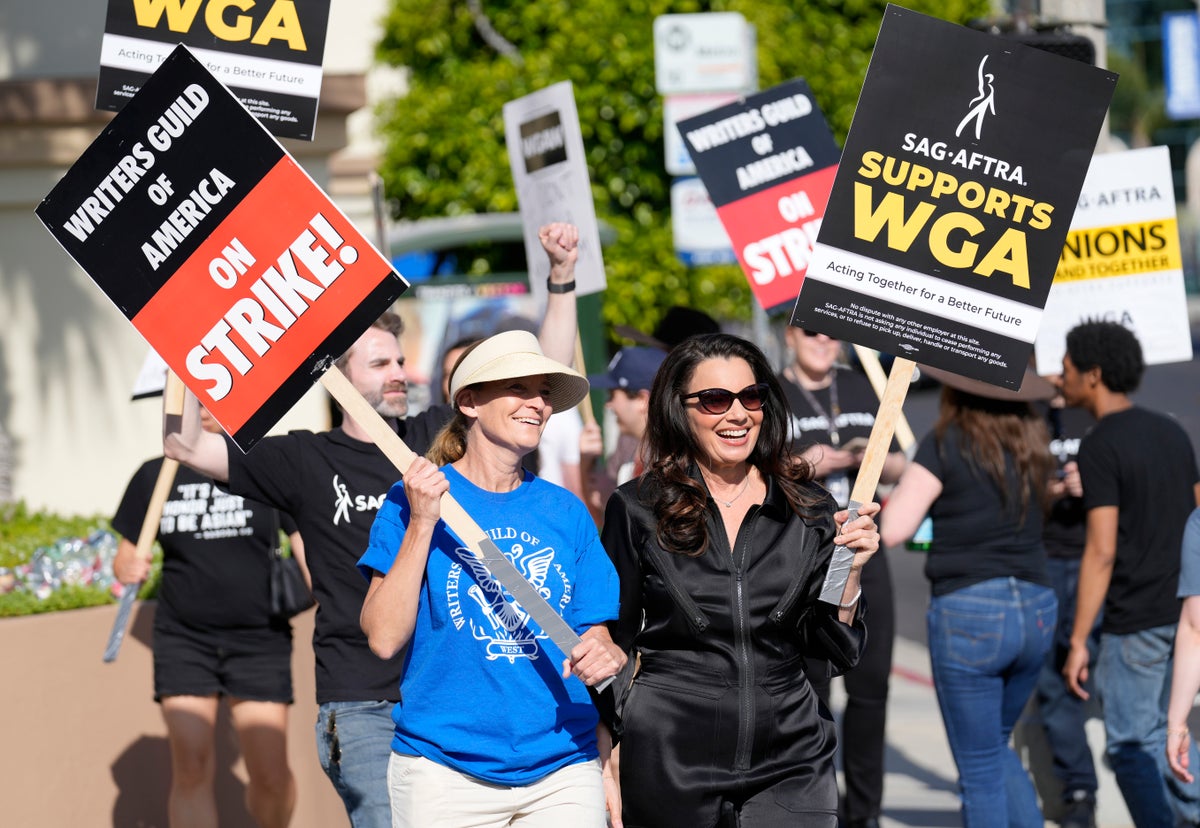 Oppenheimer actors walk out of UK premiere as Hollywood stars join writer strike
Hollywood actors will join screenwriters in historic strike action after the national board of the SAG-AFTRA union approved a member walkout.
Negotiators for the union unanimously recommended a strike after talks with studios broke down. Scripted TV and movie production will cease immediately in the first dual work stoppage by both actors and writers in 63 years.
The Writers Guild of America has been on strike since early May. Both groups demand increases in base pay and residuals in the streaming TV era plus assurances that their work will not be replaced by artificial intelligence (AI).
Both unions are in dispute with the Alliance of Motion Picture and Television Producers (AMPTP). Fran Drescher, former star of The Nanny and the president of SAG-AFTRA, said studios' responses to the actors' concerns had been "insulting and disrespectful".
George Clooney has led A-listers voicing support for the strike, while the cast of Oppenheimer left a London premiere prematurely on Thursday night to "go and write their picket signs".
Meanwhile, Disney CEO Bob Iger condemned the threatened strike action as "very disruptive" at the "worst time" as well as calling the expectations of writers and actors "just not realistic".
1689333047
Fran Drescher says actors guild ready for a long strike
SAG-AFTRA president Fran Drescher says the actors guild is ready for a long strike.
While the duration of the strike is unknown, Drescher says they are looking to the long game.
"Right now, we discussed what it would cost if it went for six months, so we're looking for the long haul," said Drescher. "The gravity of a commitment like this is not lost on any of us. It's major. But we also see that we have no future and no livelihood unless we take this action, unfortunately."
Peony Hirwani14 July 2023 12:10
1689358847
Fran Drescher speaks out after backlash over Kim Kardashian selfie during Hollywood strike
Fran Drescher has spoken out in response to the backlash over a selfie with Kim Kardashian that was posted during the negotiations over Hollywood strikes.
Oliver O'Connell14 July 2023 19:20
1689357642
What's the reason behind the strike?
ICYM: Hollywood's largest union, SAG-AFTRA, representing 160,000 film and television actors, and the Writers Guild of America (WGA) are demanding increases in base pay and residuals in the streaming TV era plus assurances that their work will not be replaced by artificial intelligence.
Inga Parkel14 July 2023 19:00
1689356442
Susan Sarandon speaks out on front lines of NYC strike
Inga Parkel14 July 2023 18:40
1689355242
'SAG-AFTRA strong': Fran Drescher joins LA protests
SAG-AFTRA officially began striking on Friday (14 July), with its main protests taking place in front of several studios across Los Angeles, including Warner Bros, Netflix, Amazon, Paramount and Fox.
SAG president Fran Drescher, who has become the leading voice and face of the movement, arrived on location of one of the eight LA-based sites.
She was met with excited cheers and applause as she made her way off a bus.
"Workers unite," Drescher announced before the crowd began to chant: "SAG-AFTRA strong!"
Inga Parkel14 July 2023 18:20
1689354042
Susan Sarandon 'feels optimistic' as she joins New York picket line
While SAG-AFTRA's main protests began today (Friday 14 July) in Los Angeles in front of several major production studios, including Sony, Warner Bros and Netflix, New York union members are doing their part on the opposite coast.
Numerous members have gathered in front of Netflix's and Warner Bros Discovery's side-by-side New York City offices, holding picket signs and chanting against "corporate greed".
Among the masses was Susan Sarandon, who spoke to NowThis, saying the strike makes her feel "optimistic".
"If we stick together, we have power," the Stepmom star, 76, said.
Inga Parkel14 July 2023 18:00
1689352842
Studio executive predicts 'fall festivals are f***ed' amid actors' strike
Along with film premieres, Comic-Con, 90s Con and many more promotional events that are expected to be negatively impacted as a result of the actors' strike, fall film festivals are also "f***ed", one studio executive put it bluntly.
"You can't premiere movies anywhere without your stars," the executive told Variety. "No stars, no movie."
The Telluride, Toronto and New York film festivals, which are scheduled for this fall, are at risk of being derailed by the ongoing SAG-AFTRA strike, should it last for months.
Colorado's famed Telluride Film Festival, which is to run from 31 August through 4 September, could potentially remain the least impacted as it doesn't hold press conferences or step-and-repeats like many others do.
"Telluride will be mostly unaffected," one studio executive told the outlet. "I can't say the same for the others."
The Toronto International Film Festival (TIFF) is expected to take place from 7 September through 17 September, followed by the New York Film Festival from 29 September until 15 October.
It's unknown how long the Hollywood shutdown could last, however, SAG is ready for "the long haul". So until studios and SAG come to an agreement on a fair contract, this fall might be a risky season for TV and film.
Inga Parkel14 July 2023 17:40
1689351642
Will the Emmys be affected by the strike?
Wednesday (12 July) was a day of celebration for several TV stars, including first-time nominees Ayo Edebiri (The Bear), Jenna Ortega (Wednesday), Jason Segel (Shrinking) and more, who are finally being recognised for their incredible performances.
Typically, the awards ceremony is held in September and broadcast live – this year on Fox.
However, with the actors' union, SAG-AFTRA's recent strike approval – whose "rules" bar members from participating in several promotional events, most notably awards shows – the 75th Emmys is preparing for a delay, should the strike last until September.
The Television Academy, in charge of the Emmys, is reportedly at odds with Fox over when to postpone the TV awards.
Before the strike was officially called, the former was gunning for only a two-month delay in November, while the latter preferred a January airdate, according to Variety.
Apparently cancelling the ceremony altogether is not an option, given this year's 75th landmark anniversary. A final decision is expected to be made by the end of July, insiders told the outlet.
Inga Parkel14 July 2023 17:20
1689350442
Production on Deadpool 3 halts amid actors strike
SAG-AFTRA's strike, which began on Friday morning (14 July), has already had an immediate impact on the industry.
Among the biggest franchises to feel the effects is Marvel's Deadpool 3, whose production has been halted as a result, according to Deadline.
The news comes days after its leading man Ryan Reynolds teased a first look at Hugh Jackman's highly anticipated Wolverine return to the MCU on his Instagram Story.
Jackman reprises his role as the ferocious hero in the third entry to the Deadpool film series. The Australian actor, 54, has portrayed Wolverine across nine superhero films, from X-Men to Logan.
Inga Parkel14 July 2023 17:00
1689349242
Mark Hamill quotes revolutionary SAG president Fran Drescher
SAG-AFTRA's president Fran Drescher has become somewhat of a revolutionary as she leads the strike with her impassioned and fiery speeches.
Star Wars' Mark Hamill showed his support for the union's decision to picket by quoting Drescher on Twitter.
"When employers make Wall Street & greed their priority & forget about essential contributors that make the machine run, we have a problem. They plead poverty that they are losing money left & right when they give $100 millions to their CEOs!"- #SAGAFTRA president Fran Drescher #UnionStrong 👊🏼
Inga Parkel14 July 2023 16:40
play youtube
,
xnxx
,
xvideos
,
porn
,
porn
,
xnxx
,
Phim sex
,
mp3 download
,
sex 4K
,
Straka Pga
,
gay teen porn
,
Hentai haven
,
free Hentai
,