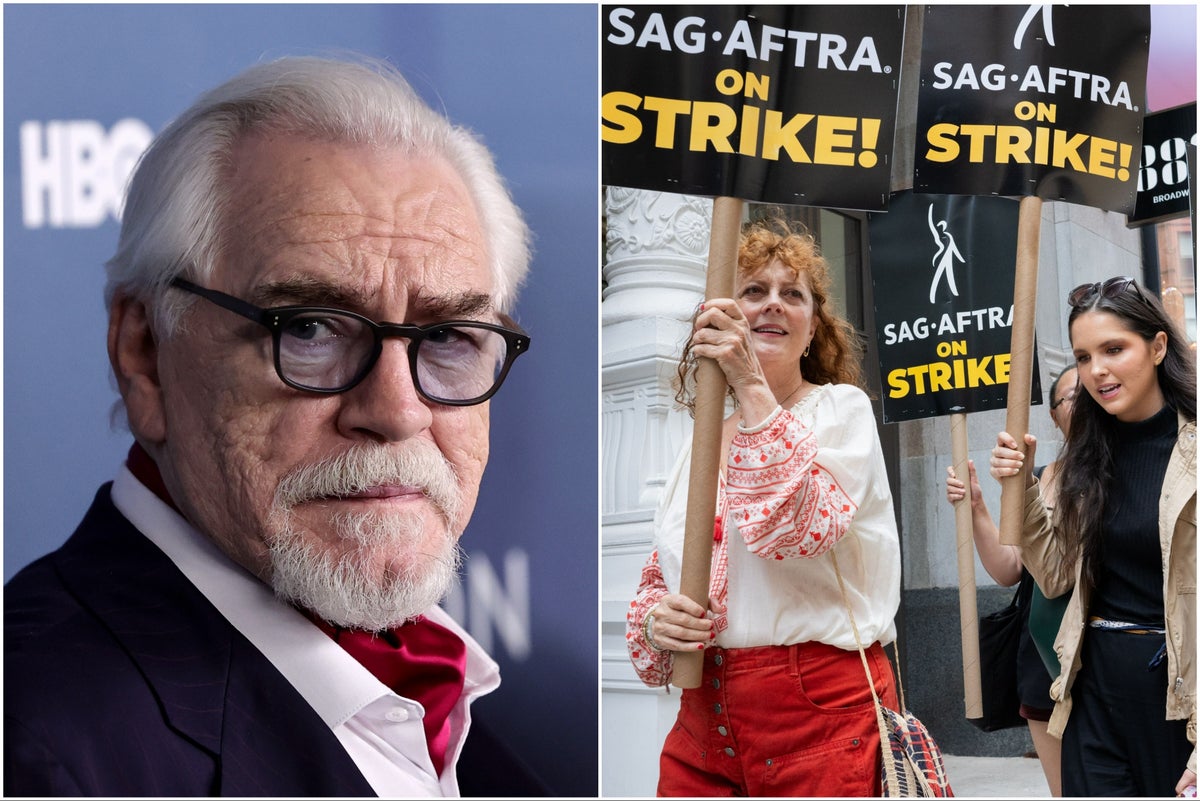 'No contracts, no peace': Actors stage demonstration in New York
Succession actor Brian Cox has warned that the actors' strike could get "very unpleasant", after the national board of the SAG-AFTRA union approved a member walkout.
Negotiators for the union unanimously recommended a strike after talks with studios broke down. Scripted TV and movie production will cease immediately in the first dual work stoppage by both actors and writers in 63 years.
The Writers Guild of America has been on strike since early May. Both groups demand increases in base pay and residuals in the streaming TV era plus assurances that their work will not be replaced by artificial intelligence (AI).
Both unions are in dispute with the Alliance of Motion Picture and Television Producers (AMPTP). Fran Drescher, former star of The Nanny and the president of SAG-AFTRA, said studios' responses to the actors' concerns had been "insulting and disrespectful".
George Clooney has led A-listers voicing support for the strike, and Jason Sudeikis and Susan Sarandon are among the stars who have been seen on the picket line.
The cast of Oppenheimer left a London premiere prematurely on Thursday night (13 July) to "go and write their picket signs".
Meanwhile, Disney CEO Bob Iger condemned the threatened strike action as "very disruptive" at the "worst time" as well as calling the expectations of writers and actors "just not realistic".
1689415204
Christopher Nolan says he will 'absolutely' not be working on any more films until strike resolved
Nolan confessed he was "very fortunate with the timing", as premieres for his movie Oppenheimer were held just before the strike began.
When asked if he would write another film during the strike, he told the BBC: "No, absolutely. It's very important that everybody understands it is a very key moment in the relationship between working people and Hollywood.
"This is not about me, this is not about the stars of my film. This is about jobbing actors, this is about staff writers on television programmes trying to raise a family, trying to keep food on the table."
Ellie Harrison15 July 2023 11:00
1689411304
The Last of Us co-creator Craig Mazin on 'mixed emotions' of celebrating Emmy success amid strike
The epic video game adaptation has been nominated for 23 Emmys in this year's awards, but Mazin's mind is also on the strike.
"I'm thinking about all of our crews," he told Deadline. "I'm thinking about the people that make our shows who are going to be suffering alongside us, even as we're the ones who are fighting for contracts. Those are the people I'm thinking about today, my mind is really on the crew.
"And I think we're all rather upset with the companies right now. They are hurting so many people with their intransigence. Ultimately, it comes down to these corporations just getting it because they don't get it right now. And they're going to have to."
Speaking about how historic the Hollywood shutdown is, he continued: "This isn't like anything before… I have not been alive at a time when the actors and the writers stuck together. That's how long it's been, and that's how bad I think the companies have messed up here. I don't know what's going happen, I just want to get back to work but we can't get back to work until they do the right thing. It's as simple as that."
Ellie Harrison15 July 2023 09:55
1689409530
Brian Cox says actors' strike could last until the end of the year
In an interview on Friday (15 July) with Sky News, the 77-year-old British actor said the strike "could get very, very unpleasant" and "could go on for quite some time". He said: "They'll take us to the brink and we'll probably have to go to the brink."
Cox also addressed actors' concerns about the use of AI in film and television production, such as using artificial intelligence to write scripts or generate actors' likenesses without consent. "We don't know the extent to which it can operate," he said. "It's the boogeyman, it really is the boogeyman."
Ellie Harrison15 July 2023 09:25
1689407100
Actors banned from attending Comic-Con
The famed event in San Diego is set to start next Thursday, but SAG-AFTRA specifically has banned its members from doing promotion at conventions and fan expos, according to Variety.
Strike guidelines also bar members from attending premieres and awards shows, and they are restricted from promoting projects completed under SAG contracts on social media and in interviews.
Inga Parkel15 July 2023 08:45
1689403500
House of the Dragon hit with backlash for continuing filming despite SAG-AFTRA strike
ICYMI: House of the Dragon is set to continue filming in the United Kingdom this summer despite the Screen Actors Guild strike – due to local union rules.
The second season of the HBO series is likely to proceed with production as scheduled, Variety reported on Thursday (13 July). The cast of the Game of Thrones prequel is primarily composed of British actors working under Equity contracts, rather than SAG-AFTRA. As a result, Equity members aren't legally allowed to strike in solidarity with the US union, according to the outlet.
UK law prohibits Equity union from legally calling a strike in support of SAG-AFTRA
Inga Parkel15 July 2023 07:45
1689399900
Will the Emmys be affected by the strike?
Wednesday (12 July) was a day of celebration for several TV stars, including first-time nominees Ayo Edebiri (The Bear), Jenna Ortega (Wednesday), Jason Segel (Shrinking) and more, who are finally being recognised for their incredible performances.
Typically, the awards ceremony is held in September and broadcast live – this year on Fox.
However, with the actors' union, SAG-AFTRA's recent strike approval – whose "rules" bar members from participating in several promotional events, most notably awards shows – the 75th Emmys is preparing for a delay, should the strike last until September.
The Television Academy, in charge of the Emmys, is reportedly at odds with Fox over when to postpone the TV awards.
Before the strike was officially called, the former was gunning for only a two-month delay in November, while the latter preferred a January airdate, according to Variety.
Apparently cancelling the ceremony altogether is not an option, given this year's 75th landmark anniversary. A final decision is expected to be made by the end of July, insiders told the outlet.
Inga Parkel15 July 2023 06:45
1689396300
Studio executive predicts 'fall festivals are f***ed' amid actors' strike
Along with film premieres, Comic-Con, 90s Con and many more promotional events that are expected to be negatively impacted as a result of the actors' strike, fall film festivals are also "f***ed", one studio executive put it bluntly.
"You can't premiere movies anywhere without your stars," the executive told Variety. "No stars, no movie."
The Telluride, Toronto and New York film festivals, which are scheduled for this fall, are at risk of being derailed by the ongoing SAG-AFTRA strike, should it last for months.
Colorado's famed Telluride Film Festival, which is to run from 31 August through 4 September, could potentially remain the least impacted as it doesn't hold press conferences or step-and-repeats like many others do.
"Telluride will be mostly unaffected," one studio executive told the outlet. "I can't say the same for the others."
The Toronto International Film Festival (TIFF) is expected to take place from 7 September through 17 September, followed by the New York Film Festival from 29 September until 15 October.
It's unknown how long the Hollywood shutdown could last, however, SAG is ready for "the long haul". So until studios and SAG come to an agreement on a fair contract, this fall might be a risky season for TV and film.
Inga Parkel15 July 2023 05:45
1689392706
Every TV show and movie affected by historic Hollywood actors and writers' strike
Following the historic Hollywood shutdown brought on by the Screen Actors Guild (SAG-AFTRA) joining the Writers Guild of America (WGA) to strike against streamers and studios, the list of TV and movies impacted is growing.
On Friday (13 July), SAG-AFTRA began striking alongside WGA members, who've been on the picket line since May.
While the immediate implications of the landmark screenwriters' strike have already taken effect – all late-night talk shows have been temporarily cancelled – the impacts of the complete Hollywood walkout have only contributed to making the future months of entertainment quite bare.
Hollywood has been effectively shut down by historic event
Inga Parkel15 July 2023 04:45
1689389100
What the actors' strike means for Broadway shows
As of midnight on Friday (14 July), the actors' union began the industrial action, with picket lines beginning later that morning. The union comprises screen actors, as well as broadcast journalists, announcers, presenters, and stunt performers.
While the total membership comprises more than 160,000 people, only the 65,000 performers in TV and film productions are currently participating in the strike.
Screen Actors Guild announced industrial action to coincide with writers' strike
Inga Parkel15 July 2023 03:45
1689385500
Oppenheimer actors walk out of UK premiere as Hollywood stars join writer strike
The cast of Oppenheimer left a London premiere prematurely to "go and write their picket signs" in preparation for the "imminent" strike by the actors' union.
"You've seen them here earlier on the red carpet," Nolan announced to the cinema's audience.
"Unfortunately, they're off to write their picket signs for what we believe to be an imminent strike by Sag, joining one of my guilds, the Writers Guild, in the struggle for fair wages for working members of the unions, and we support them."
Oppenheimer actors walk out of UK premiere as Hollywood stars join writer strike
Ahead of the screening, actors had been walking the red carpet, posing for pictures, interacting with fans and speaking to press
Inga Parkel15 July 2023 02:45
play youtube
,
xnxx
,
xvideos
,
porn
,
porn
,
xnxx
,
Phim sex
,
mp3 download
,
sex 4K
,
Straka Pga
,
gay teen porn
,
Hentai haven
,
free Hentai
,