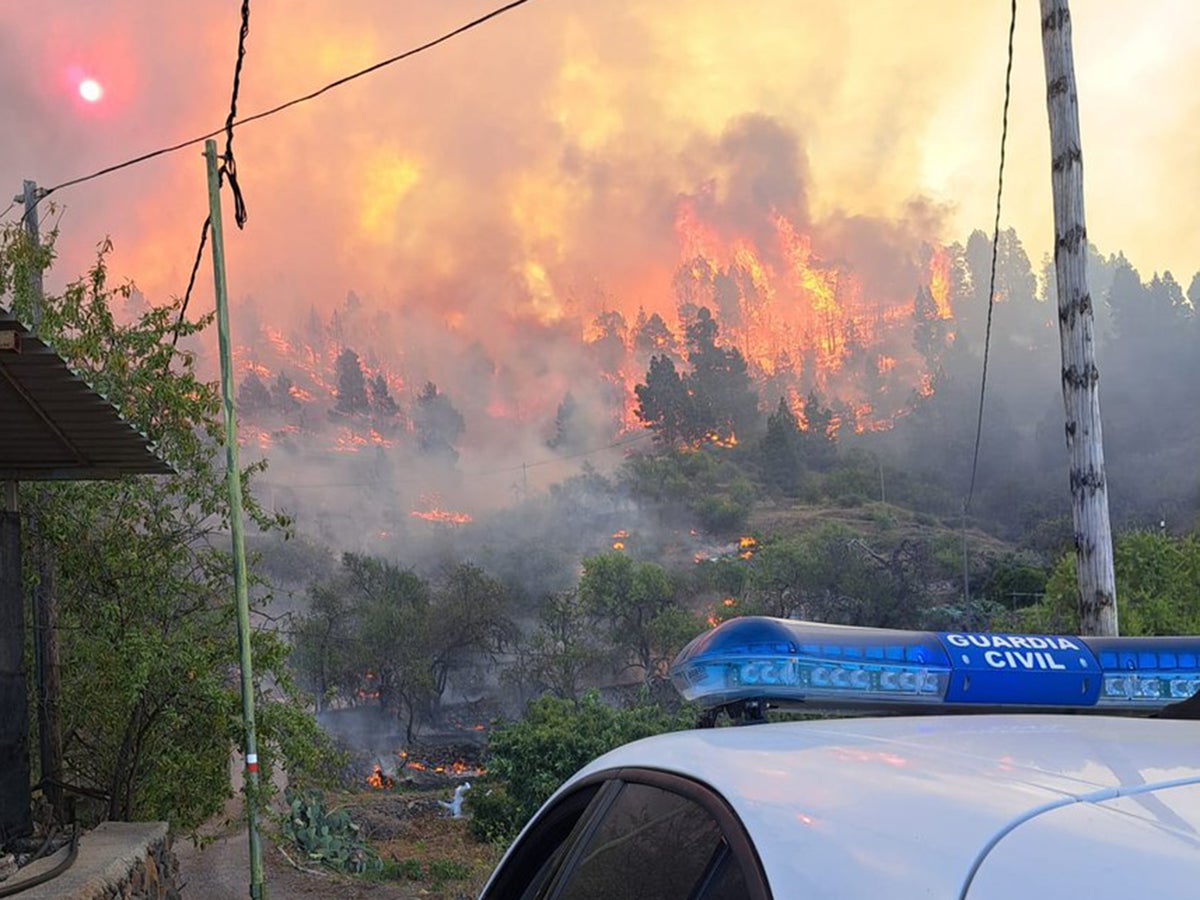 Europeans seek shade as heatwave grips much of the continent
Thousands of people have been evacuated from their homes as firefighters struggle to contain a wildfire tearing through the Spanish Canary Islands.
The fire began in La Palma early on Saturday and has already destroyed 4,500 hectares (11,100 acres) of land and at least a dozen homes.
Earlier, some tourists were reportedly sent to hospital in Athens, Greece as they arrived in droves at the Acropolis even as the authorities shut the monument's gates between midday and early evening amid a severe heatwave.
Kim Adams, visiting from Scotland told Sky News: "It's quite difficult today, really very hot".
Temperatures in Italy are predicted to climb as high as 49C in Puglia,  Sardinia and Sicily next week, as the heatwave gripping Southern Europe shows no sign of abating.
Red alerts for extreme heat have been issued in 16 cities across Italy as the Mediterranean country is gripped by blistering hot temperatures.
1689409019
16 red alerts issued for Italy
Authorities in Italy have issued red alerts for 16 cities across the country amid a sweltering heatwave.
Bologna, Florence and Rome are among some of the cities affected, with residents there told to take extra care.
Temperatures could exceed 40C in parts of Puglia, Sicily, and Sardinia, forecasters say.
Matt Mathers15 July 2023 09:16
1689498069
Venetian tourists use umbrellas to shelter from sun
Tourists in Venice have been filmed using umbrellas to protect themselves from the sun, as some 16 red alerts for heat are issued in Italy, including in Rome, Florence and Bologna.
Andy Gregory16 July 2023 10:01
1689496350
One third of Americans subject to extreme heat warnings
Around a third of Americans were subject to warnings for extreme heat on Saturday, as the blistering weather was forecast to intensify this weekend in Nevada, Arizona and California.
Temperatures in some desert areas were predicted to soar past 48.8C during the day, and remain above 32.2C overnight.
Around 200 hydration stations distributing bottles of water and cooling centres where potentially thousands of people can rest in air-conditioned spaces opened on Saturday in public spaces like libraries, churches and businesses around the Phoenix area.
David Hondula, chief heat officer for the City of Phoenix, said that because of the health risks some centres were extending their hours, warning: "This weekend there will be some of the most serious and hot conditions we've ever seen."
Andy Gregory16 July 2023 09:32
1689493643
South Korean rains death toll rises to 35
In news of extreme weather elsewhere, the death toll from the heavy rain which has caused flooding and landslides in South Korea has hit 35 – as the bodies of eight more people trapped in a submerged tunnel were retrieved on Sunday.
The chief of the west Cheongju fire station said some 15 vehicles, including a bus, were estimated to have been submerged in the underpass in the city shortly after a levee of a nearby river was destroyed by the downpours on Saturday.
"We are focusing on the search operation as there's likely more people there," they told reporters. "We are doing our best to wrap it up today."
The latest disaster is taking place despite South Korea's vow to step up preparedness against torrential rains after Seoul was hit last year with floods caused by the heaviest downpours in 115 years. While the nation often experiences heavy rains in summer, it has witnessed a sharp increase in recent years.
The Korea Meteorological Administration said the central and southern parts of the country could receive as much as 300mm of additional rain by Tuesday.
Andy Gregory16 July 2023 08:47
1689489785
Thousands evacuated as firefighters struggle to contain wildfire in Canary Islands
Thousands of people have been evacuated from their homes as firefighters struggle to contain a wildfire tearing through the Spanish Canary Islands.
The fire began in La Palma early on Saturday and has already destroyed 4,500 hectares (11,100 acres) of land and at least a dozen homes.
Officials said around 400 troops from various agencies remain on the ground tackling the blaze.
Authorities said some 4,255 people had been evacuated but that others were declining to leave.
Matt Mathers16 July 2023 07:43
1689489053
Should I keep my windows closed or open during a heatwave?
With the summer heat upon us, it means that our homes may become uncomfortably hot, especially at night.
As it gets hotter, it can be tempting to open your windows to let in some fresh air when the weather gets too warm – but should you keep them shut instead?
According to NHS advice, curtains should be kept shut to keep sun-facing rooms as shaded as possible.
Alisha Rahaman Sarkar16 July 2023 07:30
1689487253
Why is there no UK heatwave as Europe swelters
A deadly heatwave sweeping across Europe with temperatures forecast to shatter records in the coming days stands in complete contrast to the weather faced by the United Kingdom that has had wet and windy conditions continuing this week.
As the UK gets prolonged showers – the Met Office predicts unsettled conditions to continue for the next few days – the Mediterranean region grapples with soaring heat that could touch a new European record as soon as this week.
Alisha Rahaman Sarkar16 July 2023 07:00
1689484534
Acropolis midday closure leaves many tourists in the lurch
Disgruntled tourists bemoaned the temporary closing of the Acropolis in Athens as Greek authorities proactively shut the world monument's gates between midday and early evening.
Red Cross staff handed out bottled water to tourists wilting in long lines hoping to beat the closure and scale the steps up to the gleaming Parthenon temple as temperatures were expected to peak above 40C.
Some visitors were frustrated at being left in the lurch because they were unaware of Greek authorities' last-minute announcement of the Acropolis' closure. One visitor said he was disappointed as his cruise ship would depart later in the day.
"I even bought a €50 ticket to skip the line to enter and I couldn't enter the place," Hector from Mexico told The Associated Press.
Alisha Rahaman Sarkar16 July 2023 06:15
1689482734
Southern Europe to continue to reel under heatwave next week
Southern Europe will suffer from an intense bout of heatwave next week as well, as Italy, Spain and Greece continue to experience high temperatures.
"Temperatures will reach a peak between 19 and 23 July – not only in Italy but also in Greece, Turkey and the Balkans," Italian meteorologist and climate expert Giulio Betti told the BBC.
"Several local heat records within these areas may well be broken during those days."
The Italian government has issued red alerts in 16 cities and advised anyone in the areas to avoid direct sunlight between 11am and 6pm.
Alisha Rahaman Sarkar16 July 2023 05:45
1689479528
Food production concerns as drought hits half of EU
Nearly half of EU is suffering from a "severe" drought, the bloc's official body has warned amid an ongoing heatwave that is predicted to push temperatures in Italy to 49C.
According to the European Drought Observatory (EDO), at least 42 per cent of land across the 27 member countries are under amber warning, which means the ground has dried due to lack of rain.
A new drought is building up around the Baltic Sea, Scandinavia, the UK, Ireland, and Germany, causing concerns about crop production, it said.
The agency only classifies Devon, Cornwall and parts of East Anglia in drought for the UK.
About 4 per cent of EU land is on red alert for drought, where crops and plants are suffering.
Alisha Rahaman Sarkar16 July 2023 04:52
play youtube
,
xnxx
,
xvideos
,
porn
,
porn
,
xnxx
,
Phim sex
,
mp3 download
,
sex 4K
,
Straka Pga
,
gay teen porn
,
Hentai haven
,
free Hentai
,