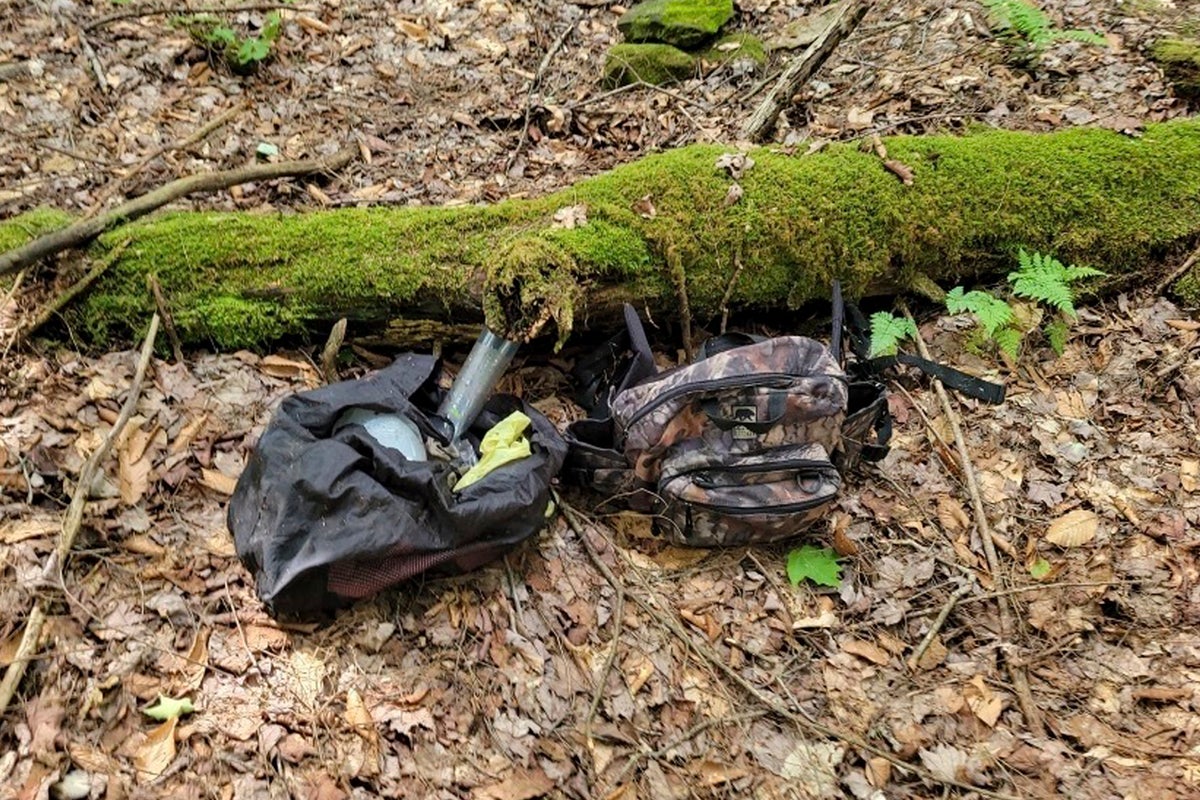 Authorities are asking hikers and others to keep an eye out for signs of provisions or campsites that might have been left by a homicide suspect who used bed sheets to escape from a northwestern Pennsylvania jail earlier this month.
Michael Burham, 34, fled the Warren County jail in the late evening hours of July 6 by climbing on exercise equipment, going through a window and scaling down a rope fashioned from jail bedding, authorities have said. He was being held on $1 million bail and was charged with kidnapping, burglary and other counts. Authorities have said he should be considered armed and dangerous.
Lt. Col. George Bivens, the deputy commissioner of Operations for the Pennsylvania State Police, said investigators believe Burham, who taught himself survival skills and had military reserve training, remains in the area, and they have found "small stockpiles or campsites" and believe some are associated with him.
"As people hike or otherwise spend time in the woods this weekend and beyond, we ask that they notify us if they find any stored packages or apparently abandoned campsites," Bivens said Saturday afternoon. He said authorities aren't recommending cancelation of outdoor activities, but people encountering police activity are asked to keep their distance.
Bivens said investigators had concluded that a brief video displayed the day before and believed to have been Burham was not in fact him. The video, apparently taken by a home security camera, showed a man walking on a residential street, and Bivens declined to say exactly where or when it was taken.
"We still have strong reason to believe he is in the area, but we now know not to rely solely on that particular video as we attempt to determine his physical condition or other things that we might from any particular video," Bivens said. The person appeared to have a limp, and Bivens said he still believes Burham has a similar injury.
Bivens renewed a call for people in northwestern Pennsylvania and western New York to regularly to review doorbell and surveillance camera footage, and also once again urged people to make sure vehicles, sheds, homes and anything else useful to a fugitive is secured.
"He is no doubt becoming more desperate and will attempt to acquire the things he needs to survive," he said. "We ask that people in this area, either residents or visitors, pay particular attention to small items they may discover missing — a tarp, blanket, clothing items, lighter or matches, food etc. — from their campsite, storage sheds and garages."
Bivens said officials have not yet located a drone some people reported hearing near the jail just before the escape, although they are aware of other drones operated during that day or evening a few blocks from the jail. Officials have said they believe Burham may have been receiving aid from someone, citing the stockpiles.
Bivens said morale among the searchers remains high despite the effort entering its second week.
"We've been down this road before, and our people know that it sometimes takes time to find somebody," he said. "It's a vast area, very difficult terrain."
In September 2014 in Pennsylvania, a manhunt of more than a month and a half ensued after a gunman killed a state trooper and permanently disabled another in an ambush outside the Blooming Grove barracks. Eric Frein, of Canadensis, also described as a self-taught survivalist, was captured after a 48-day search. He was convicted and sentenced to death, though Pennsylvania has a moratorium on executions.
More than 200 state, federal and local officers are taking part in the search for Burham, and up to $22,000 in reward money has been posted, Bivens said.
District Attorney Jason Schmidt, of Chautauqua County, New York, said in June that Burham was the prime suspect in the May 11 killing of Kala Hodgkin, 34, and a related arson in Jamestown, New York. Authorities also accused him of abducting an older couple in Pennsylvania while trying to evade capture before his arrest in South Carolina. New York officials said they opted to let Pennsylvania handle the initial prosecution as they probe the killing and arson.
play youtube
,
xnxx
,
xvideos
,
porn
,
porn
,
xnxx
,
Phim sex
,
mp3 download
,
sex 4K
,
Straka Pga
,
gay teen porn
,
Hentai haven
,
free Hentai
,