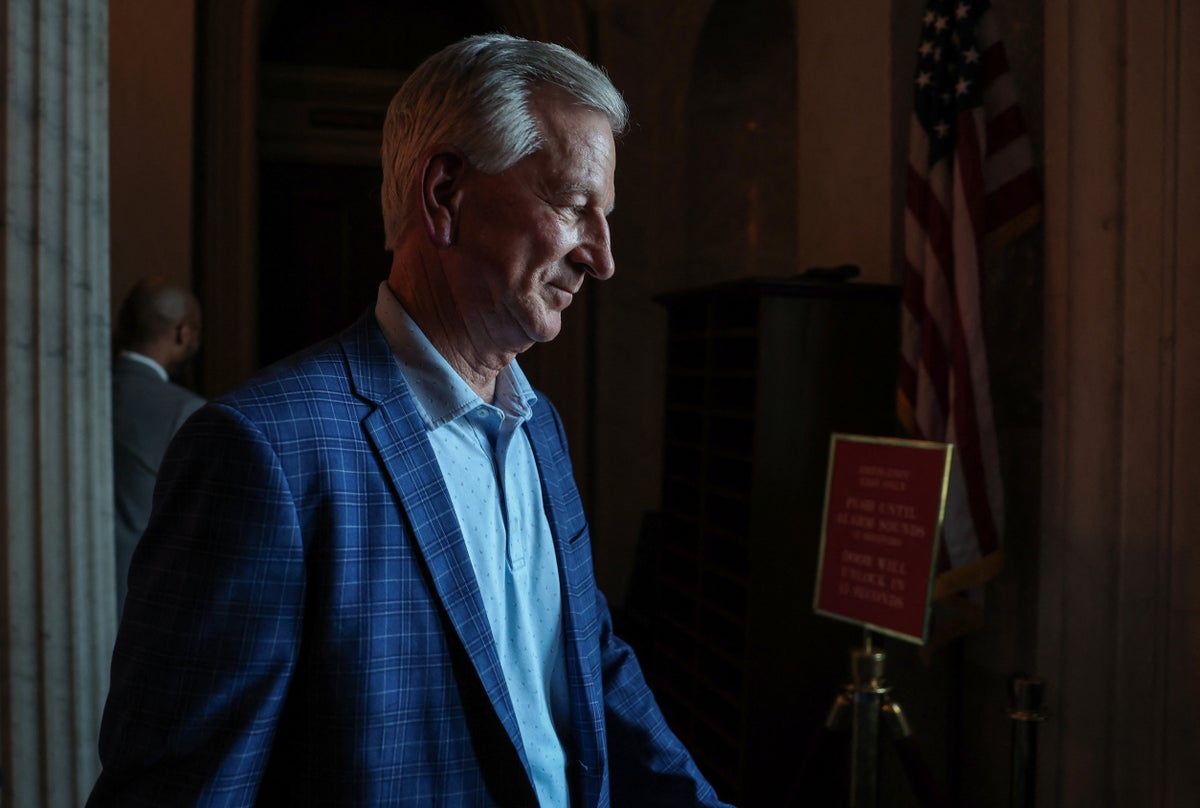 Democratic US Senator Tammy Duckworth has warned that Republican Senator Tommy Tuberville's ongoing and "distressing" blockade against the promotions of hundreds of military officials risks jeopardising national security.
Ms Duckworth, a US Army veteran of the Iraq War, has joined Democratic criticism against the Alabama senator and member of the Armed Services Committee who is holding up promotions in protest of US Department of Defense policy to reimburse travel costs for service members seeking abortion care.
President Joe Biden recently condemned the senator's efforts as "totally irresponsible," while critical posts remain unfilled, senior officials near the end of their terms, and service members threaten to resign.
"I'm going to just say what President Biden has said: it is bizarre for Senator Tuberville to say that he's not jeopardising national security when he injects politics into the defense process," Ms Duckworth said on NBC's Meet the Press on 16 July.
"And frankly, this is not the time to do it," she added. "Right now, Senator Tuberville is jeopardising our nation's ability to lead the free world at a time when there's a war in Europe because he wants to inject politics into this."
A recent White House memo has also accused Republican officials of enabling Mr Tuberville's efforts with "barely a word of protest" as the Alabama senator risks threatening to "erode military readiness and abuse military families in the pursuit of an unrelated and extreme anti-freedom agenda" with his blanket hold on promotions and reassignments.
"He's even subjecting the families who serve with members to excruciating uncertainty, like not knowing where children will go to school or where spouses can work," according to the memo.
Mr Tuberville – who is also facing criticism for a series of fumbling statements defending white nationalism – continues to defend his blockade until the Pentagon reverses its policy.
Senate Minority Leader Mitch McConnell does not support his efforts, and a letter signed by seven former secretaries of defence has warned that "nearly 80 three- and four-star commanders who are ending their terms in the coming months will not be able to be replaced."
Meanwhile, House Republicans have advanced a draft of a critical national defence spending bill that would prohibit spending on travel expenses for abortion care, regardless of whether service members are stationed – even in states where care is effectively illegal.
On Fox News on Sunday, Republican Senator Tom Cotton said that service members who seek abortion care are participating in "abortion tourism". He said pregnant service members should use their 30 paid leave days to seek that care.
Asked whether he believes all service members, regardless of where they are stationed, should have access to the same level of care, Republican US Rep Michael McCaul told CBS Face the Nation on Sunday that they are "free to travel to another state" instead.
In the year after the US Supreme Court reversed the half-century precedent from Roe v Wade, more than a dozen states across the country, mostly in the US South, have effectively banned abortions for most pregnancies, and Republican members of Congress – and several GOP presidential candidates – have mulled national restrictions on abortion access.
A series of House GOP amendments to the must-pass National Defense Authorization Act include a ban on transition healthcare for transgender service members and a measure that eliminates diversity, equity and inclusion programs and staff members from the Defense Department – provisions that echo Republican legislation-led legislation across the country.
"This legislation is never getting to the president's desk," national security adviser Jake Sullivan told CNN's State of the Union on 16 July.
An "extreme group of Republicans" have sought to "mix domestic social debates with the needs, the security needs of our nation," he said.
"Holding America's military readiness – as well as service members and their families – hostage to an extreme, divisive political agenda undermines our national security and disrespects the sacrifices that those who wear the uniform," White House press secretary Andrew Bates said in a statement last week.
"That's what House Republicans, Senator Tuberville, and Senate Republicans who refuse to challenge him are doing by hijacking a bipartisan bill and devolving it into a hardcore rightwing wishlist," he added.
play youtube
,
xnxx
,
xvideos
,
porn
,
porn
,
xnxx
,
Phim sex
,
mp3 download
,
sex 4K
,
Straka Pga
,
gay teen porn
,
Hentai haven
,
free Hentai
,