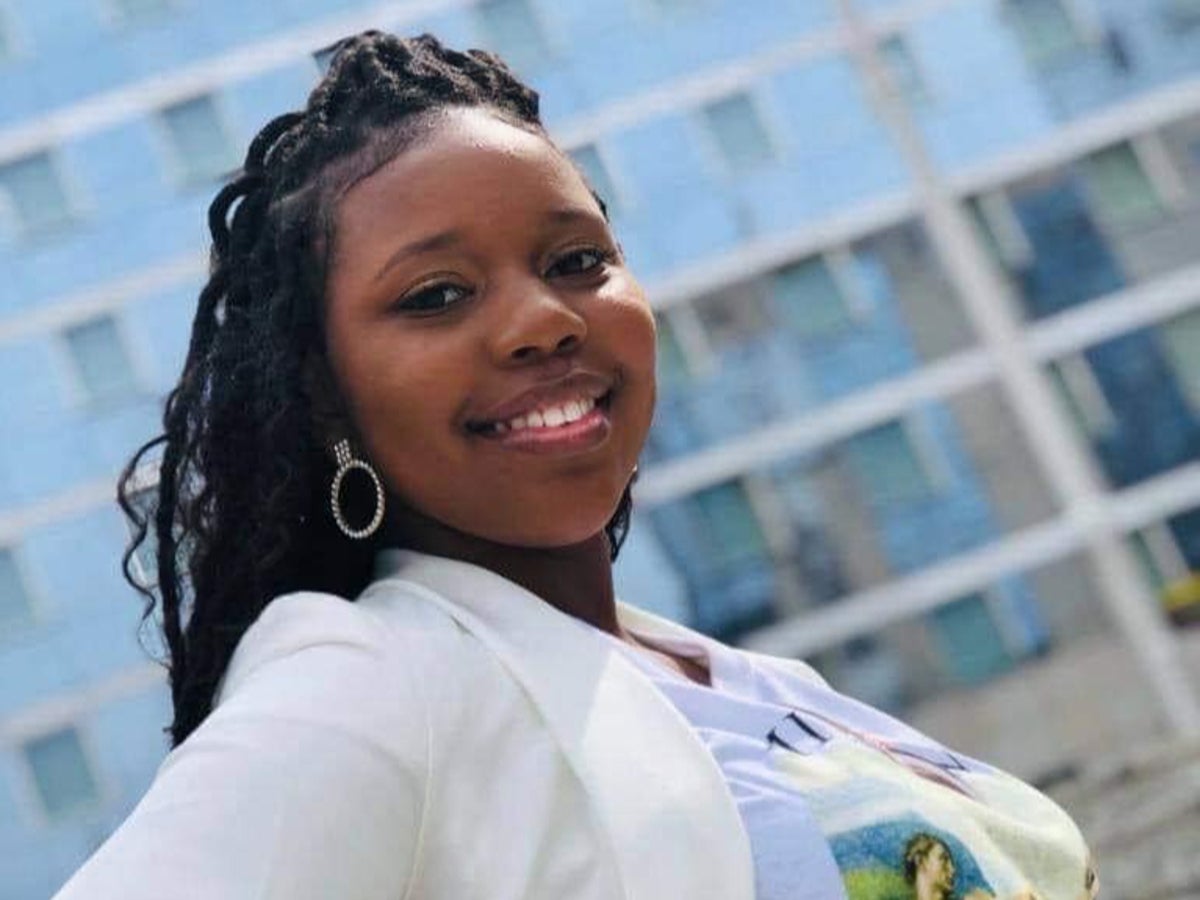 Carlethia "Carlee" Nichole Russell vanished on 13 July after calling 911 to report she had seen a toddler walking on the side of Interstate 459 in Alabama.
The 25-year-old stopped her car to check on the child, and called a family member before losing contact, according to the Hoover Police Department.
By the time officers arrived five minutes later, Ms Russell had disappeared with her car engine still running, and the toddler was nowhere to be found.
Law enforcement and family mounted a desperate search for the missing woman and pleaded with the public for help.
Then just over 48 hours later, police were notified that Ms Russell had returned home on foot.
Since then, her boyfriend Thomar Latrell Simmons has claimed she was kidnapped and had been "fighting for her life" for 48 hours.
Police, however, have not offered any official details about what happened to her during those two days.
Here's what we know about her disappearance so far – and the questions that remain unanswered:
What happened?
Ms Russell left work at The Woodhouse Spa in the Summit, a luxury shopping mall in Birmingham, at about 8.20pm on 13 July, according to the Hoover Police Department.
She stopped for food at Taziki's in the nearby Colonnade mall to pick up food for herself and her mother, and then drove south onto Interstate 459, according to AL.com.
Soon afterwards, Ms Russell reportedly came across a young boy aged three or four in diapers walking along the side of the highway near mile marker 11.
At 9.34pm, she called 911 to report sighting the child. She then phoned her brother's girlfriend to say she was stopping to check on the child. Ms Russell lost contact with the relative, although the line remained open.
The girlfriend then heard what they thought was someone scream, followed by traffic noise from the interstate, according to AL.com.
According to police, traffic cameras caught Ms Russell stopping at the side of the road.
The child was not sighted on the footage, and authorities haven't received any other reports of a missing child, Hoover Police Department said in statement on Friday morning.
When police officers arrived, they found her red Mercedes still running and belongings including a wig, phone, Apple Watch and purse, but no sign of her or the toddler, her mother Talitha Russell said.
On Friday afternoon, authorities issued an urgent appeal for any information about her whereabouts.
"No piece of information is too small for this investigation," public information officer Lt Daniel Lowe wrote in a statement.
Local, state and federal law enforcement agencies joined family and friends in the frantic search.
Ms Russell was described as being 5'4" tall, and weighing 150-160 pounds. She was last seen wearing a black shirt, black pants and white Nike shoes.
Mr Lowe said police had received a single, vague, tip about a a gray vehicle and a man with light complexion having been seen near the missing woman's car.
Talitha Russell, the missing woman's mother, later told AL.com the tip had come from a trucker.
"He saw a gray car with a tall brown skinned man with khaki shorts on leaning over in the car,'' Ms Russell told AL.com.
An anonymous donor put forward a $20,000 reward for her safe return, and CrimeStoppers put in an additional $5,000.
Carlee Russell returns home
Early on Saturday evening (15 July), police were dispatched to the Red Roof Inn in Vestavia Hills after receiving reports of a sighting, AL.com reported.
There was no sign of Ms Russell by the time they arrived.
Then at 10.44pm, police received a 911 call to say Ms Russell had showed up at her home on foot.
She was reportedly in a state of shock.
Police and fire responded, and Ms Russell was taken to UAB Hospital where she was treated for unspecified injuries before being discharged.
While she was in hospital, detectives from Hoover Police Department took an initial statement from her.
Police said they were working to build a timeline Ms Russell's movements after she was reported missing.
They didn't provide any further details about the missing person investigation, leaving unanswered questions about whether they were seeking suspects, or the fate of the toddler that Ms Russell reported seeing.
"We rejoice with the Russell family as they continue to rest and recover from this situation and ask for their wishes to be respected regarding their privacy," the police department said in a statement.
Hoover Police Chief Nicholas Derzis told WBRC that the department was relieved she had come home.
"The first thing is to give Carlee and family a little time to get themselves back together," he told the local news site.
"I know it's been a tough experience for them. When we think it's time to sit down and have a conversation with Carlee and try to get some facts, we'll do that."
Up to 60 police officers had been working on the case, he added.
Kidnapping claims
On Sunday, Ms Russell's boyfriend Thomar Latrell Simmons claimed that she had barely survived her ordeal after being kidnapped.
"She was literally fighting for her life for 48 hours, so until she's physically & mentally stable again she is not able to give any updates or whereabouts on her kidnapper at this very moment," Mr Simmons wrote.
Mr Simmons added that he had been searching for Ms Russell "nonstop" since he was notified of her disappearance.
He said there had been "false allegations & assumptions" that he had something to do with her abduction, adding he hadn't let the rumours distract him.
Mr Simmons thanked the family, friends and fellow churchgoers for their help.
"All I (ask) from everyone right now is to be respectful of Carlee's situation."
Two weeks before she went missing, the couple shared holiday pictures from a trip to New York on social media.
Who is Carlee Russell?
Ms Russell lives with her parents in Hoover, a fast-growing suburb on the southern outskirts of Birmingham.
She worked part time at The Woodhouse Spa and was also a student at Jefferson State Community College, where she was studying to be a nurse, according to AL.com.
Jefferson State issued a statement on Friday saying it was "extremely concerned" for Ms Russell's safety.
On the day she went missing, Ms Russell had spent time with officers from Harpersville Police Department, according to a Facebook post on Friday asking for help finding her.
"We were honored to spend time with this smart, courteous and honoring young woman yesterday," the department said on social media.
"She was handling some business in the Town of Harpersville yesterday and we were so impressed by her respect, poise, good attitude and her drive to become a nursing student and help others."
The police department later issued an update after its initial post led to the spread of unfounded rumours.
"For clarification, Ms Russell was not at the Harpersville Police Department," they later added. "Contrary to the stigma, we consistently encounter citizens while engaging the community and those occasions are primarily positive."
play youtube
,
xnxx
,
xvideos
,
porn
,
porn
,
xnxx
,
Phim sex
,
mp3 download
,
sex 4K
,
Straka Pga
,
gay teen porn
,
Hentai haven
,
free Hentai
,