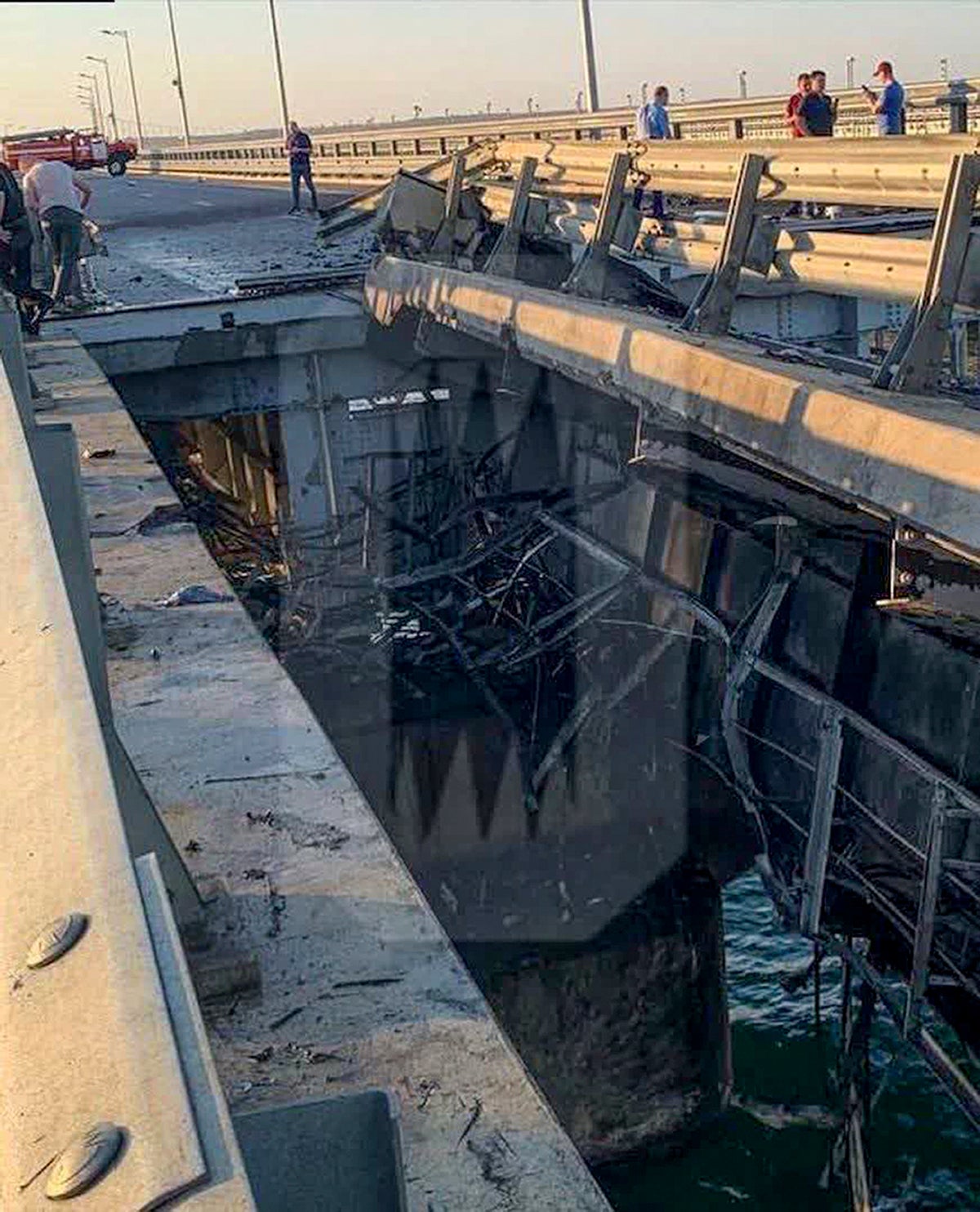 Belarus claims Wagner mercenary forces are training its troops
Two people were killed and their daughter was seriously injured after multiple reports of explosions on the Crimean Bridge led officials to declare an "emergency situation" in the early hours of Monday.
Officials closed roads leading to the Kerch Bridge linking Russia and the Crimean peninsula, which is a major supply artery for Russian troops fighting in Ukraine and a prestige project that was personally opened by President Vladimir Putin.
There was no immediate confirmation of an attack on the bridge, but it has been struck at least once previously since Vladimir Putin's invasion began more than 500 days ago.
Preliminary visuals of the lit-up Kerch Bridge on social media appeared to show a portion had been damaged. Russian military bloggers reported two missile strikes on the overpass.
The RBC-Ukraine news agency said explosions were heard on the bridge, while Russian officials called it an "emergency" situation.
A girl, who was injured in a passenger car, was being treated in intensive care, while her parents were killed, Vyacheslav Gladkov, governor of the Belgorod region said in a message on the Telegram messaging app.
1689578535
Russian official says Ukraine behind Crimea bridge incident – RIA
The Russian-installed head of Crimea's parliament said on Monday that Ukraine was behind an incident on the Crimea bridge which killed two people earlier, the state RIA news agency reported.
He was quoted as saying that the bridge had been attacked by what he called Ukraine's "terrorist regime" and that the railway part of the bridge was not damaged.
Tara Cobham17 July 2023 08:22
1689575382
Crimea Bridge incident could be Moscow's provocation – Ukraine's military
The incident on the Crimea Bridge could be an act of provocation on Moscow's side, Natalia Humeniuk, the spokesperson for Ukraine's southern military command, said on Monday.
"The creation of such provocations, which the occupying authorities of Crimea report immediately very loudly, is a typical way of solving problems by authorities of Crimea and the aggressor country," Humeniuk told the national broadcaster Rada.
The Crimea Bridge, which connects the peninsula to Russia and is a key supply line for Russian troops in Ukraine, was damaged in an "emergency" situation which killed two people and injured a child, Russian officials said on Monday.
Tara Cobham17 July 2023 07:29
1689574536
Kerch Bridge attack: What do we know so far
The traffic on the key bridge connecting Crimea to Russia's mainland has been halted amid reports of explosions.
Two killed, one injured in explosions around 3am
The governor of Crimea, which was annexed by Russia in 2014, announced the closure early Monday but did not specify the reason.
News reports said local residents heard explosions before dawn, but there was no confirmation.
The 19kms (12-mile) bridge that was opened in 2018 is the main land connection between Russia and the Crimean peninsula.
Read more about the attack here:
Arpan Rai17 July 2023 07:15
1689573204
How Kerch bridge attack leaves Putin with limited supply lines for his troops
Any serious damage to the Kerch Bridge will significantly impair Russian supply lines of military equipment and munitions for its troops fighting in Ukraine, experts have warned.
George Barros, an analyst at the Washington-based Institute for the Study of War, said if the Kerch Bridge is damaged it will leave Russia with just a singular supply point, calling it a "logistically significant object".
"Russia will only have one ground supply line – the coastal highway on the Sea of Azov – to sustain (or evacuate) its tens of thousands of troops in occupied Kherson and Crimea if UKR [Ukraine] manages to degrade/destroy the bridge," Mr Barros said.
Arpan Rai17 July 2023 06:53
1689571315
Kerch Bridge saw heavy holiday traffic despite being a sensitive target
The Crimean peninsula has been a major and cherished holiday destination for Russians, especially after Moscow launched its invasion on Ukraine in 2022 and travelling to the West became more difficult for many.
In recent weeks, traffic jams to the entrance of the bridge stretched for kilometres on a daily basis as Russians went on holidays.
Vladimir Putin ally Arkady Rotenberg's company built the vast structure, which is Europe's longest bridge. Mr Putin has long lauded the project, boasting at one point that Russian Tsars and Soviet leaders had dreamed of building it but never did.
This morning, the traffic jam ran for kilometres before police directed vehicles away from the bridge. Social media accounts showed cars lined up on the bridge and its entrance.
The Russian-backed administration of the Crimean peninsula urged residents not to travel via the bridge.
The Kerch Bridge was previously damaged by an explosion last October, in an attack that the Kremlin said had been orchestrated by Ukrainian security forces. Ukraine admitted only indirectly to the attack months later.
Arpan Rai17 July 2023 06:21
1689570628
No traffic currently using Crimean bridge
People are not using the Kerch Bridge today and no traffic is currently present on the flyover, according to a video by Reuters.
The video showed the scene this morning on the bridge connecting Russia and the annexed Crimean peninsula after local officials declared an "emergency".
The Crimean Bridge was damaged by an explosion last October, in an attack that the Kremlin said had been orchestrated by Ukrainian security forces. Ukraine admitted only indirectly to the attack months later.
Arpan Rai17 July 2023 06:10
1689569323
Ferry service disrupted at Crimea Bridge as crowd gathers – report
Police officials at the Crimea Bridge warned drivers in the early hours today that the ferry service at the bridge was not working, Russia's RIA state news agency reported.
This comes as videos shared on social media showed traffic jam near the bridge as police official on the spot tell them to "take the ferry or go home".
Russia-backed officials are also trying to assure the locals that the peninsular region is fully stockpiled with fuel, food and industrial goods and local warehouses have all the necessary stockpiles to avert any crisis-like situation.
Arpan Rai17 July 2023 05:48
1689568586
Parents killed in Crimea bridge attack and child suffers injuries, Russia says
At least two people have died in the explosions on Crimea's Kerch Bridge this morning, Russian officials said.
A family of three – a couple and their daughter – were travelling across the bridge when the incident took place.
"We all saw with you on a video on the internet [of] a damaged car with Belgorod numbers. What information is available at the moment: a girl was injured," said Vyacheslav Gladkov, governor of the Belgorod region in southern Russia.
"The hardest thing is that her parents died, her dad and mum."
Arpan Rai17 July 2023 05:36
1689568195
Trump says he would tell Zelensky to 'make a deal'
Donald Trump has again offered his insight on how the war can be ended in Ukraine, claiming that he knows the Russian president Vladimir Putin and Ukrainian president Volodymyr Zelensky very well.
"These are smart people, including Macron of France. I could go through the whole list of people, including Putin.… These people are sharp, tough and generally vicious. They're vicious, and they're at the top of their game. We have a man that has no clue what's happening. It's the most dangerous time in the history of our country," the former US president told Fox News.
On being asked about his claims to "end the war in Ukraine in 24 hours" and response to the situation, Mr Trump added: "I know Zelensky very well. I felt he was very honourable because when they asked him about the perfect phone call that I made, he said it was indeed, he said it was."
"He didn't even know what they were talking about. He could have grandstanded…," he said.
"I know Zelensky very well, and I know Putin very well, even better. And I had a good relationship, very good with both of them. I would tell Zelensky, no more. You got to make a deal. I would tell Putin, if you don't make a deal, we're going to give him a lot. We're going to [give Ukraine] more than they ever got if we have to. I will have the deal done in one day. One day," he said.
Arpan Rai17 July 2023 05:29
1689567401
Why is Kerch bridge important for Russia in war with Ukraine
The Kerch Bridge has been a sensitive and potentially strategic target ever since the start of the Ukraine war, with at least one previous successful attack and several reported attempts taking place.
The bridge is crucial for the supply of fuel, food and other products to Crimea, where the port of Sevastopol is the historic home base of Russia's Black Sea Fleet.
It also became a major supply route for Russian forces deeper in Ukraine after Moscow invaded its neighbour last February, sending forces from Crimea to seize most of southern Ukraine's Kherson region and some of the adjoining Zaporizhzhia province.
The 19km (12 mile) bridge, also known as the Crimea Bridge or the Kerch Strait Bridge, is the only direct land link between Russia and the Crimean peninsula, which Moscow annexed from Ukraine in 2014.
Arpan Rai17 July 2023 05:16
play youtube
,
xnxx
,
xvideos
,
porn
,
porn
,
xnxx
,
Phim sex
,
mp3 download
,
sex 4K
,
Straka Pga
,
gay teen porn
,
Hentai haven
,
free Hentai
,