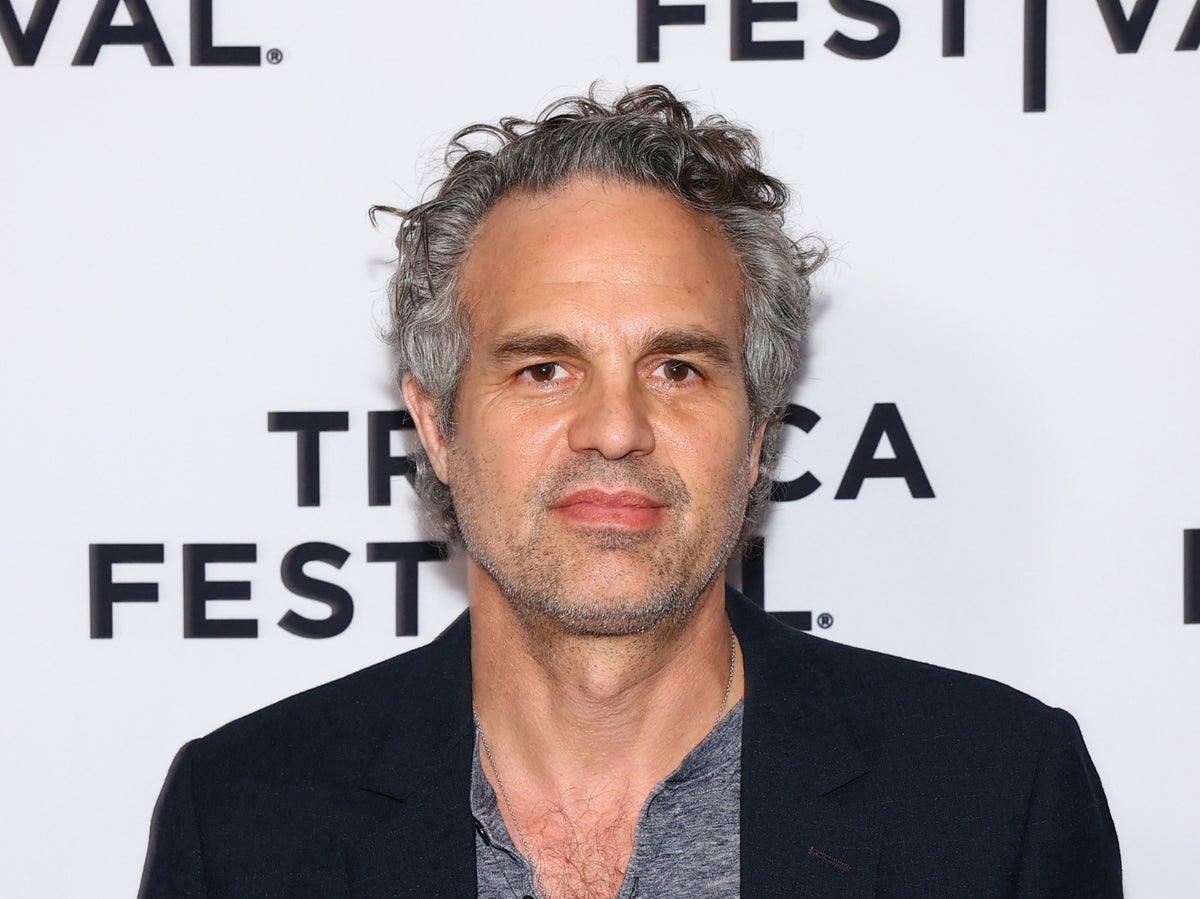 'No contracts, no peace': Actors stage demonstration in New York
Mark Ruffalo has raged against Hollywood "fat cats" who he said "believe we [actors] are no longer of value".
The 13 Going on 30 star made the remark in a series of tweets about the actors' strike that has effectively shut down Hollywood.
Negotiators for the SAG-AFTRA union unanimously recommended a strike after talks with studios broke down. Scripted TV and movie production ceased immediately in the first dual work stoppage by both actors and writers in 63 years.
The Writers Guild of America has been on strike since early May. Both groups demand increases in base pay and residuals in the streaming TV era plus assurances that their work will not be replaced by artificial intelligence (AI).
Both unions are in dispute with the Alliance of Motion Picture and Television Producers (AMPTP). Fran Drescher, former star of The Nanny and the president of SAG-AFTRA, said studios' responses to the actors' concerns had been "insulting and disrespectful".
George Clooney has led A-listers voicing support for the strike, and Jason Sudeikis and Susan Sarandon are among the stars who have been seen on the picket line. Succession actor Brian Cox, meanwhile, has warned that the actors' strike could get "very unpleasant".
The cast of Oppenheimer left a London premiere prematurely on Thursday night (13 July) to "go and write their picket signs".
Meanwhile, Disney CEO Bob Igercondemned the threatened strike action as "very disruptive" at the "worst time" as well as calling the expectations of writers and actors "just not realistic".
1689568216
Former Paramount CEO Barry Diller says strikes could lead to Hollywood's 'absolute collapse' if not resolved soon
Former Paramount and 20th Century Fox CEO Barry Diller warned that the industry could face an "absolute collapse" if the Writers' and Screen Actors Guild joint strike extends into the fall.
"What will happen is, if in fact, it doesn't get settled until Christmas or so, then next year, there's not going to be many programs for anybody to watch. So, you're gonna see subscriptions get pulled, which is going to reduce the revenue of all these movie companies, television companies, the result of which is that there will be no programs," Diller said on CBS' Face the Nation on Sunday (16 July).
"And at just the time, [the] strike is settled that you want to get back up, there won't be enough money."
Diller said he believes a settlement deadline of 1 September should be agreed upon by everybody to prevent "devastating" effects on the entertainment industry.
"I think there should be a settlement deadline because… this actually will have devastating effects if it is not settled soon," he said "This is a huge business, both domestically and for world exporters."
Diller added: "It sounds like I'm crying to the skies but these conditions will potentially produce an absolute collapse of an entire industry."
Peony Hirwani17 July 2023 05:30
1689530763
Every project affected by the strike
The list of TV and movies impacted by the strike, from Gladiator 2 to Yellowjackets, is ever-growing.
Read the full story here…
Ellie Harrison16 July 2023 19:06
1689523538
Matilda child star Mara Wilson and John Cusack share horror stories on Hollywood studio greed
Actors have been sharing stories of low income from hugely successful shows and films…
"Thanks to streaming, I have never once made enough to qualify for SAG-AFTRA healthcare," Wilson tweeted.
While she acknowledged she hasn't "acted much as an adult", the star argued: "But I WAS a recurring character on one of the most critically acclaimed animated shows of all time, as well playing an actual Disney villain."
Ellie Harrison16 July 2023 17:05
1689519489
Dune prequel to continue filming during actors' strike
The HBO show, titled Dune: The Sisterhood and starring Olivia Williams and Emily Watson, will resume production in Budapest and continue throughout the strikes.
It is under contract with British Equity but there are some from SAG-AFTRA involved. While SAG members working on Equity productions can choose to strike, the UK's anti-strike laws mean studios could sue.
Ellie Harrison16 July 2023 15:58
1689516016
Brian Cox says actors' strike could get 'very unpleasant'
In an interview on Friday (15 July) with Sky News, the 77-year-old British actor said the strike "could get very, very unpleasant" and "could go on for quite some time". He said: "They'll take us to the brink and we'll probably have to go to the brink."
Cox also addressed actors' concerns about the use of AI in film and television production, such as using artificial intelligence to write scripts or generate actors' likenesses without consent. "We don't know the extent to which it can operate," he said. "It's the boogeyman, it really is the boogeyman."
Ellie Harrison16 July 2023 15:00
1689511522
Who has been on the picket line?
Among the stars seen holding banners have been Thelma & Louise actor Susan Sarandon and Jason Sudeikis, star and creator of comedy Ted Lasso.
Allison Janney, Timothy Olyphant, Josh Gad, Ben Schwartz, Sean Astin, Charlie Barnett, Joey King, Chloe Fineman, Ginnifer Goodwin, Patton Oswalt, Marg Helgenberger, Jake McDorman, Constance Zimmer and Michelle Hurd have also all been spotted showing solidarity in LA and New York.
Parks and Recreation co-creator Mike Schur told Deadline: "Now a thousand very attractive people have shown up and joined the lines, it's an enormous amount of wind in our sails."
Ellie Harrison16 July 2023 13:45
1689503334
Mark Ruffalo rages against Hollywood 'fat cats'
Actor Mark Ruffalo has urged his fellow stars to work with indie producers, following the news that SAG-AFTRA will soon be signing "interim agreements" with truly independent producers that will allow many of them to make projects during the strike, as long as they are not affiliated with the Alliance of Motion Picture and Television Producers.
"Then we just do what we always do – create great content and they can buy it, or we take it out ourselves and WE share in those sales," he tweeted. "They've created an empire of billionaires and believe that we are no longer of value. While they hang out in the billionaire boy summer camps laughing like fat cats, we organise a new world for workers."
Ellie Harrison16 July 2023 11:28
1689497124
Christopher Nolan gives warning about AI
At a special screening of his film Oppenheimer, Christopher Nolan compared the rapid development of AI technology (a key issue in the labour dispute) with the events in his movie about creation of the atomic bomb.
One of the reasons actors are striking is because of fears around AI replacing them and using their likenesses in perpetuity.
"The rise of companies in the last 15 years bandying words like algorithm – not knowing what they mean in any kind of meaningful, mathematical sense – these guys don't know what an algorithm is," Nolan said. "People in my business talking about it, they just don't want to take responsibility for whatever that algorithm does."
"Applied to AI, that's a terrifying possibility. Terrifying. Not least because, AI systems will go into defensive infrastructure ultimately. They'll be in charge of nuclear weapons. To say that that is a separate entity from the person wielding, programming, putting that AI to use, then we're doomed. It has to be about accountability. We have to hold people accountable for what they do with the tools that they have."
He added: "With the labour disputes going on in Hollywood right now, a lot of it – when we talk about AI, when we talk about these issues – they're all ultimately born from the same thing, which is when you innovate with technology, you have to maintain accountability."
Ellie Harrison16 July 2023 09:45
1689493506
Haunted Mansion premiere goes ahead… with no stars
The Disney movie's world premiere on Saturday (15 July), starring Tiffany Haddish and Jamie Lee Curtis, is the first major Hollywood event to go ahead without any actors present.
"I feel very ambivalent about it, but at the same time, I'm just so proud of this cast and I'm so, so proud of Katie Dippold who wrote the script, and so much of why I did this was to honour her words and to honour their work," director Justin Simien told The Hollywood Reporter on the carpet.
"If they can't be here to speak for it, I felt like I had to be here to speak for it. It's sad that they're not here, at the same time, I totally support the reason why they're not here. And I'm happy to be the one to ring the bell in their stead."
Ellie Harrison16 July 2023 08:45
1689460212
Comment: Most actors are broke – this strike should kill the 'champagne socialist' myth dead
"Creative economies are complex beasts, particularly in the live entertainment sector. Even so, it's increasingly the case that the stars of the show are rarely the ones reaping the rewards, while the foot soldiers are barely managing to survive. A resolution is not looking good for the WGA according to one anonymous studio exec, who recently told the Hollywood publication Deadline that 'the endgame is to allow things to drag on until union members start losing their apartments and losing their houses'.
"If this is how those at the top truly view the creatives that make a show into a hit, there soon might not be an entertainment industry to speak of at all."
Ellie Harrison15 July 2023 23:30
play youtube
,
xnxx
,
xvideos
,
porn
,
porn
,
xnxx
,
Phim sex
,
mp3 download
,
sex 4K
,
Straka Pga
,
gay teen porn
,
Hentai haven
,
free Hentai
,