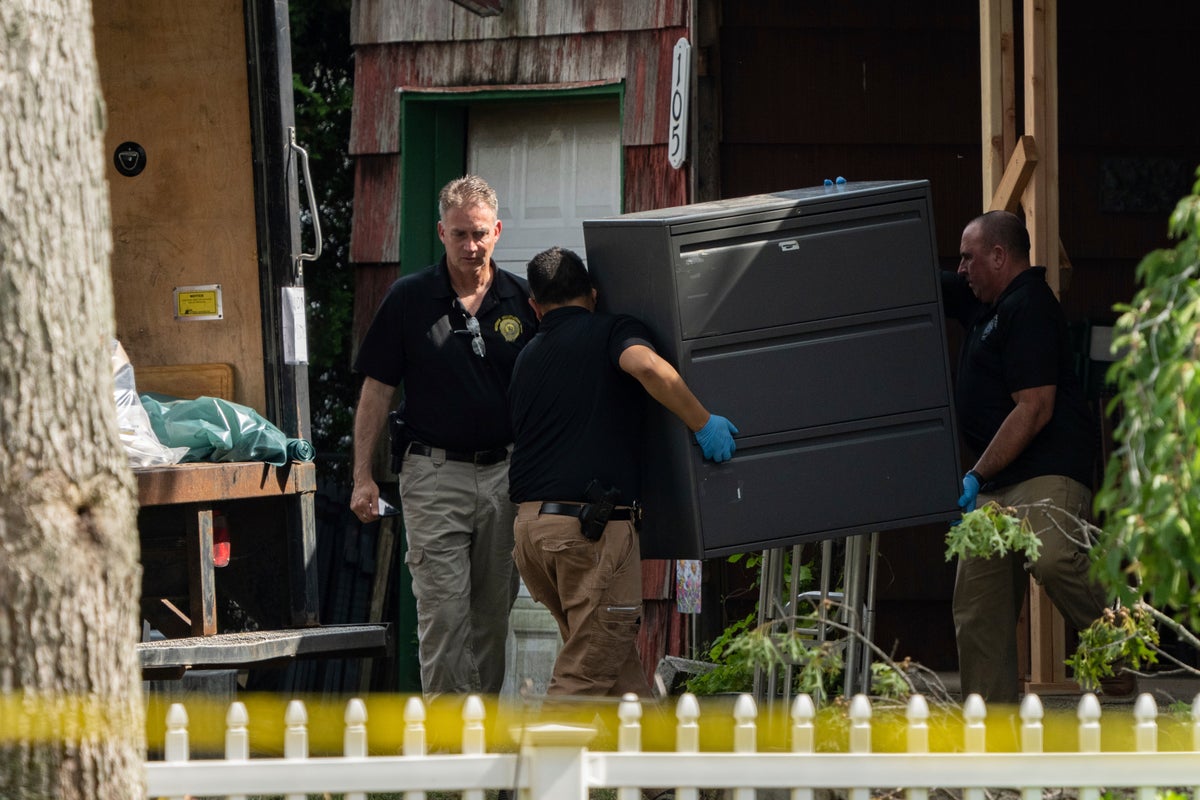 Kerri Rawson had allowed herself a rare sleep in on Friday morning when news broke that a suspect had been arrested in connection with the long-unsolved Long Island serial killings known as the Gilgo Beach murders. She woke up at her home in Florida to a barrage of excited messages and began delving into details about the arrest – but her mind almost immediately turned to one looming question: Does he have a family?
Because Ms Rawson, 45, had been alerted on a different Friday – almost 18 and a half years earlier – to the arrest of another serial killer: her father, Dennis Rader, now infamous as the man behind the BTK murders of at least 10 in Kansas. His adult daughter, now a mother of two herself, was flooded by a range of emotions as she learned about Rex Heuermann, 59, the New York architect charged on Friday with the murders of three women found dumped on the south shore of Long Island.
"They've been working on it forever, right, but for the public, we don't see any of that," Ms Rawson tells The Independent of the Gilgo Beach case. "So you're like, 'Holy crap.' You're elated to think they got another big one like my dad – and there hasn't been one this big since [the Golden State Killer Joseph DeAngelo] or my dad, really.
"And so your next thought, for me, is: Does he have a family?  That's a question, and so you're looking through media, and all of a sudden, you're reading, okay, he has a wife, he has kids. And then, for me … it's like I almost get ripped again, like emotionally torn – because you're so glad that they've caught somebody and got him before he could hurt anybody else, but you're heartbroken for this family.
"The reality is, somebody like my father should have been arrested in 1974, right after he committed the Otero murders. The reality is, if that had been the case, I wouldn't be alive. My kids wouldn't be alive. So it's those sort of processing thoughts, those take a very long time."
Ms Rawson's father was convicted of killing four members of the Otero family in 1974 and the murders of six other women between 1977 and 1991 – all while maintaining an outwardly normal job and family life, even securing leadership positions with in church and scouting. His daughter has firsthand experience of learning that a man with whom she shared a home had terrorised and murdered others – and her heart goes out to the immediate and extended Heuermann family as they struggle to digest the news.
"Right as the agent said, 'Hey, your dad is BTK,' I went into shock," Ms Rawson says of her own experience. "And then I was trying to ask him dates, because seven of the murders were before I was born, and then three were after and so I was asking for dates to try to alibi my dad, and then I quickly realised during that first conversation that my neighbour lady down the street had been murdered in '85, and so I knew that one was unsolved. So I'm literally going from alibiing my dad – trying to – to realising he very well could have committed this murder of my neighbour lady down the street.
"And so I'm having to give information and details about that" in the immediate aftermath of hearing of her father's arrest, she says. (Rader was, indeed, later convicted of killing Marine Hedge, 53, who lived six doors down; he strangled her in her home, then posed and photographed her body at his church before dumping her remains in a remote field.)
"And so with Rex's family, you know, we're hearing very quickly that his wife and kids were vacationing or out of out of the area on certain dates of the Gilgo murders … or when those women went missing," she says. "So when you start, you're literally like in shock being notified about your loved one, and then you're being asked, very quickly, information about dates and all of that. It's a pretty intense process while they're trying to screen you and get as much information as they can out of you, really, in that first interview before you talk to anybody else or media gets involved.
"Because I think they also know they only have a have a window, because you're going to go into trauma and shock mode, and you're not going to be nearly as helpful for a while."
The Heuermann family are presumably dealing with a similar timeline that followed her own family's notification. News broke on Friday of the Long Island suspect's arrest the night before, with police gathering evidence at the Heuermanns' Massapequa Park home as neighbors and onlookers gathered.
"Three days out for me would have been, okay, well, it would have been the same," she says. "So say on the Monday, I was still in shock. I was still shaking, literally physically shaking, for like five days."
Ms Rawson, then 26 – the same age as Heuermann's adult daughter now – was living in Michigan with her then-husband when officers notified her of the arrest in her home state.
Knowing that the media would be waiting to swarm her in Wichita, she flew into Kansas City before "hunkering down" with her mother.
"It was like coming home to a funeral," Ms Rawson says, continuing: "it was several generations of my mom's family got together – like my grandparents, aunts, and uncles – and then it literally was like my cousins were coming over, people were bringing food in the community. It was like a whole funeral was happening, like we had gathered all over a sudden death, and we were all sitting around sort of in shock."
Family members stepped in to cook or offer distractions with books or crossword puzzles, only talking about Rader's arrest "at times," she says.
"We were taking my mom's lead on that … so if my mom wanted to talk about it, we would; otherwise, we were all just sort of trying to cope," she says.
Ms Rawson's mother, Paula, had been married to the killer for more than three decades at the time of his arrest. She was granted an emergency divorce almost immediately upon her application in the months following his unmasking and has maintained her privacy ever since.
"My mom was at home when she was notified," Ms Rawson says of her mother's experience in February 2005. "She basically said, 'I need my medicine.' And so law enforcement went back in to get that, but she didn't even have clothes. My family had to go get her some stuff with permission … from law enforcement, who have taken over your house with those big, huge investigative trucks."
Trucks and other police vehicles were seen hauling evidence on Friday from the Heuermann's in Massapequa Park, where neighbors described a "very quiet family" who'd left little mark on the community other than with their relatively dilapidated, outdated house. Still, no one ever expects that a neighbour – let alone someone living under the same roof – could be capable of such viciously murderous crime. Ms Rawson knows firsthand just how difficult it is to wrestle with those revelations.
"You start questioning everything, like, who was this neighbour? Who was the person I lived next to? Could they have harmed my own kids? Was I in risk, was my family in risk? What did I miss? And then you're questioning basically everything, because you feel like your neighbours are part of your life, stability and people that you grow to trust. And so then you start questioning everything: your coworkers or your colleagues, other people, you start looking at everybody differently and wondering like, do I actually know anybody?"
The first night after agents informed Ms Rawson of her father's arrest, she says she "wanted to die … not kill myself; I just wanted to die," she says.
"I just didn't know how I was going to survive it," she adds. "And my Christian faith is one of the things that got me through and … you just have to make a decision, minute by minute. I mean, I even still have to do this 18 years later of like, 'Okay, this really sucks, whatever this is going on, and now what do I do next? ' And I always need a lot of time to process things still, emotionally and mentally. And so, for me, sometimes it's just a matter of going, 'Okay, what needs doing next?' You know, even if it's the dishes, like, what's one thing I can do? And so you're just applying that as you're going forward: Okay, what's next? What can I do next?
"And then, in time, certain aspects of it settle down, and you come to terms with the 'what,'" she says. "Getting your head around the 'what' can take a very long time, especially when it's developing right now [in the Heuermann case.] We really have no idea the extent of how many he possibly murdered or, like, how, where, when, who … it's very much developing right now. So it takes a long time to process the 'what,' even if you know the 'what,' and then you just make decisions for yourself, like putting one foot in front of the other, honestly – and it's going to look different for everybody. There's no one way to do it. You just do it."
Speaking out as an advocate for victims – which include families such as her own – has helped her navigate her own journey; Ms Rawson in 2019 published A Serial Killer's Daughter: My Story of Faith, Love and Overcoming, and last year published Breaking Free: Overcoming the Trauma of My Serial Killer Father.
"When my family went through this, we didn't have anybody speaking up for us," she says. "Maybe we did, we just didn't know, but we didn't see it – and so it is my hope that I'm helping a little bit, getting visibility on families like mine, because I'll have people say, 'Hey, hearing your story and seeing you speak makes me think about them, and I think about it differently.' And so if I'm even making a difference with one person and changing their perspective, then it's worth it."
She says that, "for somebody somebody like Rex's family, absolutely. I'm totally here for them."
Her own perspective, she acknowledges – as the victim child of a serial killer with firsthand knowledge of such an offender's history – "it's so rare – and then for somebody like me to be willing to talk is very rare.
"And so I'm trying to defend them, and speak up for them and make sure people understand that they're victims, and that they're going through utter hell, and they need to be respected and treated as victims and not just cameras shoved in their face, their privacy needs protecting, they need victim services.
"But then on the other hand, like, I'm also contacted now as basically an expert on my father's cases or like somebody that has firsthand knowledge of serial killers," she says. "And so I feel personally like I almost get torn here between what my responsibility is of making sure I am coming from a place of victim advocacy, but also a place from helping to like progress knowledge. I'm trying not to speak up unless I have something worthwhile to say; I'm trying to make sure I'm sticking to facts and being helpful. That's sort of my guidelines here.
"But yeah, they're going through through it really bad," she says of her thoughts on Long Island suspect's family. "I can just imagine, based on what my own family went through. And honestly, the thing is, certain aspects of it get better in time, but when stuff like this happens, it brings it all back up for the families … what happens is that PTSD, and that trauma, it comes in and the anxiety, all of that gets triggered, like on Friday. It's hard for me, on something like this close to home, to step away from it."
She is, however, watching closely, particularly honing in on all the years the suspect could have been active; it's been more than four decades since he turned 18. She is equally focused on getting justice for victims – however many there may be – and the families who have languished, devastated, for years without answers.
"You really have to go back into like the 80s," she says. "And so there's a lot of people talking about [how] he had homes in other places … my gut on this is that there's going to be a lot more. We just have to wait on evidence and DNA."
play youtube
,
xnxx
,
xvideos
,
porn
,
porn
,
xnxx
,
Phim sex
,
mp3 download
,
sex 4K
,
Straka Pga
,
gay teen porn
,
Hentai haven
,
free Hentai
,