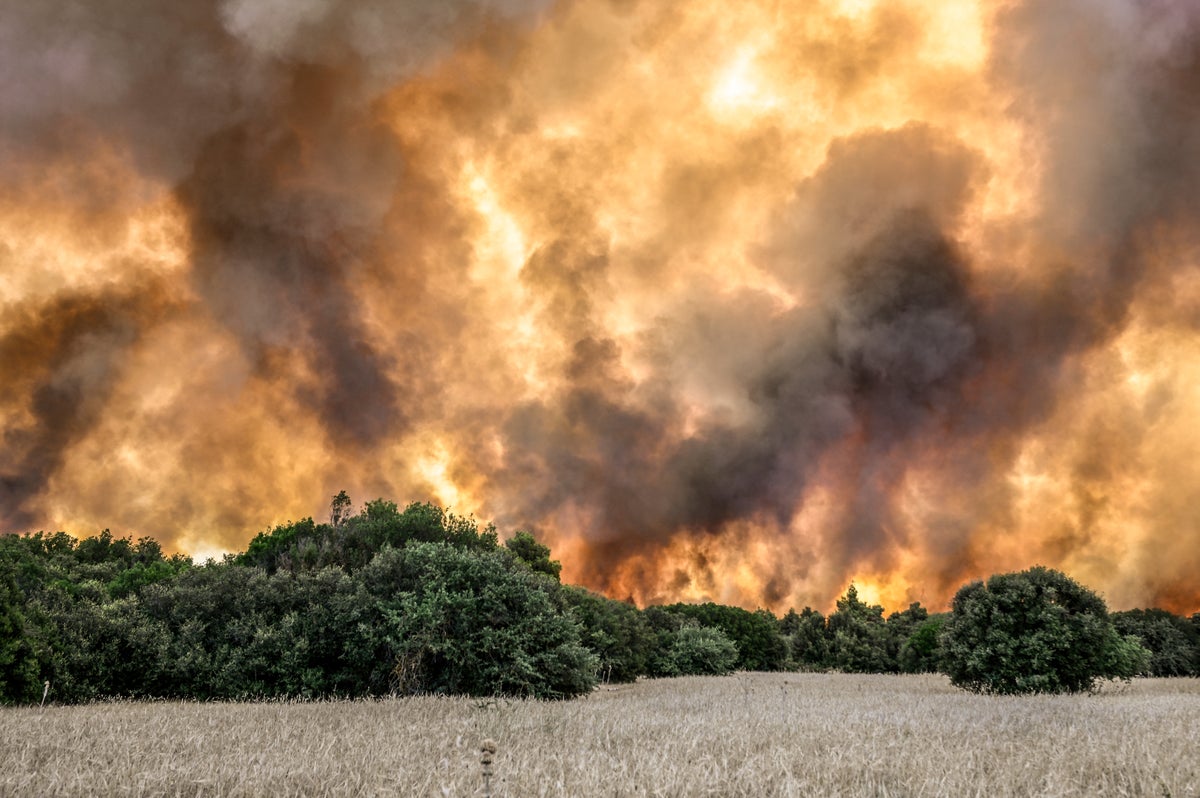 Europe is burning, as wildfires erupted in parts of Greece, Spain, Turkey, and Switzerland on the heels of a deadly heatwave that gripped the continent last week.
Thousands of people were evacuated from at least six seaside communities near Athens, after three wildfires broke out in Greece yesterday.
Simultaneously, the Spanish island of La Palma was engulfed by a forest fire that began on Saturday as authorities continued working to contain the blaze on Monday.
Not just Europe, climate change is forcing extreme weather conditions and wildfires in other parts of the world, including the United States, as well.
"In many parts of the world, today is predicted to be the hottest day on record," Tedros Adhanom Ghebreyesus, the secretary-general of the World Health Organization, wrote on Twitter. "And these records have already been broken a few times this year.
"Heatwaves put our health and lives at risk. The #ClimateCrisis is not a warning. It's happening."
These 11 photographs offer proof:
Over 4,000 people were temporarily evacuated in La Palma in the Canary islands earlier this week, after a huge wildfire began in the early hours of Saturday and burned through 10,000 acres of land by Monday.
More than 500 firefighters were joined by water-carrying helicopters that tried to douse the flames, as 20 homes were left severely damaged.
More fires erupted in Greece than authorities were able to handle, as it was reported on Tuesday that Athens had requested the European Union for assistance combatting the blazes that engulfed various parts of the country – beginning in Kouvaras on Monday.
Greek police arrested a man on suspicion of starting the wildfire near Athens fuelled by a heatwave and strong winds, firefighters said. "Police carried out the arrest of a foreigner who allegedly caused the fire" in the village of Kouvaras, located around 27 kilometres from Athens.
Fanned by shifting winds, the fire quickly spread from the village to the coastal towns of Anavyssos, Lagonisi and Saronida, as residents were forced to leave their homes. "Due to high winds, the blaze spread across 12 kilometres in two hours," a spokesperson for the fire service said.
Greek television showed several houses and cars gutted by the blaze and thick white smoke billowing from burning vegetation.
Over 1,200 children were evacuated from a holiday camp near the seaside resort of Loutraki, the town's mayor confirmed on Monday in a statement to private television channel Skai
As of Tuesday, 230 firefighters assisted by 76 fire engines and five helicopters were still operating at different spots in the area, a Greek fire service official said.
"(I only have) my bathing suit which I swim in, nothing else, and this shirt, I have nothing else, I don't even have other shoes. Nothing. I am finished," an 89-year-old man, Giorgos Nikolaou, 89, who saw his house in Lagonissi severely damaged by the fire told Reuters.
Loutraki Mayor Giorgos Gionis said municipal workers were assisting seniors in the evacuations, adding that the operation has been impeded by cell phone reception outages.
The heatwave affecting the Mediterranean is predicted to intensify, with little respite until August in some places, the World Meterological Organisation announced on Monday.
"The heat is forecast to intensify by the middle of the week (19 July) in parts of the Mediterranean, including Greece and Turkey," it said. "A further continuation into August is likely."
Nineteen wildfires broke out in Turkey between Saturday and Monday, with temperatures in parts of the country predicted to hit at least 39C on Tuesday.
Videos posted to Twitter by Turkish officials showed fires in Canakkale, Hatay, and Tekirdag, and two neighbourhoods in Tekirdag's Malkara district were evacuated.
A fire also broke out on the forested flank of a mountain in Bitsch near Brig, in Switzerland on Monday. By Tuesday, the it had spread to more than 100 hectares of forest, and forced over 200 people to evacuate. Authorities warned the blaze could spread further if winds pick up and take days or weeks to extinguish fully.
Additional reporting on wires.
play youtube
,
xnxx
,
xvideos
,
porn
,
porn
,
xnxx
,
Phim sex
,
mp3 download
,
sex 4K
,
Straka Pga
,
gay teen porn
,
Hentai haven
,
free Hentai
,