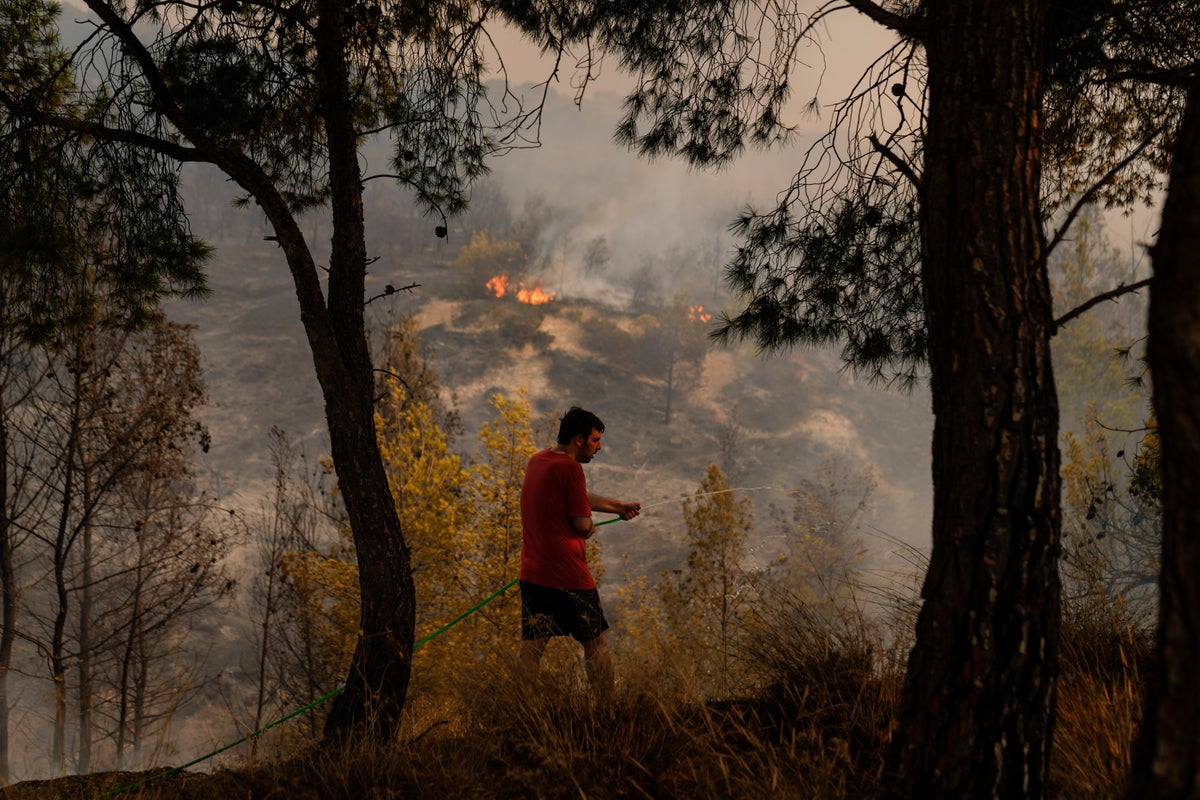 Britons travelling to Europe have been told to sign up for emergency alerts as the country is gripped by "extreme heat" and wildfires.
The UK Foreign Office has updated its travel advice for Spain and Greece, with Britons warned of travel disruption as temperatures soar.
It comes after thousands were evacuated from at least six seaside communities near Athens after their homes were threatened by wildfires.
Much of Greece has been baking in near 40C conditions as a heatwave grips the continent, with temperatures in the southeast European country forecast to climb further later this week and into the weekend.
"Extreme temperatures are currently affecting many areas of Greece," the guidance says. "You can register on the Greek government's Emergency Communication Service to receive emergency alerts."
Travellers are also advised to monitor local and international weather updates from the Greek Meteorological Service or European Meteorological Services, check conditions with their travel provider and follow the advice of local authorities at all times.
There is also a chance that the extreme weather conditions could disrupt travel, the Foreign Office added.
The advice for Spain has been updated to read: "Extreme temperatures are currently affecting many areas of Spain. For severe weather warnings and updates, visit the Spanish Meteorological Office (AEMET) and European Meteorological Services website.
"For information on how to take care in the heat visit the NHS website or the website of the Spanish Ministry of Health (only available in Spanish).
"You should check with your travel provider before traveling and follow the advice of local authorities at all times."
Officials in Greece issued the six evacuation orders on Monday morning as strong gusts of up to 70kph (45mph) whipped the wildfire closer to resort towns.
The army, police special forces and volunteer rescuers freed retirees from their homes, rescued horses from a stable, and helped monks flee a monastery threatened by the flames.
Last night water-dropping planes and helicopters tackled the flames near Lagonisi, some 40 km (25 miles) southeast of the capital.
The second large wildfire broke out in a wooded area near the resort town of Loutraki, some 90km (55 miles) west of Athens, where a children's summer camp and rehabilitation center for seniors were evacuated, local officials said.
Fire Service spokesman Yiannis Artopios said the strong and changeable winds and mountainous terrain in which both fires broke out were slowing the firefighting effort.
"The conditions are changing constantly and this has to be matched by our response. We have ordered multiple evacuations," he said.
The evacuees gathered along the coastline or were put up in schools and hotels, while coast guard vessels were dispatched to smoke-heavy beachfronts to assist if needed.
On a visit to Brusssels, Greek prime minister Kyriakos Mitsotakis described the risk posed by wildfires this month as "extremely difficult" to deal with.
"We have always had wildfires and we always will have them. But with the effects of the climate crisis, we are experiencing fires with increasing intensity," Mr Mitsotakis said, speaking on the margins of talks between leaders from the European Union and Latin American and Carribean countries.
Greater Athens and much of southern Greece were on the second highest level of alert for wildfires Monday and Tuesday following a four-day heat wave that eased over the weekend.
More heatwave temperatures are expected later in the week.
Residents and visitors in areas affected by the two fires received cell phone alerts from the Civil Protection Ministry.
Loutraki Mayor Giorgos Gionis said municipal workers were also assisting seniors in the evacuations, adding that the operation had been impeded by cell phone reception outages.
Local officials confirmed that homes had been destroyed and badly damaged in both fires.
Southern and parts of eastern Europe are currently in the grip of a sweltering heatwave that meteorologists forecast will continue well into this week.
Other popular holiday destinations including Italy, Spain and Turkey are also experiencing intense heat.
Thousands of people were evacuated from their homes in the La Palma area of the Spanish Canary Islands over the weekend as a wildfire tore through 4,500 hectares of land as firefighters struggled to tackle the blaze.
Forecasters in Italy say that Sardinia looks set to become the "epicentre" of the heatwave this week and could see temperatures of 48C (118.4F), just shy of the record 48.8C (119.8F) recorded in Sicily in August 2021.
This week's heatwave has been named Charon after the ferryman who delivered souls into the underworld in Greek mythology. Last week's was named Cerberus – the name of a mythical creature in ancient Greek folklore. Cerberus, a three-headed dog, was believed to guard the gates to the underworld.
Scientists say climate change is making extreme weather events like the current heatwaves in Europe more common.
play youtube
,
xnxx
,
xvideos
,
porn
,
porn
,
xnxx
,
Phim sex
,
mp3 download
,
sex 4K
,
Straka Pga
,
gay teen porn
,
Hentai haven
,
free Hentai
,