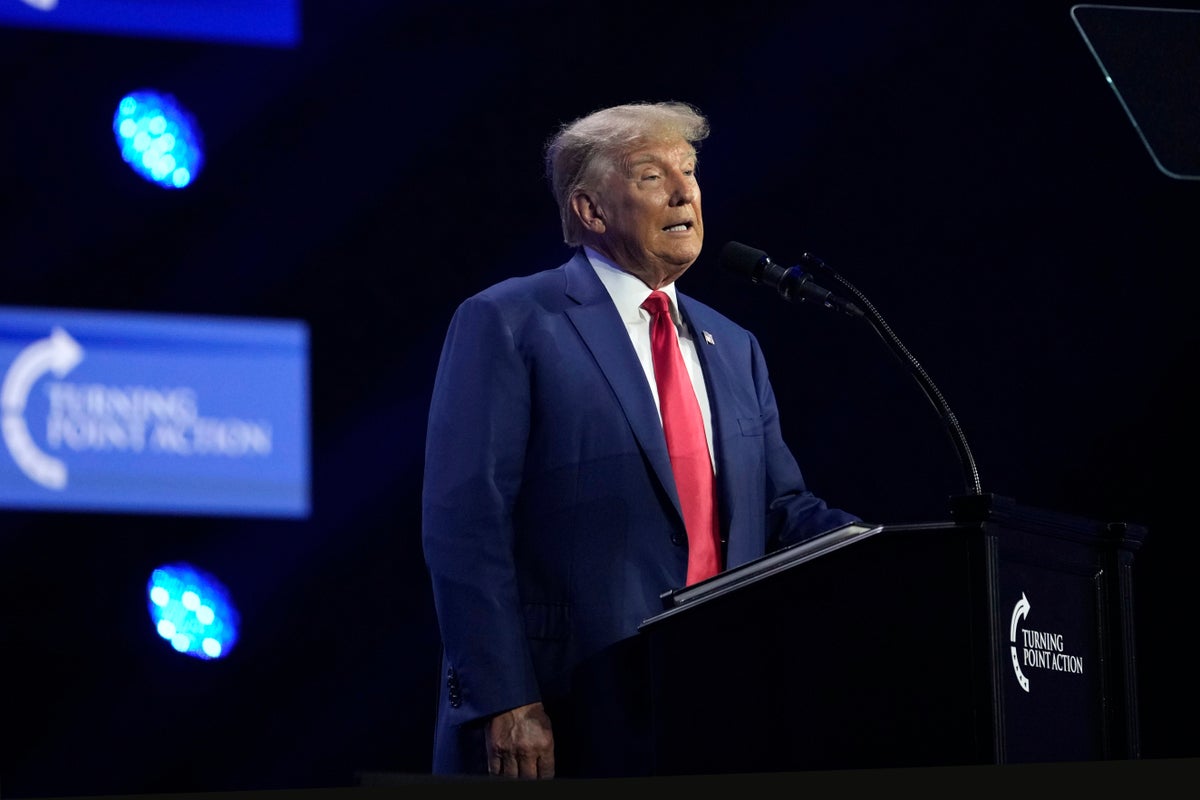 Donald Trump reveals plan after claiming he would end Ukraine war 'in 24 hours'
Donald Trump has claimed that he has "effectively" been indicted on charges for a third time – this time over his efforts to overturn the 2020 presidential election.
The former president took to Truth Social on Tuesday morning to claim that he had been informed that he is the "target" of a grand jury investigation by special prosecutor Jack Smith.
"On Sunday night, while I was with my family…HORRIFYING NEWS for our country was given to me by my attorneys," said Mr Trump. "Deranged Jack Smith…sent a letter (again, it was Sunday night!) stating that I am a TARGET of the January 6th Grand Jury investigation, and giving me a very short 4 days to report to the Grand Jury, which almost always means an Arrest and Indictment."
His announcement comes after he lost a bid to have a separate investigation – the Georgia election interference case – thrown out after the state's supreme court ruled against him. The ex-president is accused of trying to bully state officials to change the results in the wake of his 2020 defeat, telling them to "find" him enough votes to win the state.
A decision on charges is expected next month.
1689707107
Georgia governor has not met with special counsel
NBC News's Frank Thorp V reports that he spotted Georgia Governor Brian Kemp in the US Capitol this afternoon after a meeting with Senate Minority Leader Mitch McConnell.
The governor says he has not met with Jack Smith's team regarding the investigations into Donald Trump: "I have not talked to anybody from the special counsel's office, no."
He described his meeting with Mr McConnell as "good". When asked if he was interested in running for the Senate in the future, he said: "I am focused on '24, winning Georgia in '24, the road to the White House is coming through Georgia."
Oliver O'Connell18 July 2023 20:05
1689706807
Trump would consider two of his GOP 2024 rivals as running mate
Former president Donald Trump, who is leading the polls for the 2024 GOP presidential nomination, said he would consider allowing one of his Republican rivals in the race to "possibly" join his ticket.
On Fox News's Sunday Morning Futures, Mr Trump specifically pointed out entrepreneur Vivek Ramaswamy and South Carolina Sen Tim Scott from the crowded GOP field. Awkwardly, there was no mention of his former Vice President Mike Pence.
Oliver O'Connell18 July 2023 20:00
1689706605
Trump reaching out to congressional allies, report says
Donald Trump has reached out to some of his top allies on Capitol Hill to strategise how they're going to defend him and go on the offence against Jack Smith's special counsel probe, CNN reports.
The former president is said to have spoken with both House Speaker Kevin McCarthy and House GOP Conference Chair Elise Stefanik.
Oliver O'Connell18 July 2023 19:56
1689705907
Watch: Gaetz says he will introduce bill to defund Jack Smith probe
Oliver O'Connell18 July 2023 19:45
1689705583
Former Arizona governor has responded to special counsel election probe
Jack Smith's team has contacted former Arizona Governor Doug Ducey, who Donald Trump pressured to overturn the 2020 election, CNN's Kaitlan Collins reports.
A spokesperson for Governor Ducey confirms the contact and says he's been responsive, Collins reports.
"Yes, he's been contacted. He's been responsive, and just as he's done since the election, he will do the right thing," a spokesman for Ducey told CNN.
In 2020, then-president Trump called Mr Ducey while he was literally in the middle of certifying Arizona's election results. The governor looked at his phone (which was playing a ringtone version of Hail to the Chief) silenced the call and didn't answer.
Oliver O'Connell18 July 2023 19:39
1689705007
Recap: Trump indictment could drop as soon as this week
Trump relating to the January 6 attack on the US Capitol and his efforts to overturn the 2020 presidential election as soon as this week, The Independent has learned.
A source familiar with the special counsel's probe and Department of Justice operating procedures told The Independent that the earliest an indictment could be handed down is late Thursday or Friday, after the deadline prosecutors set for Mr Trump to avail himself of their invitation to testify before the grand jury investigating crimes relating to the Capitol attack.
Andrew Feinberg has the latest.
Oliver O'Connell18 July 2023 19:30
1689703439
Eastman lawyer says client hasn't received target letter
Former Donald Trump legal adviser John Eastman's attorney John Burnham released a statement about
"Our client has received no target letter, and we don't expect one since raising concerns about illegality in the conduct of an election is not now and has never been sanctionable."
Oliver O'Connell18 July 2023 19:03
1689703207
Megyn Kelly calls her 2016 row with Trump 'nonsense'
Journalist Megyn Kelly suggested the ongoing – and very public – feud between herself and Donald Trump was "nonsense", despite the former president having once made a crude reference about her being on her period.
Ms Kelly said the pair had buried the hatchet after having a private conversation ahead of their individual speeches at the Turning Point Action conference in Florida.
Gustaf Kilander has the story.
Oliver O'Connell18 July 2023 19:00
1689702288
Watch: Schiff calls McCarthy response to looming Trump indictment 'pathetic'
Oliver O'Connell18 July 2023 18:44
1689701407
Christie mocks Trump's 'top secret' plan for ending Ukraine war
Republican presidential hopeful Chris Christie has mocked rival Donald Trump's take on ending Russia's invasion of Ukraine, quipping: "Move over Churchill".
The former president announced he had a "one-day" plan for ending the war in Ukraine, stating in an interview with Fox News that he knew the leaders of Ukraine and Russia "very well" and that he would "have the deal done in one day".
But Mr Trump's comments were ridiculed by Mr Christie, who invoked British wartime leader Winston Churchill in his mockery of his foe.
Oliver O'Connell18 July 2023 18:30
play youtube
,
xnxx
,
xvideos
,
porn
,
porn
,
xnxx
,
Phim sex
,
mp3 download
,
sex 4K
,
Straka Pga
,
gay teen porn
,
Hentai haven
,
free Hentai
,