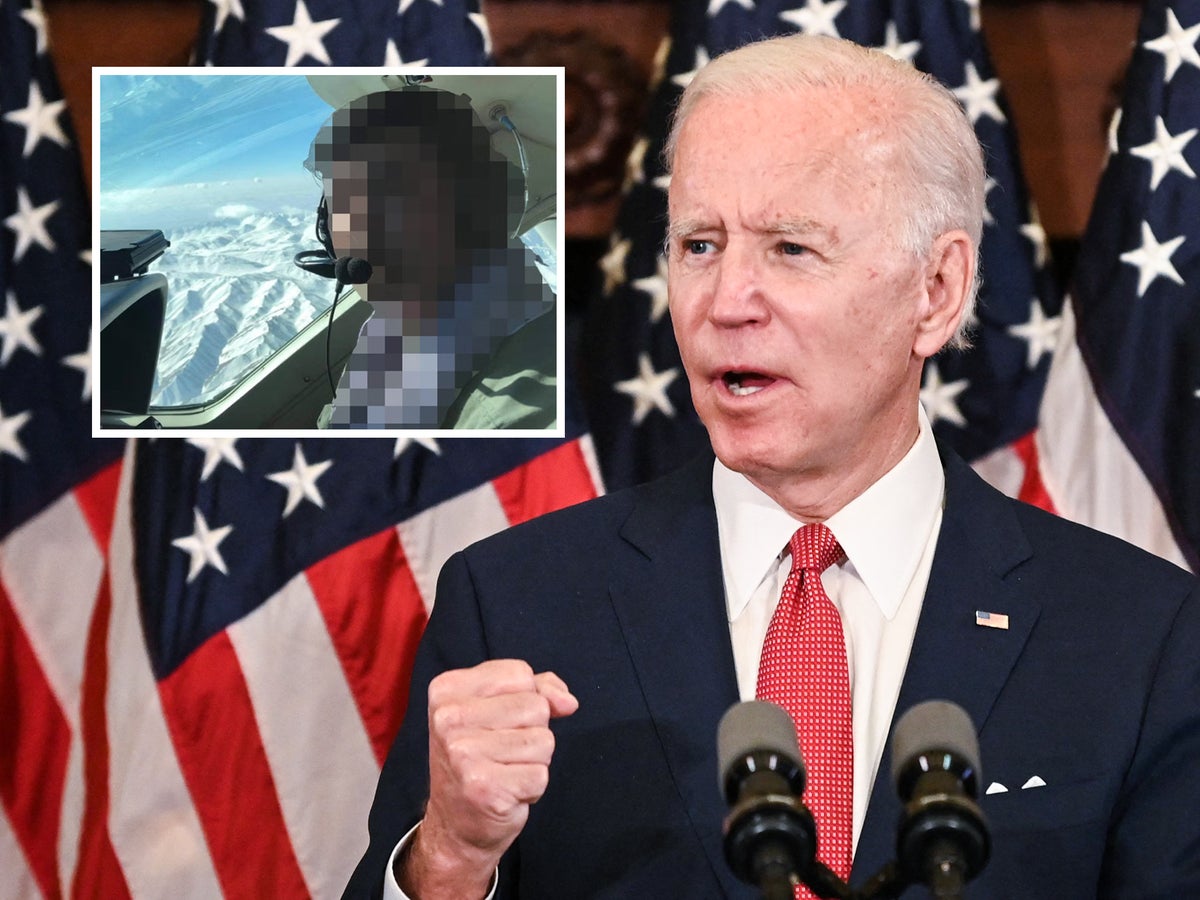 The White House has said it will "make sure" Afghan veterans who supported the US are taken care of – while the British government continues to stall in the case of an Afghan pilot who has been threatened with deportation to Rwanda.
The pilot, who risked his life on combat missions in support of coalition forces, has been left in limbo and has been threatened with removal after he arrived in Britain on a small boat because of the lack of safe legal routes.
After the UK rejected his first application to remain, Washington is now considering his case after his US supervisor made a personal recommendation and described him as a "true patriot to his nation".
President Joe Biden's spokesperson was asked about the speed at which Afghans were being brought to the US, especially from third countries, in light of The Independent's campaign on behalf of Afghan veterans.
Karine Jean-Pierre replied: "Our commitment continues to stand. To make sure that we take care of the folks who helped us during the longest war in this country that we have, we have seen that we have supported and the work continues."
The intervention turns up the heat on the UK which has still not removed the threat of deportation to Rwanda, despite the UK's Court of Appeal ruling that the government's agreement is illegal. Without the notice being removed, the pilot's application for asylum cannot progress and he is still being refused safe haven.
Dozens of military chiefs, politicians, diplomats and celebrities have joined in The Independent's call for him to be given safe refuge after the sacrifice he made.
The Afghan Air Force airman, whose wife and child are still in hiding in Afghanistan, served alongside coalition forces in the run up to the fall of Kabul two years ago. He described how he flew in missions co-ordinated and supported by British and US commanders to take out terrorists and eliminate drug production networks.
When the coalition troops left in August 2021, the pilot was among those dangerously exposed. The Taliban took over their offices and uncovered every detail about him – his email address, his phone number and where he lived. He waited in hiding in Afghanistan for several months before making the heart-breaking decision to leave his family and find safe refuge.
A long journey over land and sea culminated in a dangerous journey across The Channel last November. Thinking he would be welcomed and thanked for his sacrifice, the pilot was appalled to discover that he was threatened with deportation to Rwanda.
He told The Independent: "I am really disappointed. We weren't carrying out simple tasks in Afghanistan – we were doing your missions. Without our Afghan forces, the UK and US wouldn't have been able to do their activities.
"If the UK are abandoning us again, I hope the US may help. Many former Afghan pilots are even flying in the US, they are using their skills, unlike what the UK are doing with me. Maybe if I get to the US, I can work as a pilot again and have a future – which helps my family, who are still in danger in Afghanistan."
The pilot is not allowed to work in the UK while his asylum claim is paused and receives around £8 a week to live on while he is government-funded hotel accommodation.
He is being considered for possible sanctuary in the US under the P1 resettlement scheme, to which you have to be personally referred by a US official.
His application to the Ministry of Defence's Afghan Relocation and Assistance Policy was rejected because the government said that his pilot role was not one in which "the UK's operations in Afghanistan would have been materially less efficient or materially less successful if a role of that nature had not been performed".
Defence minister James Heappey had said that members of the Afghan air force would not qualify "in principle" for the scheme because they were not embedded with the British.
Sign The Independent's petition calling for UK to support Afghan war heroes who served alongside Britain
He is among thousands of other asylum seekers who have arrived in Britain on small boats, and who could face removal to Rwanda by the UK Home Office.
The notice of intent letter, issued by the government, said his asylum claim was "inadmissible" because he had travelled through a number of European countries before arriving in Britain.
The £140m deal to deport asylum seekers from UK to Rwanda was ruled unlawful at the end of June, but the Home Office have refused to remove the pilot's notice of intent – meaning his asylum claim cannot be processed.
Prime minister Rishi Sunak has pledged to appeal the court's unlawful ruling in the Supreme Court.
The former head of the British Army, General Sir Richard Dannatt, has previously described the Rwanda plan as an "unpopular policy", and blamed the home secretary Suella Braverman for "continuing to run down the remaining political capital of Rishi Sunak's government" by pursuing it.
A government spokesperson said: "Whilst we don't comment on individual cases, we remain committed to providing protection for vulnerable and at-risk people fleeing Afghanistan and so far have brought around 24,500 people impacted by the situation back to the UK.
"We continue to work with like-minded partners and countries neighbouring Afghanistan on resettlement issues, and to support safe passage for eligible Afghans."
play youtube
,
xnxx
,
xvideos
,
porn
,
porn
,
xnxx
,
Phim sex
,
mp3 download
,
sex 4K
,
Straka Pga
,
gay teen porn
,
Hentai haven
,
free Hentai
,