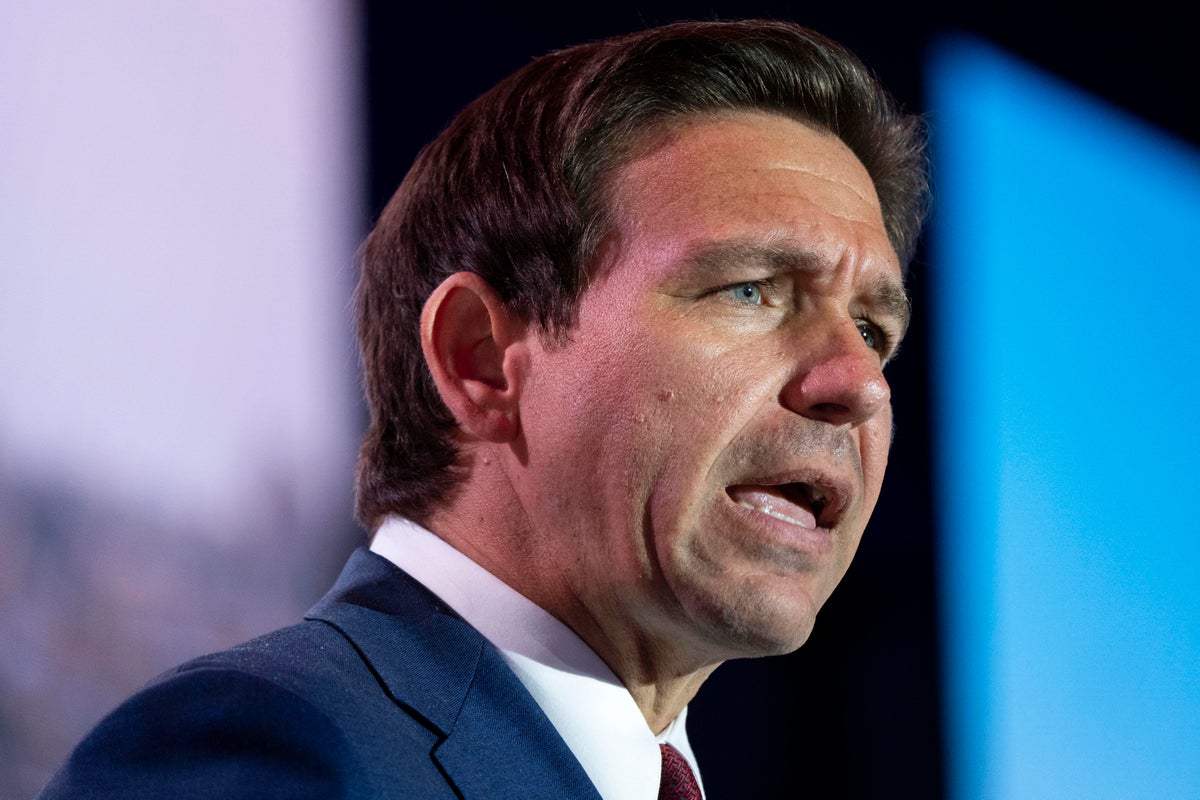 Florida Governor Ron DeSantis on Tuesday suggested that indicting former president Donald Trump for any crime stemming from his attempt to remain in office against the wishes of voters after losing the 2020 election would mean the Department of Justice is "criminalising political differences" and going after Mr Trump because prosecutors dislike him.
Mr DeSantis, who currently trails Mr Trump in most polls of 2024 Republican primary voters, was speaking to CNN anchor Jake Tapper when he was asked about Mr Trump's claim that he has received a letter from prosecutors informing him that he could soon be indicted a second time by a Washington, DC grand jury that has been investigating events leading up to the January 6 attack on the Capitol, when a riotous mob of the ex-president's supporters tried to stop certification of his loss to Joe Biden.
The Florida governor replied: " So here's the problem. This country is going down the road of criminalising political differences, and I think that's wrong".
Rather than address the possibility of charges against Mr Trump stemming from the January 6 investigation, Mr DeSantis instead pivoted to attack Manhattan DA Alvin Bragg, who earlier this year charged Mr Trump with multiple felony counts of having allegedly falsified business records relating to a 2016 hush money payment to adult film star Stormy Daniels.
Mr DeSantis claimed that Mr Bragg "stretched" the statute under which he charged the ex-president in order to "target" him, and said "most people, even people on the left" have agreed that such a case wouldn't have been brought had Mr Trump been "a normal civilian".
He also invoked the 2016-2018 Justice Department probe into Russia's 2016 campaign of interference in that year's presidential election as a "number one example" of both the DOJ and FBI being "weaponised against people they don't like," and called that investigation — which found that the Russian government's efforts on Mr Trump's behalf had been "sweeping and systematic" — "not a legitimate investigation" and alleged, falsely, that it had been opened to "drive Trump out of office".
Mr DeSantis then claimed his aim as president would be to "restore a single standard of justice" and "end weaponisation of these agencies" by firing FBI Director Christopher Wray, a Trump appointee who has become a conservative hate object for failing to protect Mr Trump while not acting to target the ex-president's Democratic enemies.
Asked whether he was advocating for ignoring evidence of criminality on Mr Trump's part, he replied that what he was actually saying was that "going after somebody on the other side of the political spectrum" was "wrong".
"I think we've gone down the road in this country of trying to criminalise differences in politics rather than saying, okay, you don't like somebody then defeat them in the election, rather than trying to use the justice system," he said.
play youtube
,
xnxx
,
xvideos
,
porn
,
porn
,
xnxx
,
Phim sex
,
mp3 download
,
sex 4K
,
Straka Pga
,
gay teen porn
,
Hentai haven
,
free Hentai
,