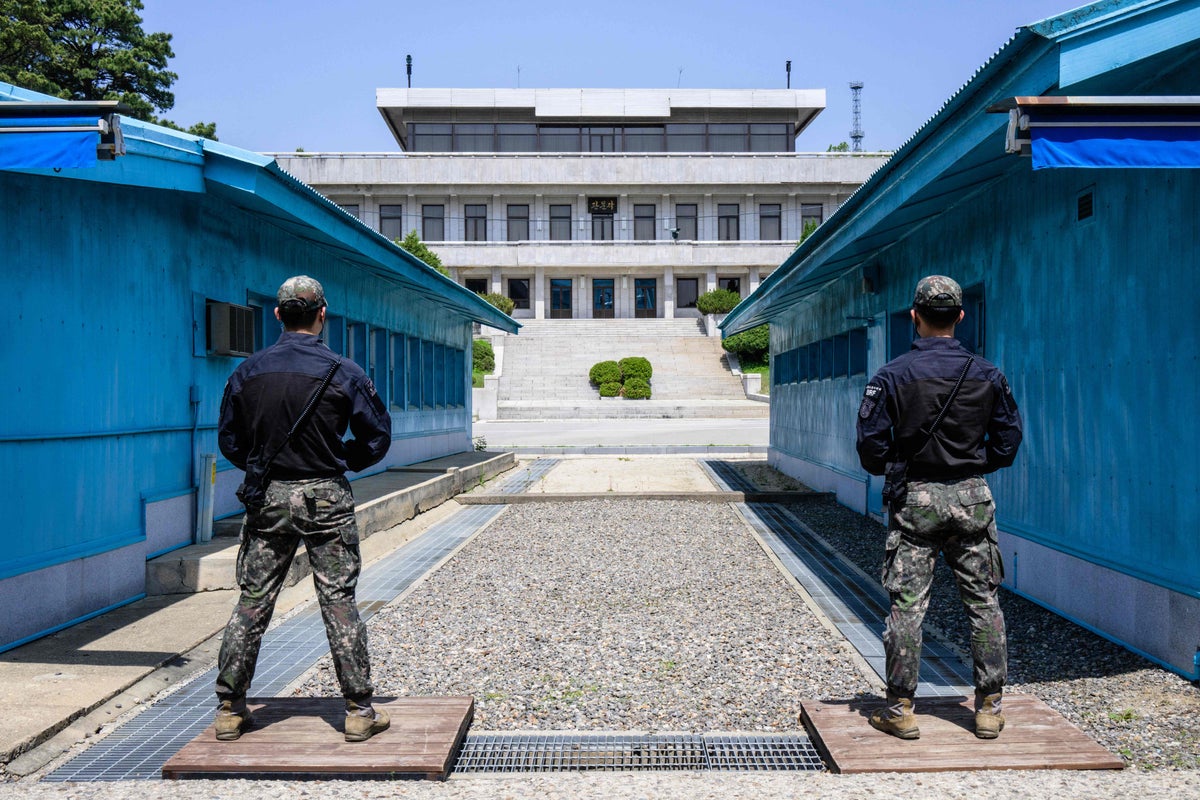 A tourist from New Zealand who was visiting the DMZ between North and South Korea thought it was a stunt when she saw a supposed member of her tour group sprint towards the north.
It quickly became clear that the incident was no prank, but instead a daring escape by a US soldier who had fled a Seoul airport and somehow joined the tour group as he was facing possible disciplinary measures at home.
Sarah Leslie told the AP that Travis King, 23, was out of uniform, dressed in jeans and a t-shirt, and she had no clue that he was a soldier, or in legal jeopardy.
Mr King, 23, had spent close to two months in a South Korean prison for assault before he was released on 10 July and was set to head back to Fort Bliss in Texas on Monday where he may have been discharged and possibly be the subject of further military discipline.
Ms Leslie told the news agency that her group went further than other tours as they visited the Joint Security Area in the village of Panmunjom, meaning that the tourists were essentially stepping onto North Korean soil in one of the buildings which is controlled jointly by the two nations.
She added that to be part of a tour of that kind, they had to submit their passports and get permits ahead of time.
The group left Seoul early in the morning, with Ms Leslie noticing that Mr King was journeying alone and appeared unwilling to speak to others taking the tour. She also noted that he bought a DMZ hat from a gift shop.
The tour was nearing its end Tuesday afternoon — the group had just walked out of the building and were milling about taking photos — when she saw King running "really fast".
"I assumed initially he had a mate filming him in some kind of really stupid prank or stunt, like a TikTok, the most stupid thing you could do," Ms Leslie said. "But then I heard one of the soldiers shout, 'Get that guy.'"
She said the order came from a US soldier, part of a group of troops patrolling the area alongside South Korean service members.
But the soldiers didn't have time to respond. She said that after running about 10 metres (30 feet) down a narrow passageway between the distinctive blue buildings, Mr King was over the border and then disappeared from sight. It was all over in a few seconds.
Ms Leslie said she couldn't see anyone on the North side – the group had been told earlier the North Koreans there had been lying low since the outbreak of the Covid-19 pandemic.
After Mr King ran, she said, the soldiers hustled all the tourists into a building and then took them to an information centre to give statements. She said many of the tourists, including her father, hadn't seen Mr King run but a soldier explained the events to them.
"People couldn't really quite believe what had happened," Ms Leslie said. "Quite a few were really shocked. Once we got on the bus and got out of there we were all kind of staring at each other."
Ms Leslie, a lawyer from New Zealand's capital, Wellington, said she'd long had an interest in the Koreas after studying politics at university and seeing South Korean movies.
She said she found it hard to understand why Mr King would head to North Korea.
"I just didn't think anyone would ever want to do that," she said.
The Associated Press contributed to this report
play youtube
,
xnxx
,
xvideos
,
porn
,
porn
,
xnxx
,
Phim sex
,
mp3 download
,
sex 4K
,
Straka Pga
,
gay teen porn
,
Hentai haven
,
free Hentai
,