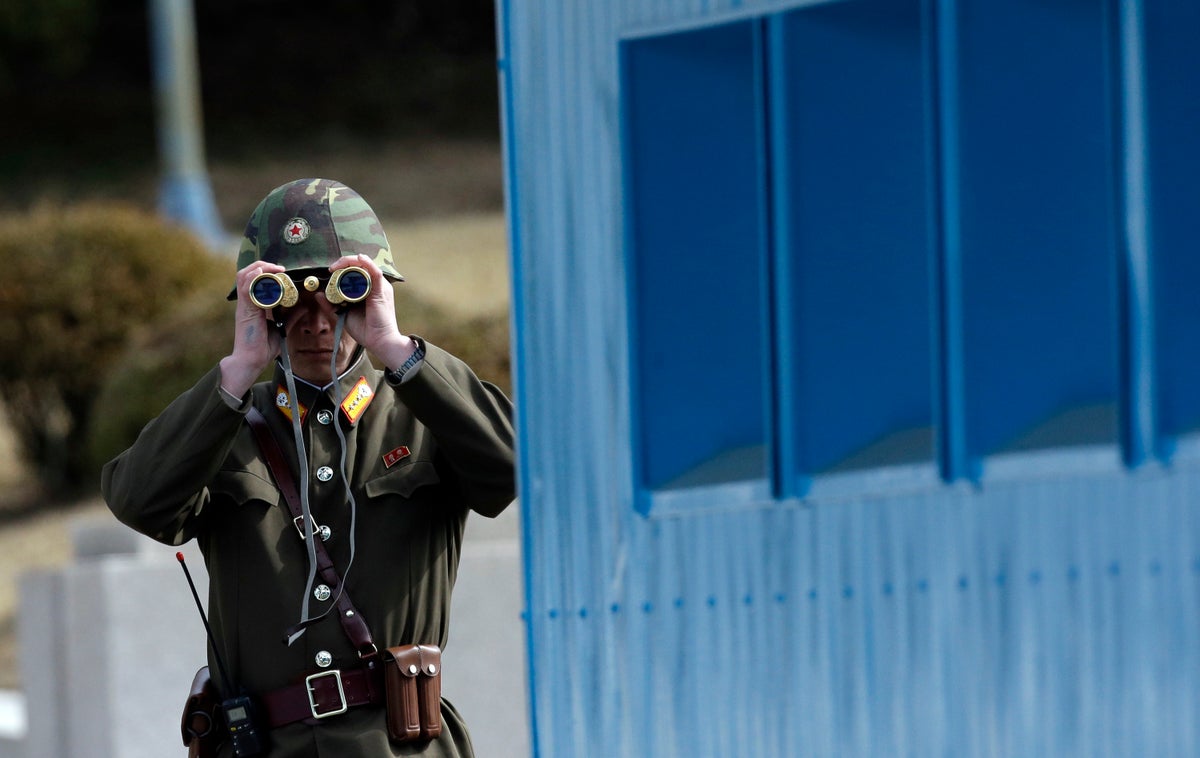 Private 2nd Class Travis King had passed through airport security as he was being sent home from South Korea for disciplinary reasons. He still somehow managed to leave the airport and join a civilian tour of the demilitarized zone between South and North Korea.
As he left the tour group behind, he reportedly let out a loud laugh as he ran away. He's now in North Korean custody, according to US officials.
Mr King had just been released from prison where he had been held on assault charges and was facing additional military disciplinary actions in the US.
Mr King, who is in his early 20s, was escorted to the airport to be returned to Fort Bliss, Texas, but instead of getting on the aircraft he left and joined a tour of the Korean border village of Panmunjom, where he ran across the border.
While crossing the demilitarized zone (DMZ) he gave out a loud "ha ha ha", a witness has said.
King crossed the Military Demarcation Line into the Democratic People's Republic of Korea
He had joined a group taking a tour of the Joint Security Area – the border village in the DMZ separating the two Koreas, which is heavily guarded by soldiers from both sides.
The UN Command in a statement said: "A US National on a JSA (Joint Security Area) orientation tour crossed, without authorisation, the Military Demarcation Line into the Democratic People's Republic of Korea (DPRK)."
Authorities said that "we are working with KPA (North Korean army) counterparts to resolve this incident".
A US official told CBS News that the service member was able to return and join the border tour after going through airport security.
According to the local press, a foreign national crossed the border at 1527 local time [0627 GMT].
Colonel Isaac Taylor of United States Forces Korea Public Affairs told The Independent: "A U.S. Service member on a JSA orientation tour willfully and without authorization crossed the Military Demarcation Line into the Democratic People's Republic of Korea (DPRK). We believe he is currently in DPRK custody and are working with our KPA counterparts to resolve this incident."
Bryce Dubee, an Army spokesperson shared the following information about Mr King: "PV2 Travis T. King is a 19D (Cavalry Scout) in the Regular Army from January 2021 to present. He has no deployments. During his Korean Force Rotation he was originally assigned to 6th Squadron, 1st Cavalry Regiment, 1st Brigade Combat Team, 1st Armored Division and is currently administratively attached to 1st Battalion, 12th Infantry Regiment, 2nd Brigade Combat Team, 4th Infantry Division. His awards include the National Defense Service Medal, the Korean Defense Service Medal and Overseas Service Ribbon."
'This man gives out a loud 'ha ha ha,' and just runs in between some buildings'
An individual who said they witnessed what took place and was taking part in the tour along with the US soldier told CBS News that they had visited one of the buildings in the area when "this man gives out a loud 'ha ha ha,' and just runs in between some buildings".
US soldier crossed into North Korea 'without authorisation', defence secretary confirms
"I thought it was a bad joke at first, but when he didn't come back, I realised it wasn't a joke, and then everybody reacted and things got crazy," they told the outlet.
The witness told the network that no North Korean soldiers could be seen where the man ran, adding that they had been told that there hadn't been any present since the pandemic as North Korea attempted to fully close its borders.
The witness said that after the man had crossed the border, the tour group was taken to Freedom House to give statements and then to be taken to their bus.
'We were 43 going in and 42 coming back'
"I'm telling you this because it actually hit me quite hard," the witness told CBS News. "It was on the way back in the bus, and we got to one of the checkpoints … Someone said we were 43 going in and 42 coming back."
An anonymous official told The Washington Post that: "This was a deliberate decision on part of the service member to cross."
An anonymous Pentagon official told NPR that the soldier was dressed in civilian clothes when the incident took place and that he was facing disciplinary action in the US.
A woman who said she was part of the tour group said they were at the last stop when she heard the loud "ha ha ha" and then she saw the man, who had spent the day with the group, running "between two of the buildings and over to the other side".
"It took everybody a second to react and grasp what had actually happened," she wrote on Facebook in a since-deleted post, according to NPR. "Then we were ordered into and through Freedom House and running back to our military bus."
Defense Secretary Lloyd Austin told reporters on Tuesday that "I'm absolutely foremost concerned about the welfare of our troops".
Area 'filled with landmines, surrounded by electric and barbed wire fencing and surveillance cameras'
The DMZ, one of the most fortified places in the world, is filled with landmines, surrounded by electric and barbed wire fencing and surveillance cameras.
While there are very few cases of Americans or South Koreans defecting to the North, more than 30,000 North Koreans are believed to have crossed the border to the South since the 1950s.
Washington has banned American nationals from entering North Korea "due to the continuing serious risk of arrest and long-term detention of US nationals".
"The US government is unable to provide emergency services to US citizens in North Korea as it does not have diplomatic or consular relations with North Korea," the US travel advisory for North Korea reads.
The death of US student Otto Warmbier
The ban was implemented after American college student Otto Warmbier was detained by the North while on a tour of the country in 2015. He died in 2017, days after he was released from prison and returned to the US in a coma.
Panmunjom, located inside the 248km-long (154 miles) DMZ, was created at the close of the Korean War in 1953. The area has been a venue for numerous talks and is a popular tourist spot.
In November 2017, North Korean soldiers fired 40 rounds as one of their colleagues raced toward the South. The soldier was hit five times and later rescued from beneath a pile of leaves on the southern side of Panmunjom. He is now in South Korea.
Former US president Donald Trump met his North Korean counterpart Kim Jong-Un in the DMZ in June 2019.
The arrest comes amid heightened tensions between the US and the North as Pyongyang rushes to fulfil its nuclear aspirations.
Washington deployed a nuclear-armed submarine to its ally, South Korea, for the first time in 40 years as officials from both countries met in Seoul to discuss strengthening their nations' deterrence capabilities against the North.
Ohio-class USS Kentucky submarine arrived at the port of Busan on Tuesday afternoon, the South's defence ministry said. It is the first visit by a US nuclear-armed submarine to the South since the 1980s, it added.
Periodic visits by US nuclear ballistic missile-capable submarines to the South were one of the agreements reached by both countries in April. They also agreed to establish a bilateral Nuclear Consultative Group and expand military exercises.
play youtube
,
xnxx
,
xvideos
,
porn
,
porn
,
xnxx
,
Phim sex
,
mp3 download
,
sex 4K
,
Straka Pga
,
gay teen porn
,
Hentai haven
,
free Hentai
,