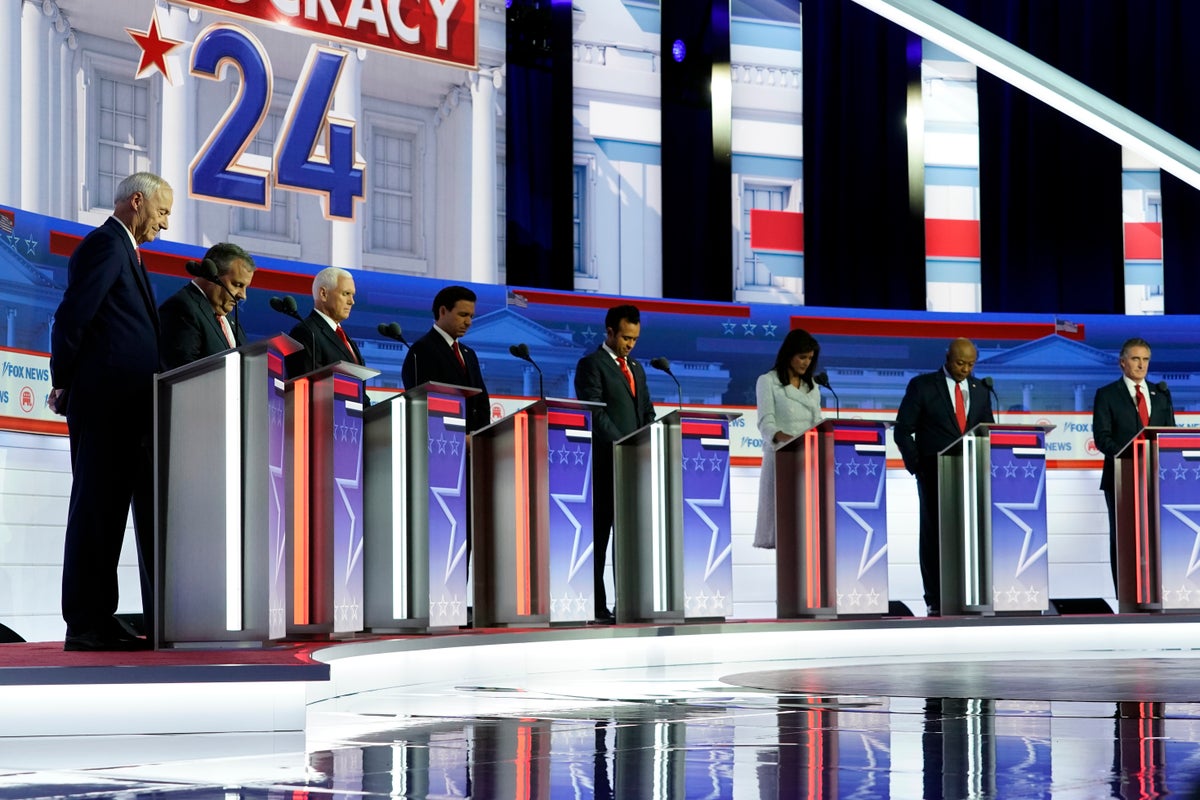 Related video: The Stage is Set: Who Will Appear at the Next Republican Presidential Debate?
The second Republican debate is set to take place at the Ronald Reagan Presidential Library in Simi Valley, California, on Wednesday.
Seven candidates have qualified for the debate, which will be broadcast on Fox Business and Univision, and moderated by Dana Perino and Stuart Varney of Fox News Media and Ilia Calderón of Univision.
Those set to appear at the debate include Florida Governor Ron DeSantis, former Vice President Mike Pence, South Carolina Senator Tim Scott, former UN Ambassador Nikki Haley, biotech entrepreneur Vivek Ramaswamy, former New Jersey Governor Chris Christie, and North Dakota Governor Doug Burgum.
Former president Donald Trump has chosen to skip the debate.
In order to qualify, candidates needed to gain at least 3 per cent support in two national polls or 3 per cent in one national poll as well as two polls from four of the early-voting states of Iowa, New Hampshire, Nevada and South Carolina.
The White House hopefuls also needed at least 50,000 unique donors, including at least 200 from 20 states or territories. They also had to sign the Republican National Committee (RNC) pledge promising to support the party's eventual nominee.
1695859250
Who are the moderators for the debate tonight?
After a fiery debate last month, Republican presidential candidates are preparing for a second presidential primary showdown on 27 September.
The debate will take place at the Ronald Reagan Presidential Library in Simi Valley, California.
Fox News Media's Dana Perino and Stuart Varney and UNIVISION's Ilia Calderón will co-moderate the second Republican presidential primary debate, the networks revealed 31 August.
Perino, 51, is a political commentator and author who served as the 26th White House Press Secretary under former US president George W Bush from 2007 to 2009.
Now Perino co-anchors FOX News' "America's Newsroom" and is a co-host on "The Five."
She has worked at Fox News for 14 years and conducted exclusive interviews with the likes of Meta founder Mark Zuckerberg, former Secretary of State Condoleezza Rice and former Starbucks CEO Howard Schultz, among others.
Varney, 75, is a British-American talk show host and a conservative political commentator who works for Fox News and Fox Business Network.
Varney has been in the TV industry for 45 years and was one of Fox Business' original anchors. He is also the host of his own show called "Varney & Co." and another programme called "American Built".
Calderón, 51, co the final 2020 Democratic primary debate between Joe Biden and Sen. Bernie Sanders of Vermont hosted by CNN.
Ariana Baio28 September 2023 01:00
1695857450
What has Tim Scott said about strikes and unions?
Mr Reagan fired thousands of air traffic controllers after they went on strike in 1981.
"He said, 'You strike, you're fired.' Simple concept to me. To the extent that we can use that once again, absolutely," Mr Scott said in Iowa earlier this month, even as the GOP has come to rely more and more on blue-collar workers.
But the Republican Party today remains anti-union, especially when considering what General Dwight Eisenhower told the American Federation of Labor when he was running for president in 1952.
"Today in America unions have a secure place in our industrial life," he said. "Only a handful of unreconstructed reactionaries harbour the ugly thought of breaking unions. Only a fool would try to deprive working men and women of the right to join the union of their choice."
The senator later elaborated on his comments, saying "Obviously the president doesn't fire folks in the private sector, but he can do in the public sector".
"I brought up the Ronald Reagan years because I do think that we need to have front and centre the example of a president who stood strong, and today's president, he stands weak," he added.
"The UAW is one of the most corrupt and scandal-plagued unions in America," Mr Scott said in a statement. "They are showing their true colours once again and autoworkers and taxpayers will be left holding the bag together. They want to threaten me and shut me up."
"They don't scare me. I will truly fight for American workers and jobs, promote the dignity of work, and end the Biden retreat from the values that make our nation exceptional," he added.
"American workers continue to witness how a weak president leads to all sorts of chaos at home and abroad," Mr Scott said. "Joe Biden and Big Labor bosses are undermining the dignity of work and setting autoworkers up for failure. They're playing politics with people's lives."
Ariana Baio28 September 2023 00:30
1695855605
Chris Christie evokes his inner Taylor Swift lashing out at Trump
Chris Christie, the former New Jersey governor who is running for president for a second time, referenced a popular Taylor Swift song to throw shade at ex-president Donald Trump.
On X, formerly known as Twitter, Mr Christie used a photo taken while he attended a Dallas Cowboys game earlier this week to reference memes about Ms Swift attending a Kansas City Chiefs game.
Social media was abuzz when Ms Swift attended the game because she has been romantically tied to Travis Kelce, the Chiefs' tight end.
Mr Christie joked that he was "just a guy in the bleachers" this past Sunday "but after tonight, Trump will know we are never ever getting back together."
The ending line was a reference to one of Ms Swift's songs, "We Are Never Ever Getting Back Together".
Mr Christie has been a harsh critic of the former president since he used claims of election fraud in 2020 to try and overturn the presidential election results.
Despite having endorsed Mr Trump in the past, Mr Christie now views him as an enemy and used his platform to call on voters to support any other candidates besides Mr Trump.
Ariana Baio28 September 2023 00:00
1695853805
Where is Donald Trump tonight?
Leading the 2024 GOP polls is former president Donald Trump who will be notably absent from Wednesday night's debate by choice.
Despite qualifying for the first debate – and now the second, Mr Trump refuses to participate.
So instead of joining his rivals on the stage at the Ronald Reagan Presidential Library in California, the ex-president will be addressing current and former union strikers in Michigan.
Mr Trump will deliver remarks at Drake Enterprises, a non-unionised auto parts supplier close to Detroit while the debate airs on Fox Business Network.
With polling numbers above 50 per cent, Mr Trump doesn't need to participate in the official debate to woo potential voters. Speaking to voters in South Carolina Mr Trump said his rivals "ought to stop wasting their time on the debates."
During the first debate, former Fox News host Tucker Carlson aired an exclusive interview with Mr Trump on X.
Ariana Baio27 September 2023 23:30
1695852012
Nikki Haley gets the debate party started in new ad
Hours before Nikki Haley is set to hit the debate stage at the Ronald Reagan Library in California, she's released an advertisement hyping up her campaign with a well-known party song playing in the background
The ad shows the former South Carolina governor and UN ambassador dominating crowds with soundbites from rallies while the song "Intoxicated" by GTA and Martin Solveig.
"America deserves a choice, not an echo," Ms Haley wrote on X.
Ariana Baio27 September 2023 23:00
1695850230
Seven candidates will hit the stage – Asa Hutchinson is not one of them
Only seven GOP candidates will appear on stage tonight because Asa Hutchinson did not make the cut and Donald Trump is skipping out.
Former Arkansas governor Asa Hutchinson did not meet the Republican National Committee's (RNC) tough qualifications to join his political opponents on the debate stage in California tonight.
This time around the RNC is requiring candidates to have at least 50,000 unique donors with at least 200 from 20 states or territories – an increase from the 40,000 unique donors requirement to participate in the first debate.
Candidates also must receive at least 3 per cent support in two national polls or 3 per cent support in one national poll and two polls of early voting states New Hampshire, Iowa, Nevada and South Carolina.
Mr Hutchinson did not meet the polling requirements.
In a statement, posted on X, Mr Hutchinson said despite "falling short" he plans to continue his campaign "to bring out the best of America" by scheduling events in several early-voting states.
"I understand that the RNC and the media are trying to reduce the number of candidates, but I measure success based on the response I receive in early primary states like Iowa and New Hampshire," Mr Hutchinson said.
The former governor said he has set a goal to increase polling to 4 per cent in early voting states before Thanksgiving. So long as Mr Hucthinson meets that goal, he will remain in the race.
Ariana Baio27 September 2023 22:30
1695848450
Debate drinking game tradition resurfaces for second GOP showdown
US voters are preparing to endure another Republican debate tonight as seven candidates take to the stage for the second official GOP primary debate.
No doubt tonight's showdown featuring Mike Pence, Ron DeSantis, Nikki Haley, Tim Scott, Doug Burgum, Chris Christie and Vivek Ramaswamy will produce some memorable insults and eye-rolling arguments – even if former president Donald Trump isn't present (again).
If you're a Democrat, you'll likely be horrified by what you see on stage tonight. If you're a Republican, you'll either be scoffing at the also-rans taking pot-shots at each other in Milwaukee or you'll possibly be despairing as your favourite candidate fails to get traction in the crowded field.
Election season can be a foreboding proposition given that you may suddenly realise during it that we're all on this runaway train now until 20 January 2025 when someone will be sworn in as president.
But never fear, as has become a tradition with such political minefield events, there are always the inevitable drinking games to fall back on and take the edge off the evening.
Here are some drinking prompt highlights from the first debate culled from the conservative press.
Oliver O'Connell reports:
Ariana Baio27 September 2023 22:00
1695846612
Oddsmakers predict Ramaswamy will have slight edge over DeSantis
An online sportsbook centre has predicted several outcomes of the second GOP debate tonight, one of which shows Vivek Ramaswamy having a slight edge over Ron DeSantis in taking home the winning title.
Bovada, a crypto-friendly sportsbooking website, predicted that Mr Ramaswamy has the likeliest chance of "winning" the debate with a +175 odds.
During the first debate, Mr Ramaswamy was repeatedly criticised by his opponents who teamed-up to point out Mr Ramaswamy's lack of experience and ideas.
But still, Bovada believes he will emerge stronger than the rest.
The numbers show the tech entrepreneur having a slight edge over Mr DeSantis, the governor of Florida, who is currently at +200 odds tied with former UN ambassador Nikki Haley.
Far behind the three is former vice president Mike Pence at +1200, South Carolina senator Tim Scott at +1500 and ex-New Jersey governor Chris Christie at +2000.
Doug Burgum, the governor of North Dakota, was not mentioned in the lineup as he qualified late for the second debate.
Ariana Baio27 September 2023 21:30
1695844812
Tim Scott posts with nephew gearing up for the debate
Tim Scott, the South Carolina senator running for president in 2024, posted a photo of himself and his nephew on X hours before the second GOP debate.
"Blessed to have my nephew Ben here with me in California for the debate!" Mr Scott wrote.
He added: "Having my family by my side means the world."
Ariana Baio27 September 2023 21:00
1695843050
Former Speaker Paul Ryan says Republicans will lose if Donald Trump is nominee
Former House Speaker Paul Ryan said Tuesday that Republicans will lose the presidential election if Donald Trump is the nominee and that he expects hard-right followers of Trump to force a government shutdown within days.
Ryan, who left office in 2019 and had a sometimes contentious relationship with Trump, said he hoped that another Republican nominee would gain enough momentum early next year to overtake Trump after the first primaries. Ryan represented southeastern Wisconsin in Congress for 20 years, the last four as speaker.
"The party that puts the first fresh face forward wins this election," Ryan said at an event on the University of Wisconsin campus organized by the Robert M. La Follette School of Public Affairs.
If the race is between Trump and President Joe Biden, Ryan said, "I think Biden wins."
"I think leaders should endeavor to be honest, ethical, moral people who try to set standards for themselves and lead by example across the country," Ryan said. "Donald Trump doesn't try to do any of that. He does the opposite, frankly. So I just don't think he's fit for the job here."
Scott Bauer27 September 2023 20:30
play youtube
,
xnxx
,
xvideos
,
porn
,
porn
,
xnxx
,
Phim sex
,
mp3 download
,
sex 4K
,
Straka Pga
,
gay teen porn
,
Hentai haven
,
free Hentai
,