His lung failure and lymphatic cancer did not stand in the way of the ambition of the Saudi student on scholarship to the United States Omar Hashem, who faced the disease with persistence, determination and challenge, to complete his studies and achieve his ambition to work in an American company after graduating and obtaining a bachelor's degree, in the field of media and film production, and from Then a master's degree in entrepreneurial and leadership projects from Arizona State University, in preparation for obtaining a Ph.D.
In his interview with Al-Arabiya.net, Omar Hashim narrated the details of his treatment journey, saying: I was a football player with a professional team, and during my studies at King Fahd University of Petroleum and Minerals, I entered the football field, I felt tired, and after the examination they assured me that I needed a transplant. The lungs, and I knew that transplantation would require two years in waiting lines due to my deteriorating condition and lack of oxygen, and in the midst of my family's astonishment because I did not smoke, and I had no practices that were harmful to my health.
Omar during his graduation
Create a volunteer group
He continued, saying: During my search on "Twitter" for someone who was able to transplant the lungs, and when I did not find, I promised myself that when I recovered, I would have a volunteer team for people who had transplanted or had organic failure in the lungs, and who could deliver the message to patients with failure, and thank God I was able to Establishing a volunteer group to raise awareness of organ donation, under the umbrella of the Saudi Center for Organ Transplantation, dedicated to those who have lived through the same suffering, and the number of volunteers reached 45 volunteers, whether from farmers or organ donors.
treatment abroad
Omar continued his speech: "After that, the Crown Prince, His Highness Prince Muhammad bin Salman, sponsored my treatment abroad at his own expense, and the treatment took place, after which I completed my studies in America in the field of filmmaking and media production, and graduated with first honors, and I won the award for best producer in the university among 15 Two competing producers have produced two films.
And he continued: "When I returned from America to change the visa from a visitor to a student, I had an accident and the car overturned three times, and an oxygen tube was installed in the throat, and because of it I developed a cancerous lymphatic disease in the lung, and I started a journey of chemotherapy during my study days, and when I returned to study I had pulmonary failure." I lived with pulmonary failure until I was transplanted for the second time, until I became a normal person.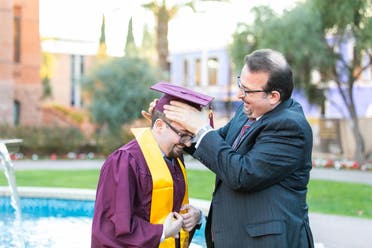 Omar Hashem
Success despite illness
Omar explained that he achieved these successes despite suffering from lung failure and lymphatic cancer. He added that he participated in the American Games for Organ Growers, and won 4 medals: "a gold in doubles bowling, a silver in mixed doubles bowling, and two bronzes in tennis and darts," indicating that he is currently preparing under the supervision of a special coach to participate in the World Cup expected to be held in Australia.
He explained that he is now studying a PhD in Business Administration, and he was able, with his faith and determination, to continue his studies, thanks to God, and then with the support of his mother, who stood beside him and her father, and gave up her doctoral studies to pursue his medical matters, in addition to the great support from doctors and friends, which enabled him to continue the journey and excel.