The King Abdulaziz Public Library launched an international exhibition of Islamic coins and manuscripts, on the sidelines of the ministerial meeting of the Islamic World Organization for Education, Science and Culture, which is currently being held in the Moroccan capital, Rabat, in partnership with the Libraries Authority, the National Committee for Education, Science and Culture, and the Islamic World Educational, Scientific and Cultural Organization (ISESCO).
The exhibition, which was attended by 58 heads of delegations of Islamic countries participating in the meeting, includes about 50 rare coins from the library's holdings, including gold, silver and bronze coins dating back to the Umayyad, Abbasid, Andalusian, Fatimid, Ayyubid, Atabeg, Seljuk and Mamluk eras, and from the countries of the Islamic East and the countries of the Maghreb.
Exhibits
Among the most prominent exhibits that are displayed to visitors: the golden Arabization dinar minted during the reign of Caliph Abd al-Malik bin Marwan, which dates back to the Arabization stage, which was minted in the years 72-74 AH. And the Mecca dinar in the year 451 AH, and the stumbled dinar minted in the year 338 AH, and the Buyid dinar minted in the Daylam chair in the year 587 AH, in addition to some coins that express the civilizations that lived in the Arabian Peninsula.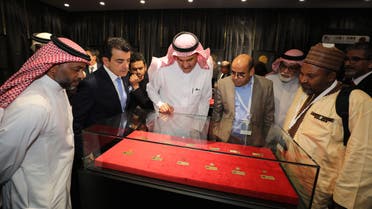 Offers of Islamic coins
Rare coins and coins
The King Abdulaziz Public Library has launched an exhibition of rare coins and coins at its headquarters in Riyadh under the auspices of the Minister of Culture, Prince Badr bin Abdullah bin Farhan.
It also comes to enhance communication and interaction between Arab and Islamic cultures through these heritage pieces that bear the memory of the glorious history and express a valuable image of the Islamic civilization in its bright ages.