In attempts and challenges to appear in the most beautiful documentary images of the snow waves that covered the Tabuk region and turned it into a white suit with the onset of the winter season, photography enthusiasts flocked from the early morning hours to the slopes of Jabal Al-Lawz.
Families in Tabuk raced to reach Jabal Al-Lawz as a winter tourist destination, where they monitored snow and listened to its coverage of trees, heights and plains, after the polar wave that covered the peaks and plains of the mountain, so that the scene returns every year to the white mountain sites.
In his interview with "Arabiya.net", photographer Fawaz Al-Harbi said that photographing snow is one of the most difficult types of photography due to the cold weather and the long waiting time that the photographer spends in order to get the right shot.
He also indicated that he spent more than 20 hours in order to access the images through which he wants to document the aesthetics of snow falling on Jabal Al-Lawz, which attracts many photographers.
He explained that despite the cold weather and strong winds, the photographer feels happy when the snow comes down and his efforts are crowned with success and he comes out with professional pictures, while some photographers may leave when he does not see the snow, as the story needs patience and waiting to come out with professional pictures.
This is what Jabal Al-Lawz looked like this morning – Photo by Fawaz Al-Harbi
Square cold
In addition, the meteorological expert, Dr. Khaled Al-Zaaq, mentioned that Al-Murabaaniyyah is the most famous winter season, and it was called that because its duration is 40 days. The Bedouin Arabs consider Al-Murabaaniyyah the beginning of the cold on the first of December, and the Arabs of the Levant consider Al-Murabaaniyya as the severe cold on December 23, the "winter solstice."
And he continued that if the square's grasp of the elements of the climate system was able to blow, the cold northern wind would intensify, and at its end, the storm of the wind that does not settle on a specific side would intensify, so the square's cold in its interior and on its surface, and the cold of February on its surface.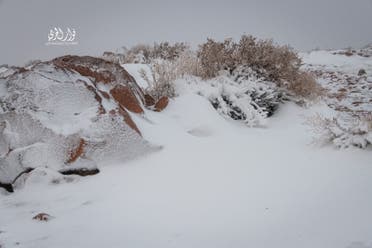 Jabal Al-Lawz this morning
It is noteworthy that Jabal Al-Lawz is located in northwestern Saudi Arabia near the Jordanian border in the Tabuk region, about 200 km northwest of the city of Tabuk, and its height is (2549) meters above sea level. Even Wadi Rum in Jordan, and it is called Jabal Al-Lawz because of the almond trees in it, and snow falls on it sometimes in the winter and sometimes in the spring if an air depression occurs.