Scenes of faith surrounded by spirituality and tranquility in the ancient house during the rains, as the Grand Mosque in Makkah Al-Mukarramah witnessed, this afternoon, heavy rains, amid the pilgrims performing their rituals, amid the prayers and prostrations of the worshipers, rejoicing with joy, chanting, "Our rain is thanks to God," and chanting supplications, raising their palms. Praying to God, rejoicing in the rain of goodness and blessing.
At the same time, the meteorologists raised the alert level to an advanced (warning), with thunderstorms accompanied by heavy rains in the holy capital, and the end of the situation on Tuesday 11:00 am.
Prayers for pilgrims amidst the rain
In addition, the General Presidency for the Affairs of the Grand Mosque and the Prophet's Mosque, in cooperation with other government agencies working in the Grand Mosque, announced the implementation of emergency plans to confront the rains in the Grand Mosque, amid early preparations to ensure the safety and security of those who visit the Sacred House of God.
The Presidency, represented by the Agency for Environmental Protection and Services, recruited more than 200 supervisors and observers, 4,000 male and female workers, and more than 500 equipment to deal with the rainy situation witnessed by the Grand Mosque today.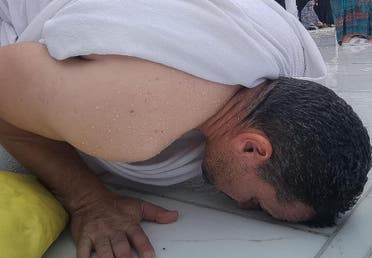 Prostrations and supplications at the time of rain
The Presidency stated that the mataf, chapels, entrances and exits were prepared after the rains, and efforts were intensified to remove the effects of the rain that fell in order to preserve the safety of the pilgrims of the Grand Mosque so that they could perform their rituals easily and easily, by distributing water suction equipment and washing equipment inside and outside the sanctuary to contribute effectively to the drying process. It is intensifying its preparations by operating emergency plans and intensifying its work, by developing a precautionary plan in preparation for the rains.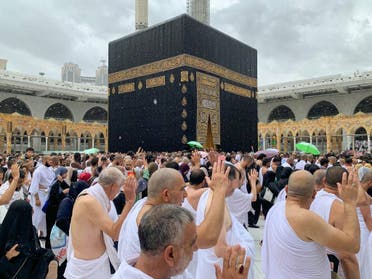 Walking in the middle of the rain
In a related development, the Meteorological Center confirmed, in a statement, that the weather conditions include parts of the regions of Makkah Al-Mukarramah, Al-Madinah Al-Munawwarah and Tabuk, including the coastal parts of them, as well as Al-Baha, Hail, the northern borders, Al-Jawf, Al-Qassim, Riyadh and the eastern region.