Many media outlets and social networking sites were preoccupied with every detail, every small and large, regarding the reasons for the transfer of Portuguese star Cristiano Ronaldo to the Saudi Al-Nasr Club, where the club presented the legend, in a huge ceremony on the grounds of the Marsool Park stadium in Riyadh, on Tuesday, and among what was captured by the cameras' lenses And caught the attention of some is the shot of Cristiano's personal guard, which raised questions about the identity of the two young twins guarding the Portuguese star.
Among the information reported by the media about the Portuguese twins, Sergio and Jorge Ramalero, the two bodyguards of Ronaldo and his two companions in all his movements, is that they served as soldiers in the elite unit of the Portuguese Special Forces in Afghanistan, and then later joined the Portuguese police before they specialized in protecting politicians and judges, to contract with them. Ronaldo later in 2021.
Portuguese twins Sergio and Jorge Ramalero are Ronaldo's bodyguards
The twins, according to what was read by Al-Arabiya.net, are from Anciao, near the city of Pombal, two hours' drive north of Lisbon.
Although it is natural for the twins to draw attention, which usually happens with all twins, the Portuguese twins also drew attention to the handsomeness that the Don's followers noted on social media, as well as their elegance evident in all the shots.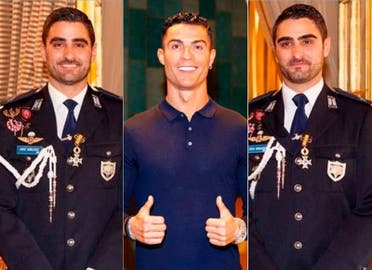 Portuguese twins Sergio and Jorge Ramalero are Ronaldo's bodyguards
And the Portuguese newspaper "Flash" reported that the twins had asked to take leave without pay from the police force to devote themselves to protecting Ronaldo and his family.
According to media reports, Cristiano was allocating a salary of $ 1.5 million annually to his former bodyguard, "Nuno", which is the amount that each of the Ramalero brothers is expected to receive.
The Ramalero twins appear in most of the shots in which the Portuguese star appears outside the stadium, wandering the streets or while traveling with his family, as their mission is to accompany him wherever he goes.
Of course, they were on both sides of Ronaldo, on Tuesday, amid the shouts of thousands of fans and in front of hundreds of media professionals and photographers' lenses, and a crowd at the "Marsoul Park" stadium in Riyadh, where the Portuguese Cristiano Ronaldo, the Saudi star of Al-Nasr, wore shirt No. (7) for the first time, as it was officially presented by his new club, After signing a contract with the team that lasts until 2025, in a major global deal that attracted attention.