The specialized surgical team was able to separate a Saudi Siamese twin, connected to the hip area and sharing the bottom of the spinal cord and its membranes, with a 7-hour operation that was carried out in 7 stages and in which 28 consultants, specialists, and nursing and technical cadres participated, and this comes in implementation of the directives of the Custodian of the Two Holy Mosques King Salman bin Abdulaziz Al Saud. And His Highness, his faithful crown prince.
Dr. Abdullah Al-Rabeeah, Advisor at the Royal Court, General Supervisor of the King Salman Relief Center and head of the medical and surgical team in the separation of Siamese twins, explained that this operation comes in implementation of the generous directives of the Custodian of the Two Holy Mosques and his Crown Prince, and this operation is the 53rd of the Saudi program for the separation of conjoined twins. According to what was reported by the Saudi Press Agency, "SPA".
He stated that the Saudi program was able, during 32 years, to take care of 127 Siamese twins from 23 brotherly and friendly countries, stressing Saudi Arabia's pioneering role in humanitarian work in general and medical work in particular, noting that this embodies the ambitious vision led by Prince Muhammad bin Salman bin Abdulaziz, Crown Prince Covenant Prime Minister.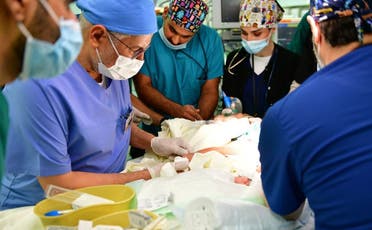 anesthesia stage
For his part, the head of the pediatric anesthesia department, Dr. Nizar Al-Zoghaibi, explained that the anesthesia stage passed smoothly, and all vital monitoring devices were put in place to ensure the safety of the twins, and the anesthesia plan was modified to suit the use of physiological control.
The head of the Department of Pediatric Neurosurgery, Dr. Mutasim Al-Zoubi, stated that the operation was accurate due to the narrow adhesion area at the bottom of the spinal cord and the need to use modern physiological monitoring devices to ensure the separation of nerve overlaps.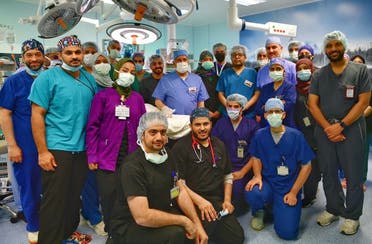 plastic surgery
Plastic surgery consultant, Dr. Hanan Al-Husseinan, stated that the joint area was determined and a patch of membranes and adjacent skin was used to cover the space after separation to ensure its proper shape.
At the end of the operation, the muscles and nerves were examined to confirm their safety and cover the wounds, then the twins were transferred to the pediatric intensive care unit to be under supervision during the next two days.