The Dakar Rally Road, which roams the wilds of Saudi Arabia, formed eye-catching scenes against the background of what was left behind by the rains during the last period, as the road was filled with greenery and beautiful scenic views. Saudi Arabia, which distinguishes it from the rest of the countries, when it combined greenery, mountains, desert and sea, in a wonderful geographical and aesthetic harmony.
Photographer Abdullah Al-Akash was able to take a number of pictures of the Dakar Rally Road, which bore the most beautiful landscapes that he was able to monitor, given his desire and passion to document sporting events.
It is noteworthy that the fourth edition of the Saudi Dakar Rally 2023 started at the beginning of this month and will continue until January 15, with its first stage starting from Yanbu.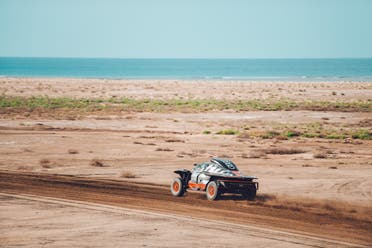 Radkar Rally..
The Saudi Dakar Rally track consists of 14 stages, in addition to an introductory stage, and this year's edition features new tracks that take participants from Yanbu on the shores of the Red Sea, through the sands of the Saudi desert, to Dammam on the coast of the Arabian Gulf, where drivers begin the rally with an introductory stage of Al-Bahr camp in Yanbu, which is located in the northwestern mountainous regions, before heading to the far southeast, passing through Al-Ula, Hail, Dawadmi, Riyadh, Haradh, the Empty Quarter, Shaybah, Al-Hofuf, and Dammam, and the Saudi Dakar Rally 2023 track is the longest in The special stages have been subject to timing since 2014, with an estimated distance of 5,000 km, as the length of the special stages ranges from 350 to 500 km, after reducing the distance of the connecting stages along the track, in addition to the participation of 89 vehicles in the "Dakar Classic" race out of 455 vehicles in All categories.
It is noteworthy that Saudi Arabia hosted the Dakar Rally competitions last January for the third time in a row, with the participation of a group of the most prominent international drivers, representing 63 countries from all over the world, over a period of 14 days during 12 stages, during which drivers competed in 6 categories. The Dakar Rally is one of the most prestigious races in motorsports, given its scale and events.