The world turned its attention to Riyadh as soon as the Saudi club Al-Nasr announced its signing with the world player Cristiano Ronaldo, and his movements remained under surveillance, and his reactions stole the spotlight, even when he was outside the list of his capital city, in his last match in the Saudi League in the twelfth round against Al-Ta'i.
"The vision that Al-Nasr Club operates in is very inspiring." These were the words of the Portuguese player when he wrapped himself in the yellow shirt. At that time, the echoes of the news spread all over the world, and people were eager to see him in the "Marsol Park" stadium, when the first confrontation of Al-Nasr Club took place after Ronaldo's delegation.
The "Madeira missile" was not able to participate in that match, but he was the first to arrive at the stadium with the global players, and he toured the platform and took pictures with the fans as he dressed in his team's training shirt, and his uniform had the fortunes of fame due to his global standing, and as a result his fans transmitted his pictures, two files Pay attention to the watch that surrounds his wrist, with Arabic numerals.
Ronaldo made choices that suggest his harmony with the nature of the place he attends, and so he chose a distinctive and unique watch. In this regard, the owner of the "Watch World" account told Al Arabiya.net that the watch that Ronaldo wore from the "Rolex" brand is "Cosmograph Daytona", inlaid with diamonds in the baguette design, which is common in jewelry, rings and watches, and was named after the famous French bread, which is A small diamond that is rectangular or square, with straight or pointed edges and long sides.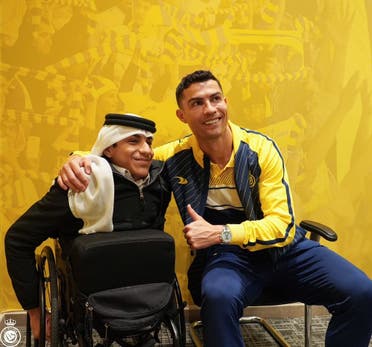 Cristiano Ronaldo with Qatari fan Ghanem Al-Muftah
The World of Watches explained that the platinum watch, decorated with Arabic numerals, has an estimated price of approximately 650,000 thousand Saudi riyals, as was its first appearance in its regular version in 1963, with a design that meets the needs of professional racing car drivers. Because of its high performance, a tachymetric scale and three counters, the watch allows its user to measure the elapsed time, in addition to its stainless steel frame, anti-scratch and UV-resistant, made of ceramic and coated with a thin layer of gold or platinum.