Covering the shoulders and covering the bodies from the onset of cold, and igniting sensations of heat to protect them from the coldness of winter, the most famous dressed scalp in such frigid weather, which the Saudis resort to in the hope that it will suffer the "long, harsh winter night" as described by the poet Prince Khaled Al-Faisal, and that it compensates Another night's wishes are similar to what the poet Prince Badr bin Abdul Mohsen said, "I need a smile and a shawl… I need you… You left me in the cold of the road while I am at your door."
There is hardly a Saudi house devoid of this heavy winter robe, because it brings warmth and dispels the cold, and it tops the list of clothes every winter, and stores are crowded with it and people crowd to buy it.
The Saudi designer Aref Al-Sharif, who specializes in presenting and coordinating traditional and traditional costumes, explained to Al-Arabiya.net that the fur was popular with the Arabs in the past and continued to come to the present time.
He revealed that its distinction and prevalence for decades in Saudi society is due to its feeding on wool or lint, because they expel frost and immerse its wearer in comfort.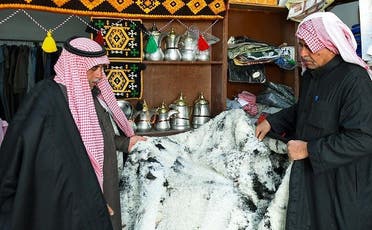 scalp industry
Al-Sharif pointed out that the fur is designed with the same standards as the Bisht in terms of length and width, and the weight is estimated according to the amount of wool or lint used, and due to this the prices vary, when natural wool is used, which is fiber from cashmere goats, with a fine and strong structure, and a light and soft texture, and its weight is equivalent to wool Sheep, prices range from 500 riyals to 10,000 riyals.
He mentioned that there are methods for designing the scalp, but the most important thing is to preserve the aesthetics of the shape, and he believes that some designers are working hard in designing and adding some ideas that distort the general shape of the scalp.
However, Al-Sharif does not mind modifying the design if it will contribute to the emergence of the aesthetic of the heritage, by employing high-quality materials that fit the identity on which it was found, and he cited the shape of the bashout in the past during the sixties and fifties, as its designs differ from the current era.