The murals appeared in bright colors, covered with Arabic calligraphy, on the roads of Makkah Al-Mukarramah, and these murals caught the attention of visitors, with the different forms of art and patterns of Arabic calligraphy.
The Holy Capital Secretariat focused on implementing the longest lettering wall in the world, on King Abdulaziz Street in Mahbas Al-Jin in the Holy Capital, the road leading to the Grand Mosque.
The mural presents a beauty that carries the heritage of peoples, their ideas and their history throughout the ages, and displays and presents a cultural message on the one hand.
aesthetic message
On the other hand, an aesthetic message that catches the attention of people with good taste, and the murals represent a work among the documentary works that deal with the fragrant and originality of the past, and talk about the present in all its meanings, and do not neglect to mention the future.
Wall art was known as one of the oldest forms of human art. This is indicated by the cave paintings in most of the ancient human settlements around the world, where all kinds of art were a means of primitive man in prehistoric times, to embody drawings that he believed to be able to protect him and ward off evils from him, so he was the first Designed for murals in history.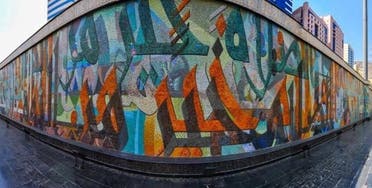 One of the murals
It is noteworthy that the Municipality of the Holy Capital organizes a competition for drawing on murals and forming Arabic letters, within the activity of sculpture and aesthetic models, as Arabic calligraphy is one of the most important manifestations of Arab and Islamic civilization, whose importance stems from its association with the Holy Qur'an, and it is one of the most important written and visual arts. Umm Al-Qura University from the Department of Visual Arts in the College of Designs and Arts in terms of improving the urban landscape for that.