During 10 continuous hours, the Saudi plastic artist, Muhammad Bagbeer, painted an artistic painting that combined a picture of Crown Prince Muhammad bin Salman and the words of the patriotic song "Your Lovers" by artist Rashid Al Majid, and 20,000 fingerprints for visitors to the Hajj Expo.
Bagbeer explained to Al-Arabiya.net that he was able to draw the painting in 10 hours, stressing that it aimed to collect the fingerprints of 20,000 visitors, to be a simplified model and witness to the Saudis' love for the Crown Prince. He emphasized that the idea of ​​the painting grew in his mind more than two years ago, but he was keen to display it at the Hajj Expo so that it would be gifted to the Ministry of Hajj and Umrah.
Visitor participation by putting a fingerprint
Bagbeer pointed out his keenness to link painting and Arabic calligraphy with a new artistic idea that carries a deep message.
The Deputy Minister of Hajj and Umrah, Dr. Abdel-Fattah Mashat, participated in the Crown Prince's painting with a fingerprint, at the conclusion of the Hajj and Umrah Services Conference and Exhibition, "Expo Hajj 2023."
A large number of visitors to the exhibition expressed their love, loyalty and appreciation to Crown Prince Mohammed bin Salman through their fingerprints on the painting.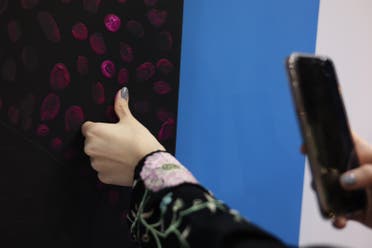 The fingerprint adorns the crown prince's portrait