New data issued by LinkedIn revealed the fastest growing jobs in the UAE and Saudi Arabia during the year 2023.
The data showed that most of these jobs are located in the sectors of sales, technology, environment, and human resources, and include the following titles: programmer, sales representative, environmental manager, and human resource operations specialist.
Technology at the fore
The increase in technology sector jobs reflects the scale of the current digital transformation in both the UAE and Saudi Arabia, in addition to the growing interest in data and automation in the region. Four of the ten fastest growing jobs in Saudi Arabia emerged from cybersecurity, data analysis and software development. The UAE has also seen growth in developer jobs, with three out of the top 10 job openings being in software development.
The list of the most demanded jobs in Saudi Arabia is as follows:
required jobs in Saudi Arabia
Although employment levels in December 2022 slowed by 10% compared to the same month in the previous year, which witnessed a significant increase in post-pandemic employment levels, employment levels in December 2022 are still 37.1% higher than in the same month in 2020. .
The list of the most popular jobs in the UAE is as follows: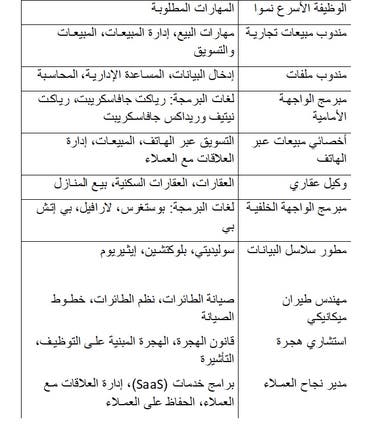 Jobs in demand in the Emirates
The UAE witnessed a monthly increase in the number of flexible jobs at a rate of 27.7%, which is considered one of the highest levels in the labor markets in Europe, Africa and the Middle East (EMEA), compared to countries such as the United Kingdom -1.6%, Germany -10.5%, and France -21.6%.