After the mountains of Makkah al-Mukarramah turned green, and its valleys turned into a lush oasis after the wave of rains that took place in the past weeks, beautiful birds appeared flying in the sky of Makkah, and flocks of migratory birds that made those mountains a resting station for them were distorted, to show an aesthetic form and form scenes Of great magnificence and beauty.
The photographer, Mansour Al-Harbi, who documented these scenes, spoke to Al-Arabiya.net, saying: I was on my way to photograph the atmosphere and nature of the Makkah Al-Mukarramah region after the continuous rains that I witnessed in the recent period, and when I passed through the Jamum area in the north of Makkah Al-Mukarramah, the sight of egrets stopped me. Which is one of the migratory birds and the scene was very beautiful and striking.
And he added: "I photographed the landscape of birds and the mountains covered in green, in more than one angle, in order to show the beauty and consistency of the picturesque landscape between the birds and the beauty of nature."
Birds over the mountains of Mecca
And he said: "The white egret is characterized by a large and thick yellow beak, and it has long greenish-gray legs, and it breeds on trees near large lakes, and it approaches extensive wetlands, as it feeds in shallow waters or in drier habitats, and feeds mainly on fish, frogs, small mammals, and occasionally reptiles and small insects.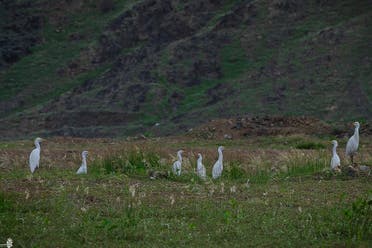 Migratory birds land on the mountains of Mecca