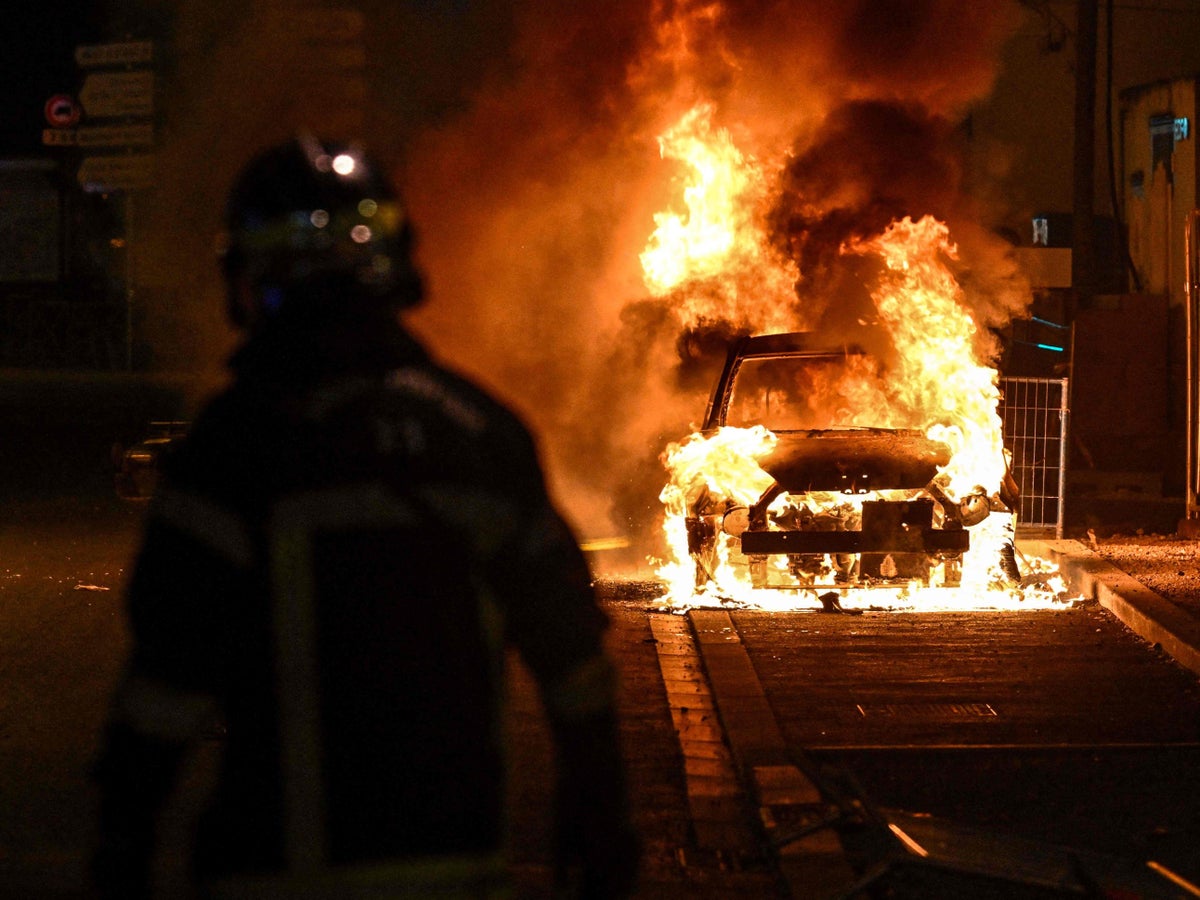 France is considering "all options" to restore order after rioters torched cars and buildings and looted shops across the country, in a third night of violent anger over the police killing of a teenager during a traffic stop in a Paris suburb.
President Emmanuel Macron, who has so far resisted growing calls to declare a state of emergency, arrived in Paris from Brussels after leaving a European Union summit early to attend a second cabinet crisis meeting in two days.
He parents to keep teenagers at home and that social media is fuelling copycat violence. Of young rioters, he said: "We sometimes have the feeling that some of them are living in the streets the video games that have intoxicated them."
The prime minister, Elisabeth Borne, said that "the priority is to ensure national unity and the way to do it is to restore order" during a visit to Evry-Courcouronnes outside the capital. She said that "all options" were on the table, when asked about the possibility of a state of emergency being declared. She has called the violence "intolerable and inexcusable".
There were at least 875 arrests overnight, with more than 200 police were injured as 40,000 officers were deployed across dozens of cities. The Interior Ministry said 79 police posts were attacked overnight, as well as 119 public buildings including 34 town halls and 28 schools.
Follow the latest in our live blog here
Shops and vehicles were set ablaze in the Paris suburb of Nanterre – where 17-year-old Nahel M was shot and killed by a policeman during a traffic stop on Tuesday – with residents worried about the escalating unrest.
"It's getting worse and worse," said Pascal Matieus, as he picked shards of broken glass from the shattered windows of his salad shop on Friday morning. "It's become completely out of control. The police have lost control."
It is the third clean-up operation in a row for residents and officials here, with one saying he expects to be back again on Saturday morning.
In the southern city of Marseille, France's second-largest, authorities banned public demonstrations for Friday and said all public transport would stop at 7pm local time. Violence had flared there on Thursday night, along with Lyon, Pau, Toulouse, Bordeaux, Lille and parts of Paris.
Looters targeting shops in the Les Halles district of the capital. Outside the Nike store, tourists peered through caved-in windows while one local called out for them to be careful.
"It's dead, it's dead, there's no more order," he said, asking not to be named. "His friend, who had come down with him from a northern suburb, countered: "It's fine, it's fine, just be careful at night. It's the police we hate, not tourists."
A number of towns around Paris, including Clamart, Compiègne and Neuilly-sur-Marne, have imposed full or partial night-time curfews, while a police intelligence report that was leaked to French media predicted "widespread urban violence over the coming nights".
The unrest extended as far as Belgium's capital, Brussels, where about a dozen people were detained during scuffles related to the shooting in France and several fires were brought under control.
A lawyer for the 38-year-old officer who shot Nahel – who faces preliminary charges of voluntary homicide – said he had offered an apology to the teenager's family. "The first words he pronounced were to say sorry and the last words he said were to say sorry to the family," Laurent-Franck Lienard told BFMTV. "He is devastated, he doesn't get up in the morning to kill people."
The Nanterre public prosecutor, Pascal Prache, said on Thursday that Nahel died from a single shot through his left arm and chest while driving off after being stopped by police. The officer said he had opened fire because he feared that he and his colleague or someone else could be hit by the car, according to Mr Prache.
"The public prosecutor considers that the legal conditions for using the weapon have not been met," Mr Prache said.
Nahel's mother, identified as Mounia, told France 5 television that she is angry at the officer who killed her only child, but not at the police in general. "He saw a little, Arab-looking kid, he wanted to take his life," she said, adding that justice should be "very firm."
"A police officer cannot take his gun and fire at our children, take our children's lives," she said.
Nahel's grandmother told Algerian television Ennahar TV that her family has roots in Algeria. Algeria's foreign affairs ministry said in a statement Thursday that grief is widely shared in the North African country.
Nahel's death has brought to the surface grievances about racial profiling and police violence. Last year, 13 people were fatally shot during traffic stops in France, with Nahel's death marking the third so far this year. Figures from Reuters show the majority of victims to be Black or of Arab origin.
A state of emergency would grant "extraordinary powers" in order to restore security. The last time such measures were introduced was in 2015 following the Paris attacks, when terrorists killed 130 people in a series of coordinated shootings and suicide bombings.
Th last time it was used in a situation like the current unrest was in 2005. It was used then to quell weeks of rioting around France that followed the death of two teenagers fleeing police. The boys were electrocuted after hiding from police in a power substation in Clichy-sous-Bois.
play youtube
,
xnxx
,
xvideos
,
porn
,
porn
,
xnxx
,
Phim sex
,
mp3 download
,
sex 4K
,
Straka Pga
,
gay teen porn
,
Hentai haven
,
free Hentai
,