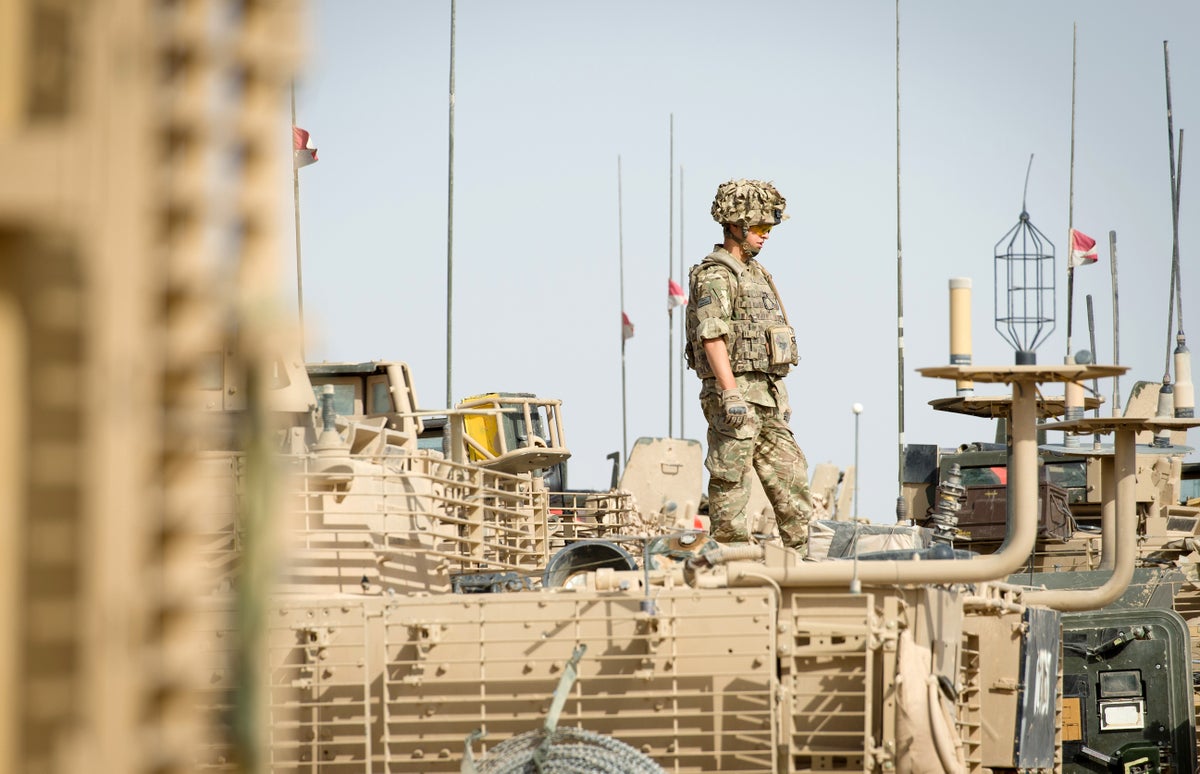 Just two out of 1,049 Afghans offered refuge by the UK for their part in helping British forces have been brought to safety from Pakistan in the past three months, The Independent can reveal. A further 300 who did not work directly with UK forces are eligible to come to the UK through a separate programme.
Interpreters who worked for the British army are among those who have been invited to resettle in Britain after risking their lives to help coalition forces.
But they and their families, who have been stuck in hotels in Islamabad for months, are now "living as prisoners" and afraid to go out for fear of deportation back to the Taliban-run country.
In recent weeks, Pakistan's authorities have cracked down on refugees, with at least 175 immigrants – mainly Afghans – detained and imprisoned. Earlier this year, more than 600 people were sent back to Afghanistan.
The UK's failure to look after those it promised to help was blasted as "shameful" by the shadow defence secretary, while former army officer and Labour MP Dan Jarvis urged ministers to "get a grip" on the situation.
The revelation comes as The Independent is campaigning for an Afghan pilot, who served alongside coalition forces and has been threatened with deportation to Rwanda because he arrived in the UK on a small boat, to be granted refuge.
Sign The Independent's petition calling for UK to support Afghan war heroes who served alongside Britain
The military and diplomatic employees all worked for or with the British in the run-up to the fall of Kabul in August 2021.
They have all been given permission to come to the UK under the Ministry of Defence's Afghan relocations and assistance policy scheme (Arap), but are unable to get here as a result of the British government's decision to stop chartering flights last November and its stipulation that they need to find their own accommodation in the UK before they can travel here.
They are currently living in hotels run by the UK government, with temporary Pakistani visas. The UK has spent £17m between April 2022 and March 2023 on housing them.
The latest government data shows that only two people were relocated to the UK from Pakistan between 1 March and 24 May this year. Eight people in total have been relocated to the UK from anywhere in the world during the three-month period covering March, April and May.
Those still stranded in Islamabad told The Independent they are terrified of being sent back to Taliban-run Afghanistan if the Pakistan authorities find out their visas have expired.
One former interpreter who was embedded with British troops in Helmand province said his visa had run out and that he would not go outside the hotel for fear of arrest.
The man, who has been waiting for more than a year in Islamabad, said: "We are now living as prisoners. Afghans are arrested and deported by the police every day. Life is very hard and no one listens to us or understands our problems."
Another former interpreter, who has been in a hotel since April, asked his caseworker what would happen to him and his family now that their three-month Pakistani visas had run out.
He was told by the British High Commission caseworker that he shouldn't leave the hotel and that, if he did, the police would arrest him or deport him back to Afghanistan.
"We are not good because we don't know how long we will stay here. I don't know who in the UK can help us with accommodation. Our visas have expired and the caseworker told me they would not be able to intervene if I am arrested," he said.
The UK government has told the Afghans they will only be transferred if they can prove they have private accommodation in the UK and can show they have the funds to support themselves.
The majority – around 1,049 people – of those stuck in hotels in Islamabad are eligible for relocation under Arap, which was set up to support Afghans employed by the British army.
And around 300 people in the hotels qualify for resettlement under the Afghan citizens resettlement scheme (ACRS), because they were employed as British embassy guards or British Council workers or are on the Chevening scholarship programme, which gives leaders from around the world the opportunity to undertake a masters degree in the UK.
A former British embassy worker, who is living in an Islamabad hotel with his wife and five children, said: "Our visas are expired and we are not allowed to go outside and we are facing problems. My children are not getting any education and they feel so bad."
Shadow defence secretary John Healey said Britain has a "moral duty" to assist these Afghans.
He said: "Bringing only two Arap-eligible individuals to the UK in three months is simply shameful. It leaves hundreds of Afghans fleeing the Taliban stuck in Pakistan hotels without hope or proper support. Ministers must fix the failing Arap scheme."
Labour MP Dan Jarvis said the government had failed to honour its commitment to these families, leaving them "in limbo in Pakistan". He said: "Ministers need to get a grip on the situation and allow them safe and legal passage to the UK."
Former Tory minister and Brexit Party MEP Ann Widdecombe said the situation was "a scandal".
She added: "We had years to bring the interpreters over and we left everything until the last minute. We then encouraged people to cross into Pakistan, and we've now stopped running evacuation flights from there. We've just abandoned them."
Steve Valdez-Symonds, from Amnesty International, said the UK government's Afghan resettlement scheme "remains a mirage". He added: "The government's offer of protection is grossly flawed and utterly inadequate."
Jon Featonby, from the Refugee Council, said it is "completely unrealistic to expect men, women and children who have fled the Taliban to find their own accommodation in the UK while stuck in a hotel in Pakistan".
A government spokesperson said it is "vital that those arriving have somewhere suitable to stay once they are in the UK".
They added: "The UK has made an ambitious and generous commitment to help at-risk people in Afghanistan and, so far, we have brought around 24,600 vulnerable people to safety, including thousands of people eligible for our Afghan resettlement schemes."
play youtube
,
xnxx
,
xvideos
,
porn
,
porn
,
xnxx
,
Phim sex
,
mp3 download
,
sex 4K
,
Straka Pga
,
gay teen porn
,
Hentai haven
,
free Hentai
,