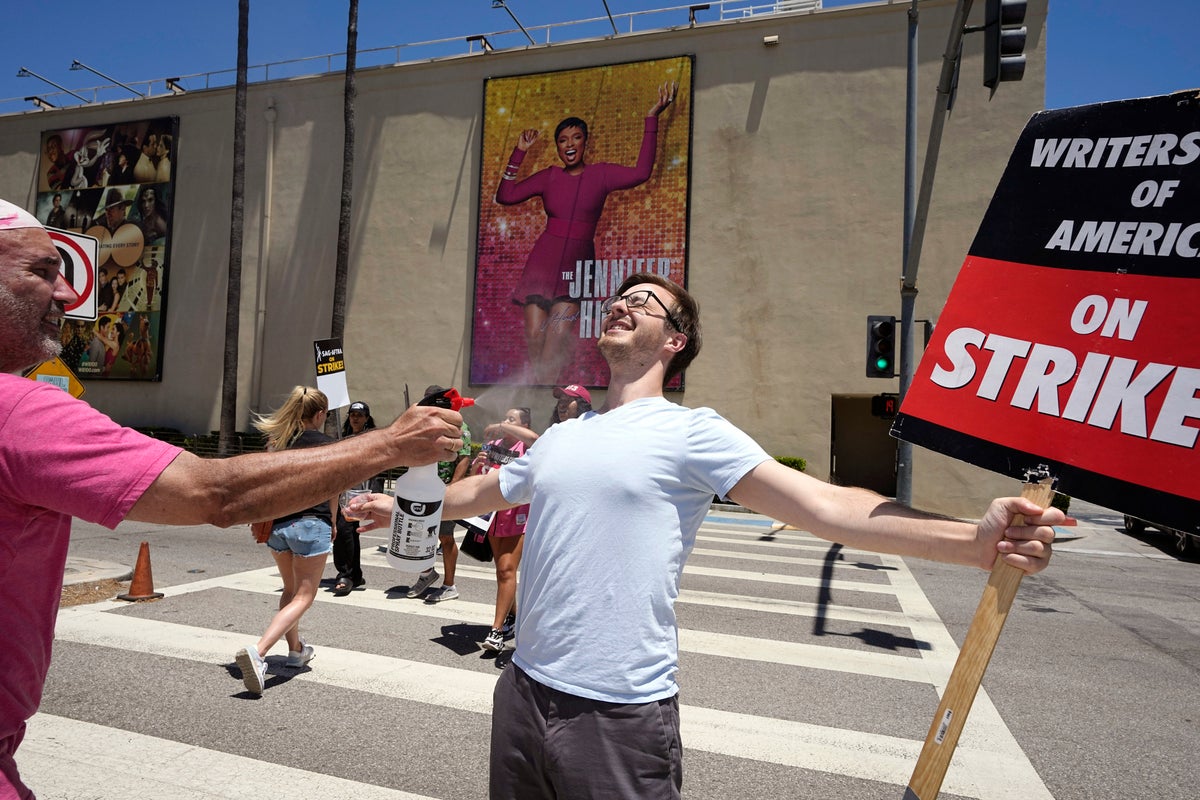 It's a "Strike Girl Summer."
So read a picket sign as the sidewalks of Hollywood and midtown Manhattan teemed with actors on Day 1 of their strike, protesting alongside the writers who have been at it since May.
Together, the two guilds have ground the entertainment industry to a halt. On both coasts, though, there was a buoyant mood in the air as picket lines were reinvigorated by the support of some of the 65,000 actors who comprise SAG-AFTRA (98% of members voted to approve a strike back in June). This is Hollywood's biggest labor fight in six decades, and the first dual strike since 1960, reigniting the fervor against the Alliance of Motion Picture and Television Producers just as a historic heat wave hits Southern California.
Outside the Warner Bros. studios in Burbank, California, throngs of protesters chanted: "Fists up, curtains down, LA is a union town." Food trucks flanking organizers' tents served churros, boba tea and cold lemonade to protesters baking in the midday heat that reached 98 degrees Fahrenheit (36.7 Celsius).
But the oppressive sun didn't dampen the mood. Demonstrators spritzed each other with water and danced to reggaeton music as passersby in cars honked in support of signs like: "Honk if your boss is overpaid."
Parents on the picket line hoisted their children over their shoulders and pushed toddlers in strollers, high-fiving one another with signs that reflected defiant lyrics from Olivia Rodrigo's new single, "Vampire," and were packing "Big Strike Energy."
"The jig is up," said Fran Drescher, president of SAG-AFTRA and once the titular star of "The Nanny" at SAG's press conference Thursday. "The entire business model has been changed by streaming, digital, A.I. If we don't stand tall right now, we're all going to be in trouble."
The infusion of SAG members' support was noted by comedian and writer Adam Conover, a member of SAG and WGA who serves on the latter's negotiating committee."
"If you are gaining momentum like we are 70-odd days into a strike, you are going to win," Conover said. "You know, the companies' strategy with the writers guild when we go on strike is to starve us out and wait, not even talk to us for months because they expect us to bleed support. Yet, look at this — our picket lines are more full than ever and now have another union on strike with us."
SAG and WGA last went on simultaneous strikes more than six decades ago.
"What we won in 1960 was our health and pension plans, and the existence of residuals," Conover said. Now, executives "are facing the fact that not only are they getting no new scripts, they cannot shoot anything until they come back and make a fair deal, not with one union but with both unions."
Zora Bikangaga, also a member of both guilds, called Friday's picket "invigorating," and a testament to how the issues writers are facing are "pervasive across the entire industry."
While the industry's business model has undergone major changes in the decades since the last strike, actors say their rates and contracts haven't evolved to match inflation and other changes.
"They use the gig economy as a way to say, 'This is how you can be more independent,' when in fact what it does it diminish the value and strength of organized labor," said actor Ron Song, who appeared on Amazon Freevee's "Jury Duty," which was nominated this week for four Emmys.
Former co-stars and acquaintances alike reunited at demonstrations. Some hadn't seen each other since the coronavirus pandemic started more than three years ago.
The first full day of the dual strike was marked by high energy — joy and unity mixed with anger and frustration.
For actor Stacey Travis, who has actively been involved in SAG-AFTRA for years, the decision to strike was not taken lightly.
"It feels extraordinary and it feels sad," she said of the moment. "It's very difficult on everyone, so we've always taken it incredibly seriously. So it's only when we're backed up against the wall and we have no options that we find ourselves here."
"It's all of it for me," said actor Peter Carellini about the reason for striking. "It's A.I. It's residuals. It's the fact that Bob Chapek, Bob Iger, David Zaslav are making untold millions in bonuses while writers and actors are going to the Emmys with negative bank accounts."
play youtube
,
xnxx
,
xvideos
,
porn
,
porn
,
xnxx
,
Phim sex
,
mp3 download
,
sex 4K
,
Straka Pga
,
gay teen porn
,
Hentai haven
,
free Hentai
,