US First Lady Jill Biden told Al Arabiya that her husband, President Joe Biden, has achieved many achievements and deserves to be re-elected, pointing out that the American people's choice is between stability with Biden and chaos with former President Donald Trump.
Jill Biden added, in her first interview with the Arab media, that she is trying not to listen to an attack Trump on her family. And she continued, "Because the way I see it is that they are very different administrations, very different leaders. With what happened to our country, I think the last administration was a mess and a mess. During my husband's administration, I feel he gave Americans strong and consistent leadership. And I think that's why he was elected." And I think that's why they elected him again."
And on a question related to what some say about President Biden being old and should not run, and that he may have some health problems, the first lady declared: "Joe Biden has more energy than a man in his 40s. Look at everything he did in The past three years.In the current administration, Biden brought together both sides, Republicans and Democrats.And he had a lot of programs that benefited a large number of people in the United States and can be counted, such as the infrastructure program, and the American rescue plan to help during the Corona epidemic. I don't think people need to look at his age, they need to look at what he's accomplished, what he's doing now, and what he will continue to do for the people of the United States."
"The bottom line.. Biden is getting done."
And the first lady, Jill Biden, went on to say: "Because I believe that he has shown his entitlement to be elected again because of what he has accomplished in his administration, and because I believe that he is firm in his positions and has wisdom. He also has great experience in foreign policies and domestic politics, because he has been in governments for many years." "Joe Biden is world-renowned, he knows all the leaders of the world and he gets things done. And that's the whole point. Biden gets things done."
In her interview with Al Arabiya Reporter, Jill Biden said, "I hope that the peoples of the Middle East will see the American principles and the common denominators between us and the Arab world."
And she added, "Young people in the Arab world need jobs, quality education and health services, just as Americans do."
The First Lady of the United States expressed that she sensed the warmth of the Arab peoples during her recent visit to Jordan, Egypt and Morocco. She also expressed her admiration for the wedding of Jordan's Crown Prince Al Hussein, saying, "The wedding was wonderful and we have a long relationship with the King and Queen."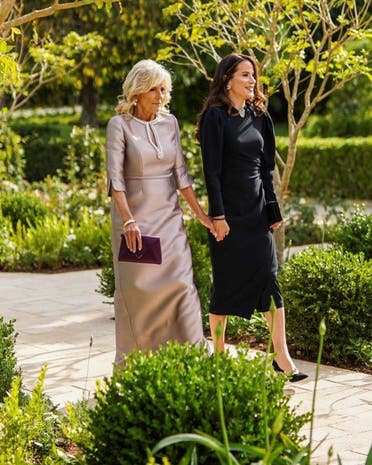 US First Lady Jill Biden and her granddaughter at the Jordanian Crown Prince's wedding
The first lady of the United States had commented on the federal indictment against former President Donald Trump, who appeared in court on Tuesday, and Jill Biden told Democratic donors that she was surprised that many Republicans continue to support the former president amid the historic indictment.
"They don't care about the indictment, and it's a bit shocking, I think," she added, referring to support for Trump in a recent poll, according to statements reported by the Associated Press and confirmed by a CNN attendee.
The remarks, which came in her first solo appearance in her husband's re-election campaign, mark a departure from the strategy Biden took by deliberately refraining from commenting on his predecessor's indictment.
During the fundraiser in New York City, the first lady argued that voters had a choice between the "strong and steadfast leadership" provided by her husband and the "chaos, corruption, hate and division" of the "Make America Great Again" group of pro-Trump Republicans.
play youtube
,
xnxx
,
xvideos
,
porn
,
porn
,
xnxx
,
Phim sex
,
mp3 download
,
sex 4K
,
Straka Pga
,
gay teen porn
,
Hentai haven
,
free Hentai
,