Who would have thought that Evgeny Prigozhinthe sausage seller, who brightened his name during the Russian battles in Ukraine months ago, will announce what looks like a military coup against the Russian army.
Yesterday night, the 62-year-old commander of the Russian Wagner Group surprised the Russian army by inviting its elements to fight against the leaders, which was considered an unacceptable rebellion in Moscow.
Who is this controversial man?
The first time his name came to prominence was at the height of Russia's first covert invasion of eastern Ukraine, in the summer of 2014, when a group of senior Russian officials gathered at the Defense Ministry, an imposing Stalin-era building on the banks of the Moskva River.
They came to this place in time for an interview Yevgeny Prigozhin a middle-aged man with a shaved head and a raspy voice, as the person in charge of the army supply contracts.
At that time, he submitted a strange request from the Ministry of Defense, namely, to give him land to use to train "volunteers" who have no official ties to the Russian army, but who can be used to fight Russia's wars.
Wagner Commander, Yevgeny Prigozhin (AP)
Pope orders
At the time, many of the leaders present did not like this request, but Bergozin was decisive, stressing that it was the deputy of the "Pope" in reference to Russian President Vladimir Putin, and this was confirmed by a former high-ranking official in the Russian Ministry of Defense who had direct knowledge of those discussions, according to what I quoted. The Guardian newspaper.
Since that meeting, the capabilities of the Wagner Group began to expand and its fighters infiltrated into foreign war fields, and recently reached the fronts in Ukraine.
as earned Prigozhin Wide fame among army leaders, although not loved most of the time.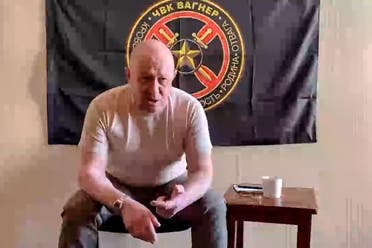 Wagner Commander, Yevgeny Prigozhin (AP)
A Russian businessman who has known him since the 1990s described him as "energetic, energetic and talented, but he is also stubborn and never backs down until he gets what he wants."
Merciless
As for those who fought with him in Ukraine or other countries, he describes him as brutal and merciless!
While some of his acquaintances confirmed that he did not seek after money or power, although he obtained both along his career.
Rather, they explained, he is motivated by excitement and the belief that he is fighting corrupt elites on behalf of ordinary people, while also wanting to crush his rivals.
But over the years, he has cultivated many enemies, from businessmen and former partners, to army generals whom he has repeatedly castigated as sitting bureaucrats and senior security officials who fear he has ambitions to seize political power.
But until yesterday he retained the protection of his most important supporter, "the man he calls Baba".
However, "Pope Putin" abandoned him now after he declared his disobedience, lifting the lid on a "black" history!
Violent teenager
Prigozhin, who was born in Leningrad, now Saint Petersburg, in 1961, nine years after Putin was born, his father died when he was young, and the boy began to riot violently. He joined a crowd of petty criminals.
Judicial documents from 1981 confirmed, according to the Guardian, that in March 1980, when Prigozhin was 18 years old, he robbed a woman and robbed her with her companions on a Petersburg street.
He also later committed other robberies over a period of several months. To be sentenced to 13 years in prison
Then he was released in 1990, as the Soviet Union was collapsing. He returned to St. Petersburg, where the city was on the brink of massive transformation, with great fortunes waiting for those smart or violent enough to seize them.
So the man started selling sausages, in the kitchen of his family's modest apartment.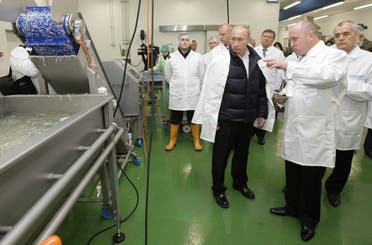 Yevgeny Prigozhin (Associated Press)
But his ambitions were much greater and he knew how to achieve them.
Not long after, Prigozhin acquired a stake in a chain of supermarkets. Then in 1995 he decided to open a restaurant with his business partners.
Use the dancers
At first, he used "dancers and strippers" to lure customers, but after word got out that the food was excellent, the strippers were fired.
Pop stars and businessmen flocked to this restaurant, as did the mayor of St. Petersburg, Anatoly Sobchak, who sometimes came with his deputy at the time, Vladimir Putin!
He also befriended the famous cellist Mstislav Rostropovich, who emigrated from the Soviet Union in the 1970s.
And when Rostropovich hosted the Queen of Spain at his home in St. Petersburg in 2001, Prigozhin served the food.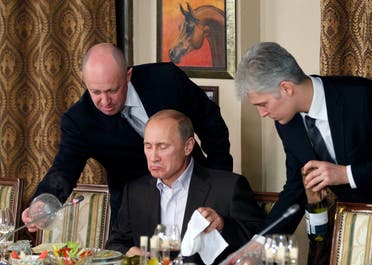 Wagner Commander, Yevgeny Prigozhin and Putin (AP)
Rostropovich even invited Prigozhin and his wife to a concert at the Barbican, on his 75th birthday in 2002, according to the London Symphony Orchestra's records of the event's invitation list.
At that time, Putin had become the President of Russia.
Putin and the most beloved chef
During the early years of his rule, the Russian president often liked to meet foreign dignitaries in his hometown. Sometimes he would take them to Prigozhin's restaurant or to New Island, where Yevgeny's boat had been turned into a floating restaurant.
Since then, Prigozhin has been winning catering contracts for major government events through Concorde, a holding company he set up in the 1990s.
And in 2012, it won more than 10.5 billion rubles (£200m) in contracts to provide food for Moscow schools, Russian media reported, citing records from the Russian Financial Registry.
Then, other opportunities for "Putin's cook" arose when Russia annexed Crimea in March 2014 and intervened militarily in eastern Ukraine soon after.
While Putin denied that the regular Russian forces were involved in either case, Wagner's forces were in the field!
Since then, that special military group headed by Prigozhin began to intervene militarily in many countries, especially in Africa, to land its travels months ago in Ukraine, the arena that split the ranks of the Russian forces, and showed the "rebellion" of the sausage seller!
play youtube
,
xnxx
,
xvideos
,
porn
,
porn
,
xnxx
,
Phim sex
,
mp3 download
,
sex 4K
,
Straka Pga
,
gay teen porn
,
Hentai haven
,
free Hentai
,