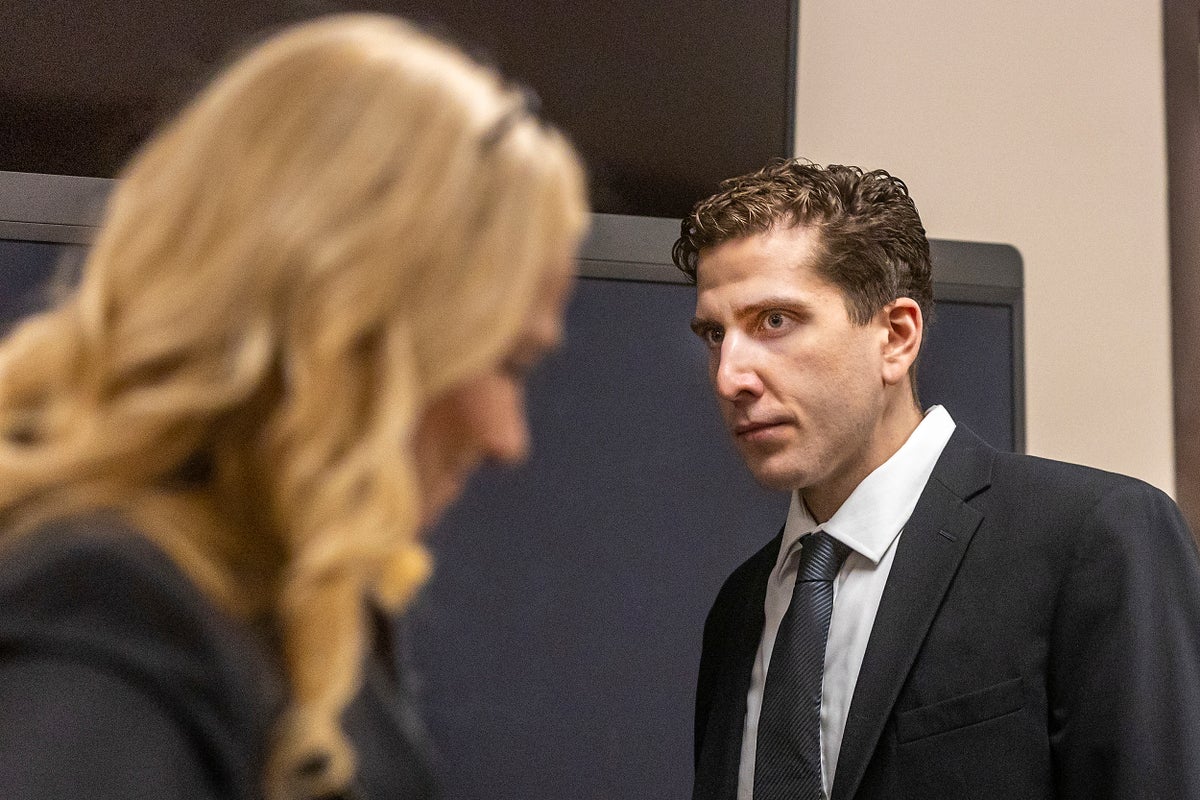 Bryan Kohberger arrives at court hearing
Bryan Kohberger is in a fight for his life as he may now face the firing squad if convicted of the murders of Kaylee Goncalves, Madison Mogen, Ethan Chapin and Xana Kernodle.
On Monday, prosecutors announced they plan to seek the death penalty against him. In Idaho, the use of firing squad as an alternative death sentence method to lethal injection will go into force on 1 July – ahead of his October trial.
Now, the 28-year-old's attorneys are seeking a trove of evidence from prosecutors which they say is key to him being able to defend himself.
Arguments about some of this evidence were heard in a court hearing on Tuesday, where the judge compared the case to that of Lori Vallow.
Judge John Judge pointed to the equally high-profile Idaho murder case as he warned the media about the use of cameras in the courtroom, saying that if they continue to focus only on Mr Kohberger, cameras could be banned altogether.
It also emerged this week that Mr Kohberger was convicted of theft nine years before he allegedly brutally stabbed the four University of Idaho students to death in Moscow.
1687917612
Xana Kernodle's family is calling on the community to 'have fun' on what would have been her 21st birthday
"My sister, Xana Kernodle was born on July 5th, 2002 making this year her 21st birthday. We hope to celebrate #xanapalooza this year and every year by being silly, having fun, getting out of our comfort zones, and loving life like she did each day," her sister Jazzmin wrote on Facebook.
"She had the most love for living each day to the fullest, creating memories, gaining new experiences, being silly, and of course all those who surrounded her. Help us celebrate #xanapalooza and honor Xana for her 21st birthday on July 5th by doing something fun, new and spontaneous!"
Andrea Blanco28 June 2023 03:00
1687921212
Idaho prosecutor asks for funding hike to process Bryan Kohberger trial
An Idaho prosecutor has asked for a large funding increase to help cover the expenses it will cost to put quadruple murder suspect Bryan Kohberger on trial.
The Latah County Prosecutor's Office asked commissioners to provide $135,000 for trial expenses, a significant increase from the normal $15,000 budget, reported The Lewiston Tribune.
Mr Kohberger has been charged with four counts of first-degree murder and one count of burglary for the brutal November stabbing deaths of University of Idaho students Kaylee Goncalves, Madison Mogen, Xana Kernodle and Ethan Chapin.
He remains in Latah County Jail with his trial expected to take place between 2 October and 12 November.
Mr Kohberger chose to remain silent during his 22 May arraignment hearing and Latah County District Judge John Judge entered a not-guilty plea on his behalf.
Andrea Blanco28 June 2023 04:00
1687924812
Father of Idaho murder victim reacts to prosecutors seeking death penalty in Bryan Kohberger case
The father of a murdered University of Idaho student has welcomed news from prosecutors that the state will be seeking the death penalty against the sole suspect in the case.
Seven months after Kaylee Goncalves, Madison Mogen, Xana Kernodle and Ethan Chapin were found stabbed to death in their off-campus residence, Latah County Prosecutor Bill Thompson filed a notice of his intent to seek the death penalty against their alleged killer, Bryan Kohberger.
Andrea Blanco28 June 2023 05:00
1687928400
Cleaning company returns personal items to families of Idaho murders victims
A cleaning company is back at the crime scene where four University of Idaho students were murdered last year.
A large truck was seen on Tuesday (27 June) at the Moscow three-storey home where Kaylee Goncalves, Madison Mogen, Xana Kernodle and Ethan Chapin were murdered last November as the process continues to return their personal belongings to their loved ones.
Earlier reports said that the house, which now belongs to the University of Idaho, would be demolished sometime this summer.
The cleaning company tasked with removing all the items inside the home ahead of a demolition told CourtTV in a statement that a timeline has not been laid out, but staff remains in touch with family members during the process that may take several weeks.
"We are beginning remediation with the removal of all the personal items for the families to receive, as they wish. This will take several weeks. No date set for demolition," the statement read.
Andrea Blanco28 June 2023 06:00
1687932000
Four students stabbed to death, a weeks-long manhunt and still no motive: What we know about the Idaho murders
As the sole suspect in the stabbings of four Idaho students returns to court to face murder charges, Andrea Blanco, Rachel Sharp and Sheila Flynn report on the case in small town Idaho that has shocked America:
Andrea Blanco28 June 2023 07:00
1687935600
Bryan Kohberger's father called police on accused Idaho killer nine years before murders
Court records, newly obtained by ABC News, reveal that Mr Kohberger was arrested and charged with stealing one of his sister Melissa's cellphones back in 2014.
The Independent's Rachel Sharp reports:
Andrea Blanco28 June 2023 08:00
1687939200
Judge agrees to narrow but not lift gag order in University of Idaho student slayings case
An Idaho judge has denied a request from roughly two dozen news organizations to lift a gag order in the criminal case of a man accused of stabbing four University of Idaho students to death. The judge did, however, significantly narrow the gag order in response to the news organizations' concerns.
The ruling was handed down late Friday afternoon.
In it, 2nd District Judge John Judge said it was legally prudent to restrict attorneys from making some statements about the case in order to preserve Bryan Kohberger's right to a fair trial. Still, Judge also said the original gag order — which also barred law enforcement officers and other people tangentially related to the case from speaking to the press — was "arguably overbroad and vague in some areas."
Kohberger, 28, is charged with four counts of first-degree murder and burglary in connection with the stabbing deaths in Moscow, Idaho. Prosecutors have yet to reveal if they intend to seek the death penalty.
The bodies of Madison Mogen, Kaylee Goncalves, Xana Kernodle and Ethan Chapin were found on Nov. 13, 2022, at a rental home across the street from the University of Idaho campus. The slayings shocked the rural Idaho community and neighboring Pullman, Washington, where Kohberger was a graduate student studying criminology at Washington State University.
Andrea Blanco28 June 2023 09:00
1687942800
Bryan Kohberger's defense requests training records of three officers who investigated Idaho murders
In a hearing in Latah County Court, Judge John Judge heard arguments on several motions filed by the defence, including seeking details about the DNA evidence, seeking details about the grand jury which returned a murder indictment against him, and issuing a stay on proceedings to put a pause on the case heading to trial.
The Independent's Rachel Sharp and Andrea Blanco report:
Andrea Blanco28 June 2023 10:00
1687944652
IN PICTURES: Bryan Kohberger in court
Rachel Sharp28 June 2023 10:30
1687946400
WATCH: Idaho victim's mother explains why she will not attend Bryan Kohberger's trial
Idaho victim's mother explains why she will not attend Bryan Kohberger's trial
Andrea Blanco28 June 2023 11:00
play youtube
,
xnxx
,
xvideos
,
porn
,
porn
,
xnxx
,
Phim sex
,
mp3 download
,
sex 4K
,
Straka Pga
,
gay teen porn
,
Hentai haven
,
free Hentai
,