South African President Cyril Ramaphosa confirmed on Sunday that the next BRICS summit scheduled to be hosted by his country next month, to which Vladimir Putin was invited, will be organized "in presence", despite an arrest warrant issued against the Russian president.
Ramaphosa said in a statement to reporters on the sidelines of a conference of his ruling party that preparations for the BRICS summit, which includes Brazil, Russia, India, China and South Africa, are under way and "we are having final discussions about the format," adding that the meeting will be "attended."
He did not refer to Putin's presence or absence, knowing that the latter has been targeted since March by an arrest warrant issued by the International Criminal Court on charges of committing a war crime by "deporting" Ukrainian children since the outbreak of the war in Ukraine, which Moscow denies.
Ramaphosa added, in response to a question on the sidelines of a conference of his ruling party: "We will organize a BRICS summit in person. We have all committed ourselves to this matter. We have not held an in-person summit for nearly three years. It will not be virtual."
Putin participated in the 2022 virtual summit of the BRICS group
Defending South Africa's neutral stance on the Ukraine conflict, he added that Pretoria would not stop its push for negotiations where conflicts arise.
"It's an important role we can play," he explained. "Given the volatile geopolitical situation now, we think it's important that a country like South Africa be able to fulfill its long-stated role."
"We learned this from the great Nelson Mandela because this was also his approach to international relations and he was able to talk to all sides whether they were in conflict or not," Ramaphosa added.
As a member of the International Criminal Court, In theory, South Africa has the duty to arrest the Russian president if he enters its territory. This poses a serious diplomatic dilemma for Pretoria, which has refused to condemn Moscow since the start of the war in Ukraine.
Last month, Ramaphosa led an African mediation with the presidents of Egypt, Congo, Senegal and Uganda in an attempt to reach peace between Kiev and Moscow. The mission of the African leaders concerned heard the voice of the continent, which is suffering greatly as a result of the repercussions of the conflict in Ukraine, especially the high prices of grain.
The mission put forward a ten-point proposalIt included containing the escalation, recognizing the sovereignty of states, allowing grain to be exported across the Black Sea without any obstacles, and returning prisoners of war and children to their countries.
South Africa holds the rotating presidency of BRICS.It is a group that aims to find a balance in terms of governance structures world dominated by the United States and the European Union.
South Africa is organizing the 15th BRICS summit at the Sandton Convention Center in Johannesburg from August 22 to August 24. There were rumors circulated by local media that Pretoria intends to move the summit to China in order to avoid Putin's arrest.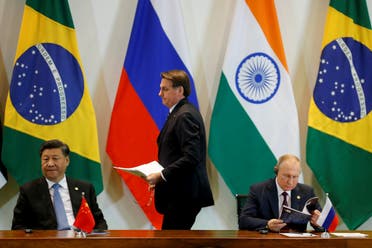 Putin participated in the 2019 BRICS summit, which was held at the time in Brazil
South Africa asserts that it has adopted a neutral position in order to be able to "play a role in resolving conflicts," as Ramaphosa said previously, stressing that he has repeatedly consulted with Putin.
In addition, in February, his country hosted naval exercises with Russia and China off its coast, which raised "concern" of the major Western powers.
Relations between South Africa and Russia date back to the time of the apartheid regime, as the Kremlin supported the current ruling party in its confrontation with this system.
play youtube
,
xnxx
,
xvideos
,
porn
,
porn
,
xnxx
,
Phim sex
,
mp3 download
,
sex 4K
,
Straka Pga
,
gay teen porn
,
Hentai haven
,
free Hentai
,