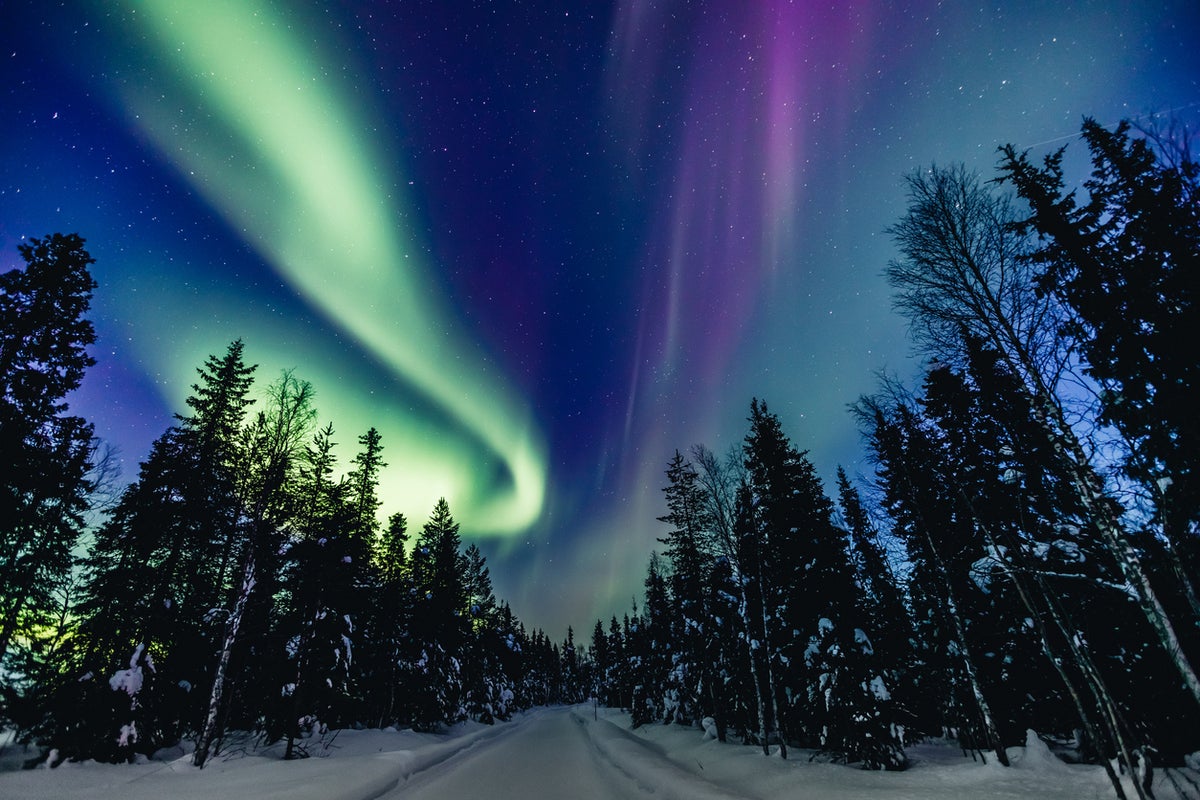 The US likely won't see the northern lights this week despite prior forecasts, according to the latest data.
An early forecasted published by the University of Alaska Fairbanks Geological Institute first predicted that the northern lights could be visible on Thursday in more than a dozen US states.
However, the prediction was updated on Monday evening showing that while the phenomena may be visible in parts of Canada, Alaska, and some of the higher altitude US cities, it's not likely to be visible in the majority of US states.
"Recent predictions of auroral activity visible much further south than Alaska have been making the rounds," Don Hampton, a research associate professor at the Geophysical Institute, said in an email to NBC News. "This prediction, several days ahead of time, is based on models run by the Space Weather Prediction Center, a part of NOAA, and located in Boulder, Colorado. The Geophysical Institute does not make long-term auroral predictions. Our aurora forecast is from SWPC."
He noted that due to a limited number of input measurements involved in the predictions, it is difficult to draw definitive conclusions on the visibility of the lights.
"There are only a few satellites and instruments dedicated to collecting these data, so the models typically have a wide range of predictions since the observations are relatively sparse," Mr Hampton wrote. "While large solar storms can be seen leaving the vicinity of the sun, and their direction and speed can be estimated, once they leave the local solar vicinity they cannot be tracked. During this time the solar storms can be slightly diverted or even reduced, and the final impact on Earth's magnetic field may be different than predicted."
The Space Weather Prediction Centre's recently-published 27-day outlook did include the possibility that there was a moderate change of disturbance to the Earth's magnetic field — the cause of the northern lights.
Since then, the centre reassessed the forecast and downgraded the likelihood of activity later this week.
"Now we're not predicting anything on the 12th or 13th," Lt. Bryan Brasher, a project manager at the centre told NBC News. "Nothing out of the ordinary."
He agreed that accurate long-term predictions for the northern lights is difficult, and said he was not sure why the recent forecast gained traction online.
"At no point in time was anyone saying anything false," he said. "There was a prediction out there that could have been valid. But ultimately, the prediction that was offered was already going to be a very minor storm to begin with."
The northern lights occur when solar storms eject clouds of charged particles into space and enter Earth's magnetic field. The colorful display occurs when the charged politics collide with the atoms and molecules in the upper atmosphere.
The lights are typically visible at high altitudes in the northern reaches of the world where it is typically clear and dark at night.
play youtube
,
xnxx
,
xvideos
,
porn
,
porn
,
xnxx
,
Phim sex
,
mp3 download
,
sex 4K
,
Straka Pga
,
gay teen porn
,
Hentai haven
,
free Hentai
,