Elements approached Wagner Group They risked entering a Russian nuclear base to stealing backpack nuclear weapons to use as leverage during their short-lived insurgency last month, according to Ukraine's top spy official.
While the main rebel force, led by Wagner Group founder Yevgeny Prigozhin, pushed towards Moscow on June 24, allegedly to capture Russia's top military officers, a smaller group headed east on its way to a fortified military base.
Kirillo Budanov, head of Ukraine's Defense Intelligence Directorate, revealed that the target of the Wagner operatives was Voronezh-45 — a heavily guarded facility that allegedly stored small Soviet-era nuclear bombs that one person could carry in a backpack.
Kirillo Budanov, head of Ukraine's Defense Intelligence Directorate, said the rebels wanted to buy weapons to "increase the risks".
The store doors were closed
According to Budanov, the rebels' plot to get their hands on the nuclear weapons failed, because "the storeroom doors were closed and they did not enter the technical section."
The Ukrainian official did not say why Prigozhin's fighters left the nuclear base without trying to make their way inside.
A source close to the Kremlin with ties to the Russian military confirmed parts of Budanov's account, saying that the Wagner fighters "gained access to an area of ​​special interest, and as a result the Americans were angry that nuclear munitions were stored there."
Wagner forces exit from Rostov (Reuters)
The rebels' attempt to steal nuclear explosives appeared to be so alarming to the Kremlin that it prompted President Vladimir Putin to agree to a peace deal with Prigozhin that Belarusian leader Alexander Lukashenko hastily brokered, according to a source in Russian-controlled eastern Ukraine.
Washington is skeptical
U.S. officials have cast doubt on Budanov's uncorroborated claims about the Wagner fighters' side-flight to Voronezh-45, and insist that Russia's nuclear arsenal was never in danger during the brief insurgency.
White House National Security Council spokesman Adam Hodge said: "We are unable to confirm this report. We had no indication at any time that nuclear weapons or materials were at risk."
However, an article published in the "Washington Post" last month quoted an unnamed US official as saying that "the Biden administration is concerned about the safety of Russia's nuclear stockpile in the event of a civil war between Wagner and the Putin regime."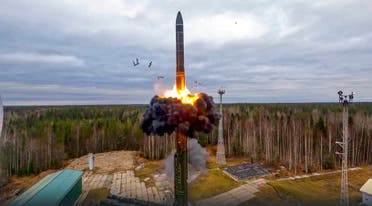 Nuclear, Russia (AB)
Matt Korda, a senior researcher and director of the Nuclear Information Project at the Federation of American Scientists, said it would be "virtually impossible" for a non-state actor to breach Russia's nuclear security.
Korda added that it is unlikely that any of Prigozhin's operatives, many of whom are from prisons in Russia, would have the advanced knowledge to assemble and detonate a nuclear bomb.
Backpack-sized nuclear bombs are Cold War-era relics that the United States and Russia agreed to remove from their arsenals more than 30 years ago, but many former American nonproliferation officials have cast doubt on whether Russia has kept its promise to get rid of it. arms.
Allegedly, Vladimir Putin pushed for a peace deal with the Wagner Group after learning of its attempt to storm the nuclear facility.
"I don't think the Russians still have them, but I wouldn't bet my life on that," said former US National Nuclear Security Administration general counsel David Jonas.
In turn, Amy Wolf, a nuclear weapons specialist, said that even if portable nuclear weapons still exist, it is unlikely that they will be in working condition because they degrade over time and require maintenance.
play youtube
,
xnxx
,
xvideos
,
porn
,
porn
,
xnxx
,
Phim sex
,
mp3 download
,
sex 4K
,
Straka Pga
,
gay teen porn
,
Hentai haven
,
free Hentai
,