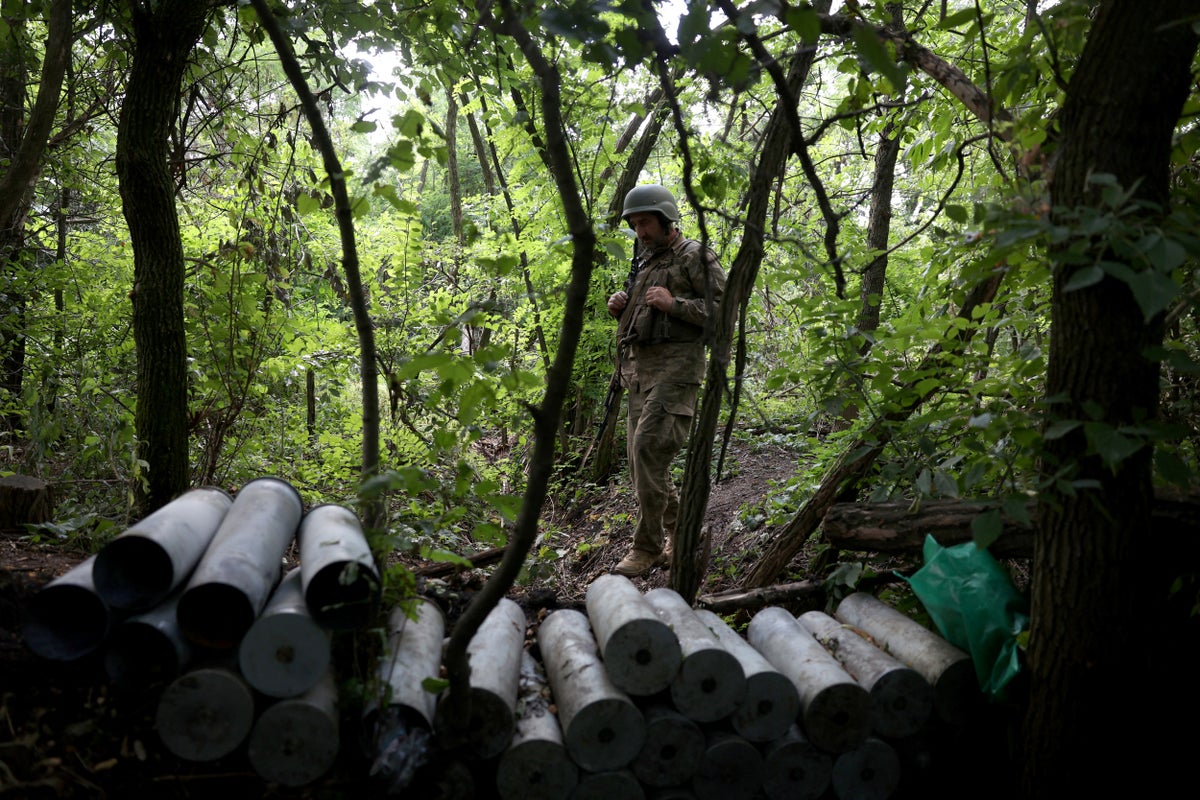 Belarus claims Wagner mercenary forces are training its troops
Vladimir Putin has warned that Russia has a "sufficient stockpile" of cluster bombs and reserves the right to use them in retaliation against Ukrainian forces, after Washington supplied Kyiv with the widely banned munitions.
The Russian president's threat, during an interview with state TV, came as an Estonian intelligence chief claimed that Ukraine was on the brink of a major breakthrough in its counteroffensive, after destroying Kremlin command posts and making gains near Bakhmut.
Meanwhile, Ukrainian and Polish officials said that a large convoy carrying fighters from the Wagner private army was spotted entering Belarus from Russia, as Minsk's defence ministry released footage showing what it claimed were Wagner fighters instructing Belarusian soldiers at a military camp.
Poland's deputy minister coordinator of special services, Stanislaw Zaryn, said Warsaw also has confirmation of Wagner fighters' presence in Belarus."There may be several hundred of them at the moment," he tweeted.
Elsewhere, a top Russian commander appears to have been sacked for voicing concerns about the Kremlin's war strategy in a sign of growing divisions between officers on the front line and the country's military leadership.
1689501767
Russia and China to begin 'first joint air and naval drill' in Sea of Japan
Russia's naval and air forces are taking part in military drills alongside China in the Sea of Japan for the first time, according to military observers cited by Chinese state newspaper Global Times.
A Chinese naval flotilla comprised of five warships and four ship-borne helicopters set off from Qingdao on Sunday to join the Russian forces at a "predetermined area" in an exercise aimed at "safeguarding the security of strategic waterways", China's defence ministry said.
Codenamed "Northern/Interaction-2023", the drill marks enhanced military cooperation between China and Russia since Moscow's invasion of Ukraine.
Gromkiy and Sovershenniy, two Russian warships taking part in the Sea of Japan drill, had earlier this month conducted separate training with the Chinese navy in Shanghai on formation movements, communication and sea rescues.
Before making port at the financial hub of Shanghai, the same ships had sailed passed Taiwan and Japan, prompting both Taipei and Tokyo to monitor the Russian warships.
Andy Gregory16 July 2023 11:02
1689499368
Putin issues cluster bomb threat to Kyiv
Vladimir Putin has warned that Russia has a "sufficient stockpile" of cluster bombs and that Moscow reserves the right to use them if such munitions are used against Russian forces in Ukraine.
Ukraine has received cluster bombs from the United States, despite the weapons being banned in more than 100 countries. Kyiv has pledged to only use them to dislodge concentrations of enemy soldiers, as it continues its long-awaited counteroffensive.
"Of course, if they are used against us, we reserve the right to take reciprocal action," the Russian president said in a state TV interview, excerpts of which were published on Sunday.
Andy Gregory16 July 2023 10:22
1689498728
Ben Wallace announces he'll quit as UK defence secretary
Ben Wallace has revealed that he will resign his post as defence secretary at the next cabinet reshuffle, and will not seek re-election as an MP at the next election.
"I went into politics in the Scottish Parliament in 1999. That's 24 years. I've spent well over seven years with three phones by my bed," he told the Sunday Times on his desire to leave Westminster.
Mr Wallace is not going quietly, however, having become involved in a turf war with home secretary Suella Braverman about British soldiers being asked to cover for any gaps in Border Force staff this summer.
The defence secretary has refused Ms Braverman's request for 750 troops to fill in for any immigration officials who strike or are absent, according to the Mail on Sunday – claiming that the Home Office should have made contingency plans.
Our political correspondent Adam Forrest has more details here:
Andy Gregory16 July 2023 10:12
1689497013
South Korea to provide more demining equipment to Ukraine
South Korea will provide more demining equipment to Ukraine, an aide to Yoon Suk Yeol has said following the president's visit to Kyiv, where he pledged more military and humanitarian aid in the fight against Russia.
"We are thinking to expand support on mine detectors and demining equipment as Ukraine's demand for them was assessed to be desperately huge," his deputy national security adviser, Kim Tae-hyo, told reporters.
Mr Yoon pledged more aid in talks with Volodymyr Zelensky during a surprise visit to Kyiv after attending the Nato summit in Vilnius, despite previously resisting Western pressure to help arm Ukraine directly, citing business ties with Russia and Moscow's influence over North Korea.
In a press conference after the meeting on Saturday, Mr Yoon said South Korea would provide "a larger scale of military supplies" to Ukraine this year, following last year's provision of non-lethal supplies such as body armour and helmets.
Andy Gregory16 July 2023 09:43
1689494306
Russian shelling kills 1 in Kharkiv, injures 7 in Zaporizhzhia, say Ukrainian officials
A civilian was killed and another wounded in Russian shelling in Ukraine's Kharkiv region, while seven were injured in a village in Zaporizhzhia, Ukrainian officials have claimed.
A 33-year-old man died and another was wounded overnight in Russian firing at residential buildings in the village of Kolodiazne, Kharkiv's governor Oleh Sinehubov said on Telegram, accusing Moscow of launching four S-400 surface-to-air missiles at the city of Kharkiv, damaging a residential building.
Zaporizhzhia governor Yuriy Malashko alleged that three women and four men were injured and a number of houses damaged in heavy Russian shelling from multiple rocket launchers on the village of Stepnohirske on Saturday afternoon.
Over the past day, there had been 48 instances of Russian artillery firing on a number of towns and villages in the region, the governor said. Russia also shelled the city of Zaporizhzhia, damaging at least 16 buildings, secretary of the city council Anatoliy Kurtiev claimed, adding that one district was without electricity on Sunday morning.
Meanwhile, a Russian-installed official in parts of Zaporizhzhia controlled by Moscow, Vladimir Rogov, claimed on Saturday that Ukrainian forces had destroyed a school in the village of Stulneve, while air defence forces intercepted a drone over the city of Tokmak.
Russia's defence ministry said on Saturday it had destroyed a number of Ukrainian weapons depots in Zaporizhzhia region over the past day. Ukraine's top military command said Russia was trying to stop Ukraine's advance there, heavily shelling the area. It was not possible to independently verify the claims.
Andy Gregory16 July 2023 08:58
1689492743
Passenger ferries suspended near Crimea as Moscow claims to thwart Ukrainian attack
Passenger ferries and other maritime transport were halted for several hours near the city of Sevastopol, Moscow backed authorities have said, as Russia's defence ministry claimed its forces had prevented Ukraine from attacking the Black Sea port on Sunday.
There were no casualties and no damage, the ministry insisted, claiming it had shot down two aerial drones over the Black Sea at a great distance from the coastline, while five were intercepted by Russia's electronic warfare forces.
Two unmanned underwater vehicles (UUV), known as underwater drones were discovered in the northern part of the Black Sea, and had been destroyed by fire, the ministry claimed. There was no immediate comment from Ukraine.
Andy Gregory16 July 2023 08:32
1689490633
Russia defence ministry says it thwarted Ukraine attack attempt on Sevastopol
Russia's defence ministry said on Sunday that it had thwarted a Ukrainian drone attack attempt near the port of Sevastopol in Crimea.
"This morning, an attempt by the Kyiv regime to carry out a terrorist attack by seven unmanned aerial vehicles and two unmanned semi-submersible boats on objects on the territory of the Crimean peninsula near the city of Sevastopol was thwarted," the ministry said on the Telegram messaging app.
The claim could not immediately be independently verified.
Matt Mathers16 July 2023 07:57
1689488808
Some Wagner fighters have arrived in Belarus
Some Wagner Group fighters have arrived in Belarus, Britain's Ministry of Defence has said.
In its latest update, the MoD said that the Russian security apparatus enetered a "period of confusion" in the aftermath of Wagner's shortlived rebellion last month.
"In recent days, an interim arrangement for the future of the group has started to take shape," the MoD added.
"The Russian MoD announced that Wagner had handed over 2000 pieces of military equipment, including tanks. As of 15 July 2023, at least a small contingent of Wagner fighters have arrived at a camp in Belarus.
"Concurrently, some Wagner-associated social media groups have resumed activity, with a focus on highlighting the group's activities in Africa.
"Based on recent announcements by Russian officials, the state is likely prepared to accept Wagner's aspirations to maintain its extensive presence on the continent."
Matt Mathers16 July 2023 07:26
1689487214
Missing Russian general with links to Wagner boss is 'resting'
A top Russian official has addressed the whereabouts of a senior general who has not been seen in public since the Wagner mutiny.
Andrei Kartapolov, head of the state Duma defence committee, said that general Sergei Surovikin is "resting" and "not available right now".
It follows reports that Wagner boss Yevgeny Priogozhin has likely been murdered or incarcerated after leading a failed rebellion against the Kremlin regime.
Alisha Rahaman Sarkar16 July 2023 07:00
1689485414
Russia says shot down eight Ukraine drones over Crimea's Sevastopol
Russia's air defence forces and fleet in the Black Sea intercepted eight Ukrainian drones over the Crimean port of Sevastopol early on Sunday, a Moscow-installed official said.
"No objects, either in the city or in the water area were damaged," Mikhail Razvozhayev, the Moscow-installed governor of Sevastopol, said on the Telegram messaging app.
One drone was shot down over the sea, five were intercepted by Russia's electronic warfare forces and two water surface drones were destroyed on the outer shore, he added.
The attacks were over the harbour of Sevastopol and the city's Balaklava and Khersones districts, Razvozhaev said earlier.
Alisha Rahaman Sarkar16 July 2023 06:30
play youtube
,
xnxx
,
xvideos
,
porn
,
porn
,
xnxx
,
Phim sex
,
mp3 download
,
sex 4K
,
Straka Pga
,
gay teen porn
,
Hentai haven
,
free Hentai
,