Photo: @Evilchopper714/Twitter
Sunday night was a special night in Chicago. It was the first concert back at Wrigley Field since the COVID-19 restrictions have been lifted. Outside of the annual Chicago music festival buzz, this show had talk of being the best show to cross a Chicago stage this summer. The tour was originally supposed to come through Chicago in 2020, but COVID-19 cause a hella delay.
After struggling through the pandemic, fans of these bands needed their thirst for nostalgia quenched with themes and issues these band's songs highlighted. The triple headliner show was sold out and the atmosphere was electric. Even the artists were chomping at the bit since they hadn't been on tour in over a year and a half. The pop-punk groups delivered a five and a half hour, 60-song night full of singing that fans won't forget.
Weezer
While the sun was still shining over the upper deck canopy, Weezer took the stage. Rivers Cuomo came out in a leather jacket with a mullet and mustache that was Van Weezer-esque. Weezer came out to "Hero" and the crowd had a sense of confusion. After being on lock down for a year and a half, people had almost forgotten how to act and let go at a concert. As the set went to "Hash Pipe" and "All The Good Ones" the rust started to shake off the crowd. Once the first chords of "Beverly Hills" echoed off the roof tops on Sheffield, the stadium hit the energy it had been missing and didn't look back.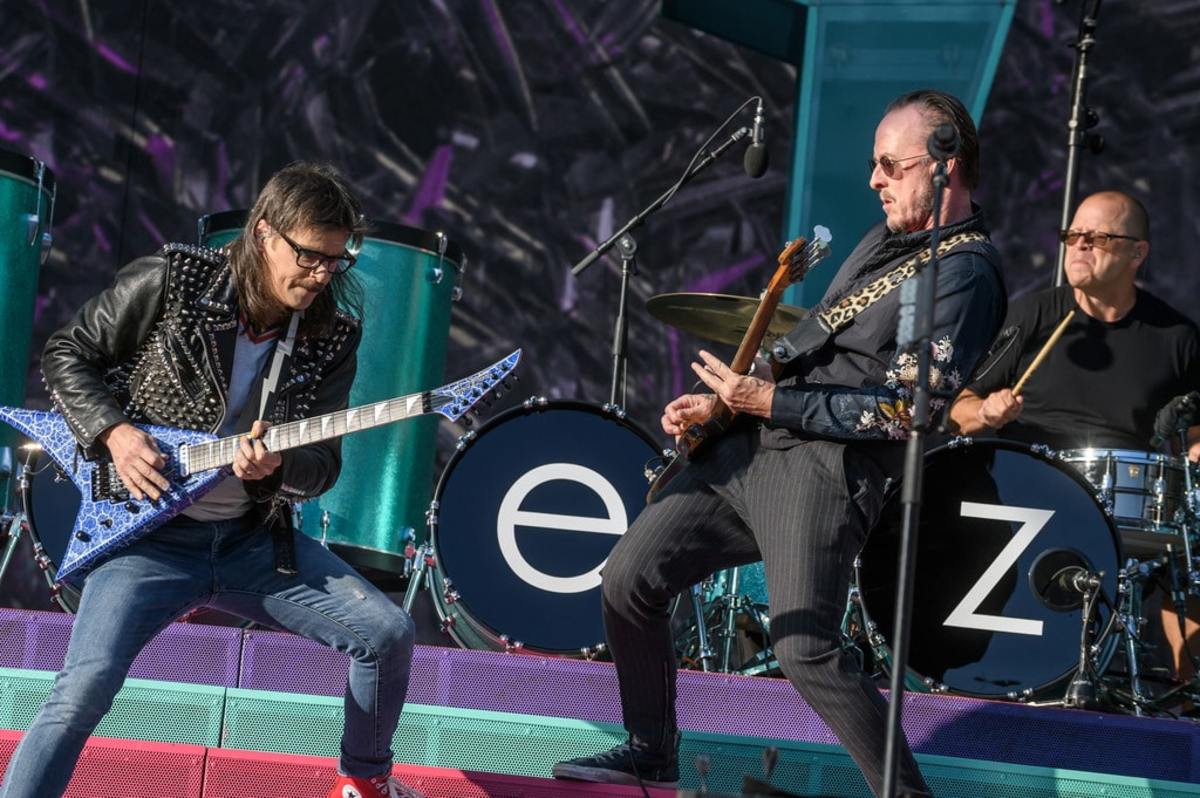 Fans sang along to hits "My Name is Jonas" and "Africa". Then, they were just in awe of Rivers Cuomo's skillful rifts on "Say It Ain't So".
Weezer Setlist:
Hero
Hash Pipe
All The Good Ones
Beverly Hills
The End Of The Game
My Name Is Jonas
Pork And Beans
Feels Like Summer
All My Favorite Songs
Undone – The Sweater Song
Surf Wax America
El Scorcho
Island In The Sun
Africa (Toto cover)
California Snow
Say It Ain't So
Buddy Holly
Fall Out Boy
While Fall Out Boy would be deemed the odd man out on the set list by some fans, they were literally right at home Sunday night! The band, originally from Wilmette, could have been deemed the main headliner and the crowd would have been ecstatic. During the intermission, fans were talking about those small Fall Out Boy shows they saw before they hit the mainstream.
Now they were selling out a stadium they dreamed of playing with two bands that were their influences.
"Its mind-blowing to Wrigley, especially with Weezer and Green Day. We grew up with those bands."

– Fall Out Boy Bassist, Pete Wentz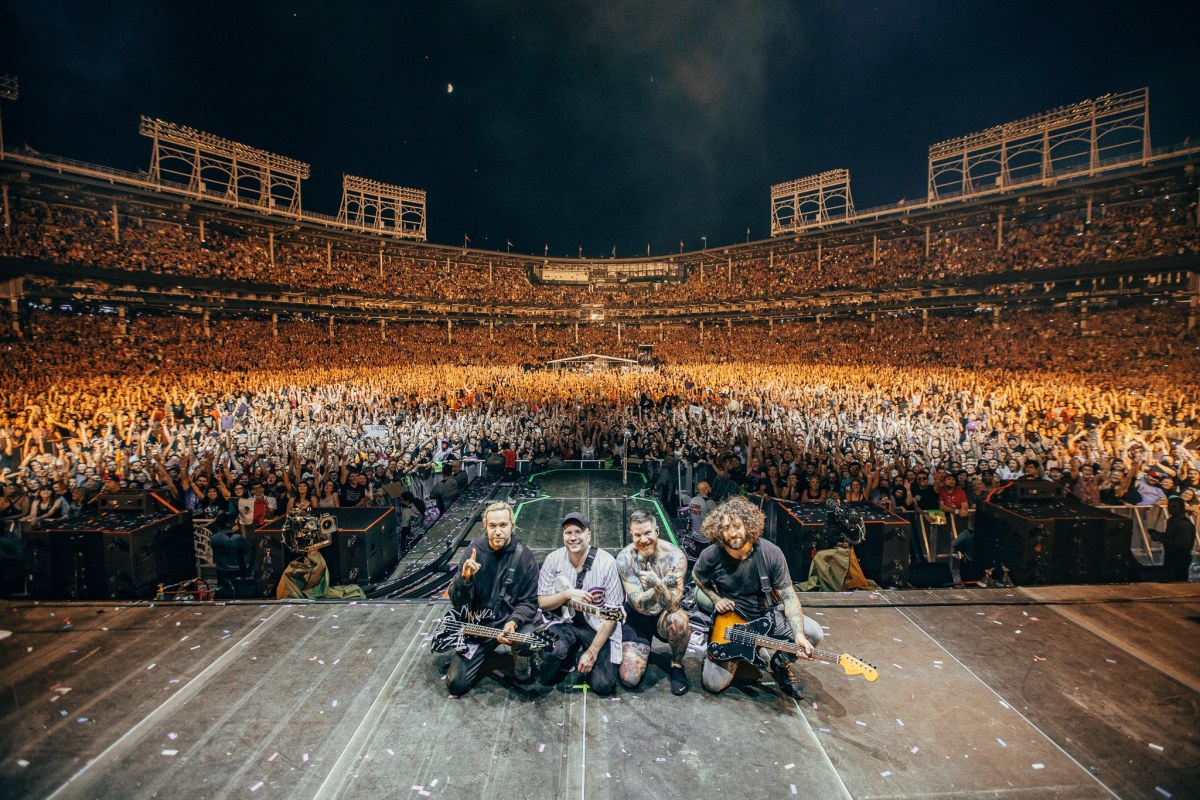 Fall Out Boy opened with a space news flash video narrated by actor Ron Livingston. The screen went black and then fire and fireworks brought out Patrick Stump and Co. to "The Phoenix". Stump was beaming eye-to-eye in his Cubs jersey looking at the crowd knowing he and his band mates were home. They took a second between songs to soak it all in and then jumped into "Sugar, We're Going Down". This was by far the loudest crowd had been all night.
Unlike Weezer's set, this one had pyrotechnics and fire. This pumped the crowd up. Patrick Stump and Pete Wentz also interacted with the crowd way more.
Fall Out Boy Setlist
The Phoenix
Sugar, We're Goin Down
Irresistible
Uma Thurman
Grand Theft Autumn/Where Is Your Boy
Save Rock And Roll
The Last Of The Real Ones
Dance, Dance
A Little Less Sixteen Candles, A Little More ​"Touch Me"
This Ain't A Scene, It's An Arms Race
My Songs Know What You Did In The Dark (Light Em Up)
I Don't Care
Thnks fr th Mmrs
Centuries
Saturday
By this point, attendees felt that they got their money's worth and the main headliner, Green Day, hadn't even taken the stage.
Green Day
While intermission was getting ready to conclude, the stage lit up and started playing a recording of "Bohemian Rhapsody". The crowd started to sing cuing the people on the concourse to rush back and take part in the chorus. Then "Hey Ho, Let's Go" started playing with a mascot of one Green Day's secondary logos, the pink rabbit, running around on stage, taking swigs of beer hyping the crowd.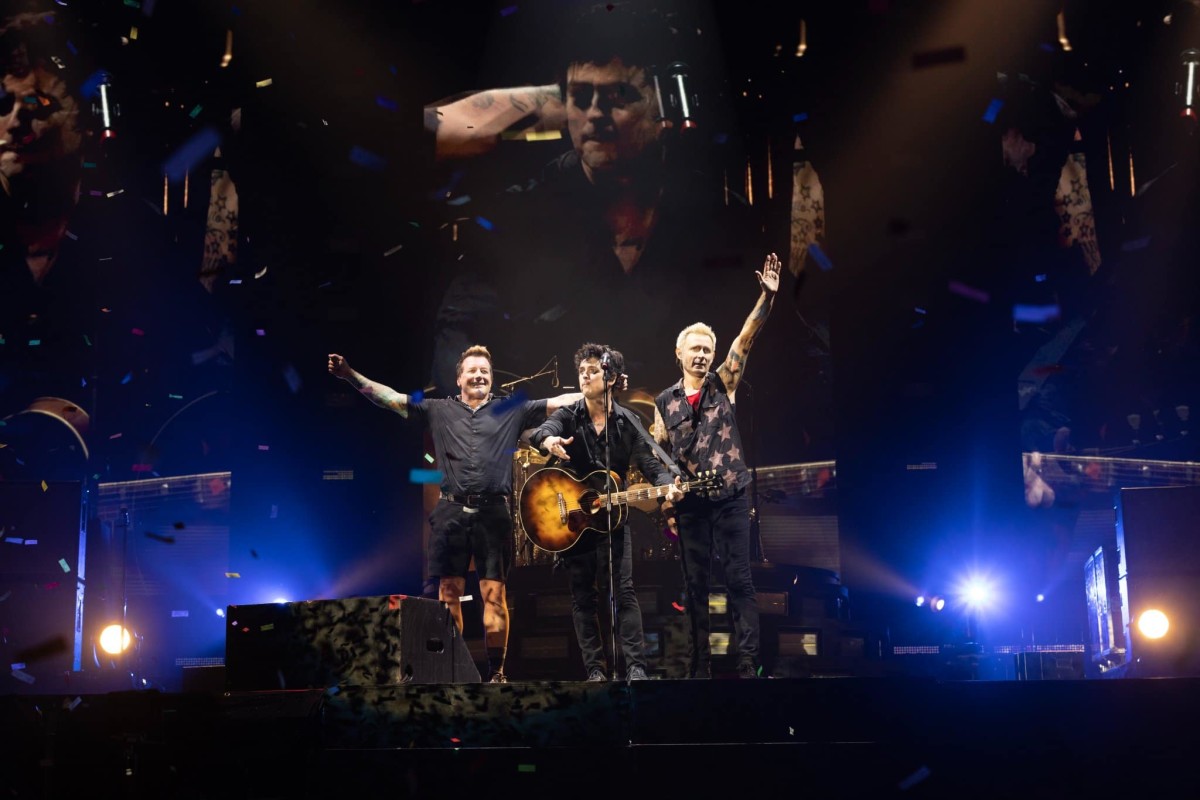 Green Day shot right into their set with "American Idiot" and "Holiday", igniting the enthusiasm of the crowd. Just when fans were getting over hyped on an energetic song, Green Day came back with slow songs like "Boulevard of Broken Dreams" and "Wake Me Up When September Ends". While Billie Joe was in control of the crowd's emotions and actions all set, the crowd voluntarily lit up the stadium with their cell phone lights for these songs. It set a very self-fulfilling mood seeing a group of individuals light up a whole stadium.
Green Day had two great surprises slipped into their set. The first was their cover of KISS's "Rock And Roll All Nite". Fans were very content with how they were able to jump from punk to classic rock so easily. The second surprise was their cover of Operation Ivy's "Knowledge". While performing the cover, they called a fan up on stage to play the guitar with them. After the fan nailed it, Billie Joe let them keep the guitar.
Also in the middle of "Minority", Billie held a break and sang "Take Me Out To The Ball Game" which was weird but fun.
For the final song, Billie Joe grabbed his acoustic and strummed "Good Riddance". As the final chord rippled through the audience, a barrage of fireworks went off, lighting up the neighborhood in reds, greens, and blues. It was the cap to an amazing night.
Green Day Setlist
American Idiot
Holiday
Know Your Enemy
Pollyanna
Boulevard Of Broken Dreams
Longview
Welcome To Paradise
Hitchin' A Ride
Rock And Roll All Nite (KISS cover)
Brain Stew
St. Jimmy
When I Come Around
21 Guns
Minority
Knowledge (Operation Ivy cover)
Basket Case
She
Wake Me Up When September Ends
Still Breathing
Jesus Of Suburbia
Good Riddance (Time of Your Life)
---
The next time the Hella Mega Tour comes back close to Chicago is September 1 at Summerfest in Milwaukee. Click here for tickets.
Follow On Tap Sports Net on social media!
play youtube
,
xnxx
,
xvideos
,
porn
,
porn
,
xnxx
,
Phim sex
,
mp3 download
,
sex 4K
,
Straka Pga
,
gay teen porn
,
Hentai haven
,
free Hentai
,