Organized by the Theater and Performing Arts Authority, the Qimam International Festival for Mountain Performing Arts, in its second edition, in 7 locations in the Asir region, witnessed a wide presence of handicraftsmen, including painters, pottery makers, and jewelers, in addition to a large participation of productive families.
Southern food also found great demand from visitors. Umm Sultan, who specializes in selling southern food, told Al-Arabiya.net that "many people ask me about the bread of the south, and they ask for it a lot, so that some people ask for items of dishes to prepare for them the next day." She added: "I am happy with this event because of the high turnout." of visitors, and for what achieves a rewarding financial return for me and the productive families."
The jewelry maker, Wasmaya Al-Qahtani, also expressed her astonishment at the size of the demand of the people of other regions for the ornaments of the south, "musk", pointing out that she learned to make them from her grandmother and loved her, and with the days it became a workmanship that brought her a good financial income.
It is noteworthy that food stores and artisan stores are among the sustainable development goals that Saudi Arabia seeks to achieve to create a better and more sustainable future.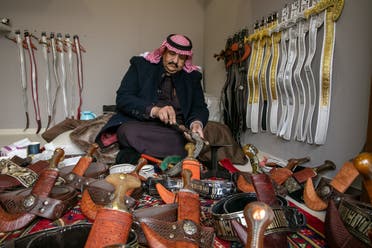 popular crafts
The Qimam International Festival facilitated the provision of this opportunity to craftsmen and productive families to display their products and achieve financial returns that would enable them to continue their work.